The Ultimate Disney World Itinerary
How to get to absolutely every Disney attraction your preschooler would ever want to see in just four days.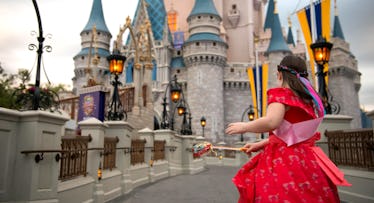 The following was produced in partnership with our friends at Walt Disney World Resort, who invite you to discover a world of magic and memories the whole family will share.
You've planned with your wife, talked to the boss, coordinated with day care, marked the calendar, and now you're ready to bask in four blissful days of family vacation. You could head to the beach, sure, but at this point that feels like settling. Instead, make it a vacation no one will forget and head to Orlando to take the family on an epic tour of Walt Disney World Resort. It's a no-brainer, really. Here's what that ultimate four-day Disney World vacation would look like. What's holding you back?
DAY 1: ARRIVAL
3:00 PM — Check In
Before you can hit the park, you need to set up a home base for you and the family. Check-in time for Disney Resorts is three, but if you've booked a "Magic Your Way" package, you you can leave your luggage at the front desk and claim your park tickets no matter how early you arrive. Additionally, if you take advantage of Disney's Magical Express transportation service, they will simply bring your luggage right to your room when it's ready while you're hitting the parks.
Disney World has a number of resorts to choose from, each of which offers its own unique flavor and amenities. Disney's Polynesian Resort and Disney's Contemporary Resort are the two original resorts from the park's opening in 1971. The Polynesian is located along the Monorail loop, offering easy transport to the Magic Kingdom and Epcot. History buffs staying at the Contemporary can take note of the fact that it's the place where disgraced President Richard Nixon gave his famous "I'm not a crook" press conference in 1972.
Located near Disney Springs, Disney's Port Orleans Resort features Ol' Man Island, a 3.5-acre recreation area with a water slide designed to look like an old-fashioned saw mill. There's also a fishing hole, where, for a fee, you can rent poles and bait. Plus, the resort's convenient location means you can take a water taxi over Disney Springs for some shopping.
If you fancy staying near Epcot, you can consider Disney's Caribbean Beach Resort, which features six villages, each with its own swimming pool. The Old Port Royale pool is the centerpiece, offering water slides and cannons, as well as a spa for 12. Nearby, kids will enjoy exploring the shipwreck-themed play area.
Over at Animal Kingdom, there's Disney's Animal Kingdom Lodge, which features a wide range of kid-friendly animal programs and activities. Perhaps the biggest selling point of Animal Kingdom Lodge is its location to the Savannah, which is home to more than 30 species of African wildlife, ranging from zebras to giraffes. If you spring for a Savannah View Room, you can get up close and personal with the wildlife, watching them graze right outside your room.
Feel like roughing it, Disney style? Book a cabin at Disney's Fort Wilderness Resort & Campground. The cabins are fully furnished private cabin and sleep six comfortably. Plus, dogs are welcome, so don't feel that you have to leave Charlie out of your Disney plans. Additionally, Fort Wilderness features a pool with a slide and spa, as well as water taxi transportation to Magic Kingdom.
If you're doing Disney on a budget, you can also stay at the value resorts, which offer more reasonably-priced accommodations while still keeping that Disney feel intact. Disney's Pop Century Resort is built around the theme of 20th century pop culture and features the Hippy Dippy Pool in the 1960s section, complete with water-shooting flowers. The resort also offers in-room pizza delivery. The Art of Animation Resort is the park's most recent addition to the Value family and is divided into four sections based on Finding Nemo, Cars, The Lion King, and The Little Mermaid. There's also the All-Star Music Resort, one of three All-Star resorts at the park. All-Star Music is a standout, as it's the only one of the three to offer Family Suites. The suites sleep six easily and offer a full kitchen.
5:00 PM — Dinner @ Chef Mickey's
Most Disney travelers don't recommend hitting the parks the day you arrive, as there's a good chance you and your family will be tired from traveling. But Chef Mickey's, located in Disney's Contemporary Resort, is a good place to kick things off, allowing you to enjoy bit of Disney flavor without exerting yourself too much. It's an easy trip to the resort on the Monorail, and the dinner is an all-you-can-eat buffet that also features a host of characters, including Mickey himself. Reservations for Chef Mickey's are absolutely recommended, and can be made up to six months in advance. Dinner starts at five, but if you want to opt for a later mealtime, you can enjoy a full dinner and character experience, then cap it off with a fireworks show.
9:15 PM — Happily Ever After Fireworks Show
The Contemporary Resort location is perfectly placed to allow you and the family to enjoy the Magic Kingdom's fireworks without having to go to the park itself. "Happily Ever After" is the newest nighttime show at the park and, according to many Disney fans, one of the best. A mixture of pyro and projections, the show pays tribute to Disney magic by using Cinderella Castle as a canvas onto which classic moments from Disney films are displayed, along with accompanying fireworks.
DAY 2: THE MAGIC KINGDOM, PART I
8:00 AM — Breakfast
Kick off your Disney day with breakfast inside the park. The benefit of an early reservation means that you can enter the park before the rope drops at 9:00 AM. If you eat quickly enough, there's even a chance you can get to your first ride before the crowds pour through the gates.
Entering the park, you'll stroll up Main Street, U.S.A., an idyllic avenue designed to emulate a small American town. Main Street has been called the "opening credits" for Disney World and features a number of cool secrets. For example, as you walk down the street, the lights at the beginning are gas lamps and transition to electric lights the further into the park you go. Additionally, the sidewalks are painted red as a symbol of rolling out the red carpet for Disney guests. You can also interact with some of the citizens of Main Street and, if you get there at the right time, catch an a capella show from the Dapper Dans. Stop by the train station and listen for a telegraph message. It's an encoded announcement from Walt Disney himself, taken from his speech at Disneyland's opening in 1955.
Visiting Main Street early is the perfect opportunity to snap an uncluttered shot of Cinderella Castle, the iconic symbol of Disney World all over the world. The castle is 183 feet high, but towers over Main Street thanks to the use of forced perspective in the buildings' construction.
There are three options you can choose for breakfast inside the Kingdom. Cinderella's Royal Table is the most coveted spot, with reservations being taken up to 180 days in advance. The meal takes place inside the park's iconic castle and little diners are given a wand or a sword that lights up as each Disney prince and princess enters the dining hall. The Crystal Palace Breakfast Buffet is located at the end of Main Street and allows guests to hobnob with Winnie the Pooh and friends while enjoying a buffet packed with an array of breakfast foods certain to please even picky palates. The third option is the Be Our Guest breakfast, located inside the Beast's Castle in Fantasyland. Diners can eat inside a lavish recreation of Beauty and the Beast's famous grand ballroom, complete with falling snow outside the windows.
9:00 AM — Seven Dwarfs Mine Train
After breakfast, it's wise to try and hit the biggest and most popular rides while the crowds are still relatively light. The Seven Dwarfs Mine Train is a must visit, especially for visitors with young ones in tow. The ride takes visitors on a fast-paced, but moderate, roller coaster ride with a brief detour through a glittering cave of jewels staffed by the titular little guys before ending at Snow White's cottage, complete with a cackling witch waiting at the door. This is a popular ride, so you'll want to book a FastPass+ reservation in advance. FastPass+ is a digital-ticketing system that allows you to skip the line on three select attractions at one park per day. You can reserve them up to 30 days ahead of your arrival.
9:30 AM — Enchanted Tales with Belle
You'll want to visit this attraction early as well, as it can fill up fast and space is limited. A 20-minute interactive experience, Enchanted Tales with Belle invites participants to act out the story of Beauty and the Beast for Belle herself. Lucky guests will actually be cast in the story, given the chance to perform for Belle, and enjoy a photo op at the end of the show. Wait times can be long and there's no guarantee your family member will be chosen, but it's worth taking the chance to be a part of one of Disney World's most unique meet-and-greets.
10:00 AM — Under the Sea: Journey of the Little Mermaid
Another can't-miss Fantasyland attraction for families with little ones is Under the Sea: Journey of the Little Mermaid, a ride that takes guests through the key events of 1989's The Little Mermaid. Riding in massive clamshell cars, park goers are transported beneath the waves and through the undersea kingdom of Ariel, the little mermaid herself. There's also a run-in with Ursula, the evil sea witch, and a recapping of the film's love story with Prince Eric, culminating in a lavish wedding overseen by King Triton.
12:00 PM — Lunch
Gaston's Tavern is a good spot to visit for lunch inside Fantasyland, offering counter service and delicious fare like sandwiches, croissants and the highly-coveted Cinnamon Rolls. You can also jump to Tomorrowland (the next stop on our day-one itinerary) and visit Cosmic Ray's Starlight Cafe, which features burgers, rotisserie chicken and kid-friendly fare like chicken nuggets and PB&J.
1:00 PM — Tomorrowland Transit Authority PeopleMover
After Fantasyland, head to Tomorrowland, a recreation of a futuristic city that dates all the way back to the park's opening in 1971. A good way to kick off your visit to this part of the park is by riding the Tomorrowland Transit Authority PeopleMover. The 10-minute, one-mile tour covers the entirety of Tomorrowland and allows everyone to relax and recharge. The cars are loading and unloading continuously, meaning that wait times for the PeopleMover tend to be short.
1:30 PM — Buzz Lightyear's Space Ranger Spin
You and the family can't leave Tomorrowland without testing your laser-weilding skills at Buzz Lightyear's Space Ranger Spin, where riders can shoot at a number of targets while battling Emperor Zurg and his minions. At the end of the ride, your scores are displayed and the higher the number, the higher your ranking in the ranks of the Space Rangers.
2:00 PM — Monsters Inc. Laugh Floor
A Tomorrowland must for all age, the Monsters, Inc. Laugh Floor is an interactive comedy show in which guest are treated to stand up from a number of Monstropolis' wacky residents.
3:00 PM — Festival of Fantasy Parade
The Festival of Fantasy Parade is the last parade of the day at the Kingdom, featuring characters from a host of Disney films, ranging from Snow White to Brave.
4:00 PM— Pirate's League
After the parade, you can cross over into Adventureland. Here you you'll want to visit The Pirate's League, where boys and girls can become pirates, empresses or mermaids. They can also receive a lesson in swashbuckling from Jack Sparrow himself.
5:00 PM — Bibbidi Bobbidi Boutique/Princess Fairytale Hall
As you're waiting for the night's festivities, take the kids to the Bibbidi Bobbidi Boutique, a beauty salon inside Cinderella Castle that goes all-out in turning girls into princesses. They can choose their hairstyle, nail color, makeup and even accessories as the apprentices of the Fairy Godmother work their magic. Boys needn't feel left out, however, the magic makers at the Boutique can transform them into knights. Makeovers are very popular so reservations, which can be made up to 180 days in advance, are highly recommended.
After the royal makeover is complete, the kids should be ready for a meet and greet with Cinderella and Princess Elena at Princess Fairytale Hall. Both princesses will give the kids the red carpet treatment and pose for pics.
6:00 PM to Close — Dinner & Magic Kingdom at Night
After a full day of rides, you can opt for a more leisurely dinner to gather yourselves for an evening at the Kingdom. The Columbia Harbor House back in Liberty Square is a popular dinner spot, offering a seafood-based menu with plenty of options for younger eaters as well.
When dinner is over, it's a good time to take advantage of the park's waning hours. Lines tend to be shorter at the end of the day and most Disney fans agree that some rides are even more spectacular at night than during the day. The Prince Charming Regal Carousel in Fantasyland is a classic merry-go-round that dates back to 1917, where it was housed in an island park in Detroit. Lit up at night, its old-world charm comes to life, and its proximity to Cinderella Castle adds to the majestic experience. You can also head to Dumbo, which features a bright and color lighting scheme for nighttime rides or the Astro Orbiter, which affords unbeatable nighttime views from high above the park.
DAY 3: EPCOT
8:00 AM — Breakfast at Akershus
This Norwegian-themed restaurant offers a princess breakfast that is teeming with characters, including Belle, Ariel and Snow White. This is a breakfast you'll want to make reservations for.
9:00 AM — Frozen Ever After
Frozen Ever After, Epcot's most recent addition, is going to be at the top of your list, but make sure you book a FastPass+ in advance, as wait times can reach ninety minutes or more. Frozen Ever After is a log flume that takes riders on a journey through Frozen's kingdom of Arendelle, complete with cameos from all of the smash film's most notable characters, culminating in a fireworks display over Arendelle Castle.
9:30 AM — Meet Elsa and Anna
Next you'll want to Meet Elsa and Anna at the Royal Sommerhus. The Frozen heroines have a summer home off of Epcot's Norway Pavilion. At this cozy cabin families, can meet the royal sisters from Frozen and pose with them for pictures.
10:00 AM — Spaceship Earth
When people think of Epcot, the first image that pops up is the massive geodesic sphere. This is Spaceship Earth, a ride that examines the evolution of communication throughout history, beginning with prehistoric times and leading up to today. Lines are relatively brisk for this one, so even if you opt not to use FastPass+ here, your wait shouldn't be too taxing.
10:30 AM — Turtle Talk with Crush
Similar to the Laugh Floor at Tomorrowland, Turtle Talk with Crush is an interactive experience that lets kids talk to and receive answers from Crush, Finding Nemo's laconic, laid-back sea turtle. Every show is different, based on what kinds of questions and topics the kids throw out. It's also a good chance for everyone to get a little down time after walking from attraction to attraction.
11:00 AM — The Seas With Nemo and Friends
After hanging out with Crush, check out The Seas with Nemo and Friends. Here kids can have their own Finding Nemo adventure inside of a 'clamobile' which will take them through a 'Big Blue World' to look for the young clownfish.
12:00 PM — Lunch
Dining at Epcot is an experience unlike any other at Disney, as cuisines from all over the world are represented. You can grab a crepe in France, a churro in Mexico, and wash it down with a full-bodied beer in Germany. The Biergarten is a fun choice for families, with German musicians and dancers filling the hall and a wide assortment of buffet-style fare. The Mexico Pavilion also offers some options, with places like La Cantina de San Angel serving delicious and authentic Mexican offerings like empanadas, tacos and churros. If it all seems overwhelming, don't worry. There are smaller places throughout Epcot that will allow you to sample delicacies from around the globe without sitting down for a full meal. Grab a Mickey Pretzel at Block & Hans, pick up some potstickers at the Lotus Blossom Café or get a pizza at Via Napoli. If you're looking for a straightforward lunch and a character experience, over in Future World, there's the Garden Grill, which offers family style dining and the only place in Epcot where you can meet Mickey Mouse. Also, as you make your way around the World Showcase, be sure to stop at the Kidcot Fun Stops, which offer up free activities and crafts projects for kids as a great way to keep them engaged.
1:00 PM — Gran Fiesta Tour Starring the Three Caballeros
Located in the Mexican Pavillion, the Gran Fiesta Tour Starring the Three Caballeros offers a fun, escapist dark ride, taking you on a boat trip through a Mexican pyramid as Panchito Pistoles and José Carioca, two of the three Caballeros search for Donald Duck, the third member of the group. Once he's been found, you and your party are treated to a Caballeros concert and fireworks display.
2:00 PM — Character Greetings Around the Center
After the Gran Fiesta tour, stretch your legs and visit the iconic disney characters around Epcot.
You'll see familiar faces such as Alice in Wonderland in the United Kingdom, Belle in France, or Mulan in China just to name a few. These are great opportunities to see favorite characters in person at your own leisurely pace.
3:00 PM — Meet Disney Pals at the Epcot Character Spot
Disney's superstars can can found at the Epcot Character Spot. Mickey, Minnie, and Goofy are all around to bring fun straight from the house of mouse. The character spot is in Epcot's Future World right by Spaceship Earth, and shouldn't be missed.
4:00 PM — Stroll and have Dinner at Disney BoardWalk
Epcot is located in close proximity to Disney's BoardWalk Inn (it's tucked away behind the World Showcase), a promenade that features dining, entertainment and games. There are a number of meal options, including the Boardwalk Pizza Window, the To-Go Cart and Boardwalk Bakery. There are also a number of street performers, buskers, jugglers and magicians that will keep kids (and adults) entertained. You'll also want to opt for a surrey ride, which are 2- or 4-person bikes that allow you and your family to cruise along the BoardWalk in style.
DAY 4: Hollywood Studios & Animal Kingdom
9:00 AM — Breakfast at Hollywood and Vine
The most popular dining spot at Hollywood Studios is probably Hollywood & Vine, a '50s-style diner that offers breakfasts featuring Disney Junior characters like Doc McStuffins, Sofia the First and Jake of Jake & The Never Land Pirates fame.
10:00 AM — Jedi Training: Trials of the Temple
If you have Star Wars fans in the family, then you'll want to make sure you've blocked out plenty of time for the various attractions centered around that far, far away galaxy. The young Jedi in your brood will definitely want to take part in Jedi Training: Trials of the Temple, which pits young Jedis against Star Wars villains in an interactive show. If your kids want their shot at facing down the Dark Side, be sure to register ahead of time, as participation is limited and on a first come, first serve basis.
10:30 PM — Toy Story Mania
Want to see if you can beat your high score from Tomorrowland's Space Ranger Spin? This is a good place to test your Toy Story shooting mettle a second time. Some Disney fans say they prefer this version, as it's a little easier to hit the targets. Others champion the Tomorrowland attraction as being the superior one. There's only one way to find out which one is best.
11:00 PM — Disney Junior, Live on Stage
And, should you want to keep the Disney Junior vibe going, make sure to catch Disney Junior – Live on Stage, which brings together all of the kids' fave characters for a live attraction.
12:00 PM — First Time in Forever: A Frozen Sing-Along Celebration
Another stage show that the Frozen contingent in your family will want to check out is For the First Time in Forever: A Frozen Sing-Along Celebration, which retells the entire story of the hit film in a vibrant, 25-minute show.
12:30 PM — Star Tours: The Adventures Continue
Another Star Wars must is Star Tours: The Adventures Continue. An upgrade of the long-running Star Tours ride, this 3-D experience takes guests on a three-dimensional journey through the Star Wars universe, visiting key locations from all seven films as they transport a "Rebel spy" (a rider chosen at random) to safety. The ride features 50 different unique scenarios that change each time, making this an attraction you could visit more than once if you so desired.
1:00 PM — Lunch & Walk to Animal Kingdom
For family-friendly comfort food, the '50s Prime Time Cafe is a good bet for lunch at Hollywood studios. The staff there also make the experience a bit more interactive than at other Disney dining spots. We won't spoil the surprise, except to say that, when you eat there, you're treated like family.
After lunch you'll want to check out Animal Kingdom early and head right to Pandora – The World of Avatar. A newly-opened section of the park, Pandora is devoted entirely to the world created by James Cameron's 2009 blockbuster.
2:00 PM — Na'vi River Journey
A leisurely boat ride, Na'vi River Journey travels down a Pandoran river through a bioluminescent forest, highlighting the various species and plant life indigenous to the fictional planet. At the conclusion of the ride, you'll encounter the Na'vi Shaman of Songs, who will tell you about her connection to the planet and the life around her.
2:30 PM — Kilimanjaro Safaris
After returning from Pandora, definitely book a slot on Kilimanjaro Safaris, where you'll spot an array of African animals, including lions, cheetahs, elephants and giraffes. The sunset safaris offer an exotic experience, with glowing eyes peering out at you from the dark, although most people recommend catching the safari in the daylight hours.
3:00 PM — Festival of the Lion King
A good way to take a break from jumping between attractions at Animal Kingdom is to take in a performance. Festival of the Lion King, a reinterpretation of the 1994 blockbuster movie using puppetry and dance, consistently gets high marks from parents, both for its visual splendor and shady seating.
3:30 PM — Finding Nemo: The Musical or It's Tough to be a Bug
There are so many good shows available at Animal Kingdom, you really do want to try and squeeze as many in as you can. Finding Nemo: The Musical is a musical recreation of Pixar's famous film, using elaborate puppetry, animation and lighting to bring the story to life. It's Tough to be a Bug is a very cool 3D experience that lets kids see the world through a bug's eyes.
4:00 PM — TriceraTop Spin
The Dinosaur ride is a definite winner, but it might be intense for the younger members of your family. A surefire draw for younger families is the TriceraTop Spin. A variant on the Dumbo Ride, the ride allows you to control the dinosaurs' motion using a pair of joysticks that will send you either up or down or forwards and backwards.
4:30 PM — Adventurers Outpost
If you want to have a chance to meet Mickey at Animal Kingdom, a good spot is Adventurers Outpost, where both Mickey and Minnie can be seen in safari garb.
5:00 PM — Dinner
Head over to Disney Springs for dinner. Kids will definitely want to dine at the T-Rex Cafe, a dino-themed restaurant featuring animatronic creatures, a fossil dig and a workshop where they can build their own dinosaurs. Older travelers might want to head to Jock Lindsey's Hangar Bar, a 1930's saloon inspired by a minor character in Raiders of the Lost Ark. There's also Paddlefish, a seafood restaurant located inside a paddlewheel steamboat.
6:00 PM to Close — Once Upon a Time
Once the sun goes down, and it's your last night at Disney. We suggest capping your trip off back at the Magic Kingdom to enjoy the variety of entertaining shows and firework displays. If you want to stay a little later, there is Once Upon a Time, which starts at 10 (versus Happily Ever After's 9:15 start time). The show is similar in structure to Happily Ever After, but less extravagant, so, if the kids are getting tired, you could duck out early.
The upside of staying later is catching the Kiss Goodnight, a well-known secret among Disney travelers. Essentially, its a mini-show of sorts, featuring Cinderella Castle adorned with twinkling lights as a recorded message thanks guests for visiting the park and outlining Walt Disney's vision for Disney World and his belief in the power of dreams. For many Disney travelers, it's the most anticipated part of the trip, and the perfect way for you to cap off your Disney World visit.