The Top 8 Father-Child Costumes of 2018, According to Instagram
Number one will blow you away.
by Fatherly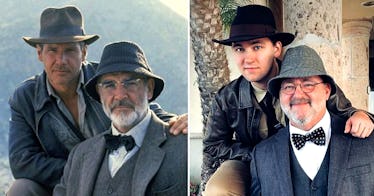 van_kelsing/Instagram
Halloween is officially here which means scary movies, boatloads of candy, and, of course, mind-blowing costumes. In the past, dads have often taken the easy route when it came to dressing up but over the past few years, dads across the country have been stepping up their game and taking father-kid costumes to the next level. Because if you're going to do something, you may as well give 110 percent, right?
To honor these Halloween MVPs, Fatherly decided to let our Instagram followers vote and decide which father-child costume officially won Halloween. Here are the eight best duos, including a couple of Marvel costumes, a few hilarious throwbacks, and possibly the most badass dad-daughter costume of all time that pays tribute to an iconic action film. Which took number one? Scroll down to find out. Happy Halloween.
8. Thanos & Gamora
This Infinity War costume is so adorably awesome you may temporarily forget that Thanos wiped half the universe away with the snap of his fingers (including his own daughter).
7. Goonies
This hilarious father-son costume is a perfect tribute to the unexpected friendship from one of the best movies from the '80s.
6. Indiana Jones
Indiana Jones is only afraid of two things: snakes and his old man. These two manage to replicate Henry Jones Jr. and Sr., the only way it could have been better if they had a dog named "Indy" with them.
5. Jigsaw Family
The only thing scarier than one Jigsaw? Three Jigsaws. You better give them some candy or you may find yourself having to chop your foot off in order to escape this family's wrath.
4. Alan & Carlos (from The Hangover)
Carlos and Alan are one of the greatest bromances in the history of film and these two bring that wolfpack bond to life with this fun costume.
3. Starlord & Rocket
Apologies to Baby Groot, but Baby Rocket is officially the cutest Guardian of the Galaxy.
2. Ratatouille
This dad was born to dress up as Alfredo Linguini. Seriously, the resemblance is uncanny.
1. Mech Suit from Aliens
Everything about this costume is perfect, including the fact that the dad managed to build this insane replica mech suit on his own. Sorry, fellow dads, but this father-daughter duo already won Halloween.
This article was originally published on