The Rock Taught Us How to Do the Ultimate Dad Hug
As the biggest movie star in the world, a one-man blockbuster with a marquee grin and box office pecs, Dwayne "The Rock" Johnson has made a career of being both likable and physically imposing. He plays men, like Luke Hobbs in the Fast and Furious films, who are hard as nails but loving to their... View Article
by Fatherly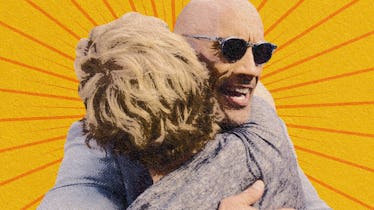 As the biggest movie star in the world, a one-man blockbuster with a marquee grin and box office pecs, Dwayne "The Rock" Johnson has made a career of being both likable and physically imposing. He plays men, like Luke Hobbs in the Fast and Furious films, who are hard as nails but loving to their children and significant others. In almost every film with The Rock, there's a moment when he hugs someone tightly to his rippling breast and the look on that person changes from ragged fear to placid calm. So we sent our editor-at-large, Joshua David Stein, to the red carpet at the premiere of Skyscraper to learn how to do the ultimate dad hug from Johnson himself.
As The Rock approached, Stein popped the question and asked him how to give one of his famous hugs. The Rock smiled.
"You gotta go in deep," he said. "You have to squeeze like a bear. You gotta pull them in hard."
It wasn't a long answer, so Stein pushed down his fear of rejection and asked his real question in a sort of stage whisper: "Can I get a Dad Hug?"
"Come here," The Rock said, and he hugged Stein.
What's it like to be hugged by The Rock? Stein said, "It felt amazing."
He added, "The funny thing is, The Rock is a movie star and everyone knows his face. But, in The Rock's embrace, I didn't see The Rock. I didn't even really feel The Rock. All I felt was warmth."
This article was originally published on