The Rock On Being 'Black Adam,' Great Tequila and His Love Affair With Ryan Reynolds
We talked to Dwayne Johnson about movies, parenting and great drinks. But boy, did he keep bringing up Ryan Reynolds.
by Donna Freydkin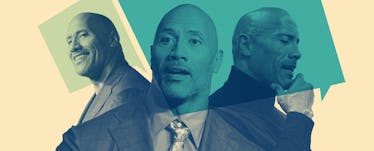 GETTY
The Rock has a simple philosophy that he applies to everything he takes on: If you do something, don't half-ass it. Don't waste anyone's time or money. And please, please, in an industry full of dicks, don't be a dick. This is why he taught us the best way to give a dad hug, and why his movies are so watchable. The Rock doesn't make weepy, grim auteur films and that's okay. Dwayne Johnson has mastered the incredibly tricky art of creating big-budget mainstream movies that everyone loves. The Rock's appeal is just like a solid tequila: it's fun to drink, unpretentious, and a true pick-me-up. Which is funny, because he's actually making some damn good tequila right now.
He's also got a new big-budget Netflix dramedy Red Notice, about an art thief (Gal Gadot), another art thief (Ryan Reynolds), and the FBI profiler hot on their trail. (Johnson). Next July, he plays vilified DC Comics antihero, Black Adam, out to clear his name. Johnson, a father of three, also found time to create Teremana tequila. It's a great tequila (really!) It's smooth, but with just enough of an edge. Just like the Rock.
Ahead of the debut of Red Notice on Netflix, Dwayne Johnson talked to Fatherly about working out, branching out, and raising his two youngest, Tia, 3, and Jasmine, 5.
Talk to me about working with Ryan Reynolds. That's pure magic on-screen.
It's just difficult being in his presence when he breathes. That's the thing with Ryan — we're like an old couple and we fight and we bicker and we love each other. We have a lot in common. We are obviously dads, we love our babies, we love our work. We work too much, love what we do, love to fish, love to have fun, tell jokes, love to make each other laugh. [We] ruined takes all the time. I'm very proud of his success and what he's been able to do.
And I think because we've known each other for such a long time, by the time we got on the set of Red Notice, we had just a tremendous amount of trust. When something is funny, though, he will not break, he really stays in the moment. I, however, will completely break and kill the take, restart the whole thing again, waste time and money, but that's who I am.
What about Black Adam. Please tell me you have a big-picture scenario for the guy. This is a franchise, not just one movie, right?
Well, I love that you ask that. Our goal — and when I say our goal, I mean us at Seven Bucks Productions and DC — we're all aligned to figure out the right way that we can integrate these universes. For me, as a fan of DC and as a fan of Marvel, I love when they are converging. And these characters in these worlds are converging, so we have a few references in our movie. And the key with Black Adam, I think is just establishing who he is. A lot of the comic book fans out there and the superhero fans and the anti-hero fans, they're a little unfamiliar with who Black Adam is. So it's important I think, to establish who he is and his strengths and his powers. And ultimately down the road, I would like to see the convergence of Black Adam and a few others in the DC universe.
So this is not going to be a one-off?
No, there's a bigger plan that we have here. Which I really appreciate. I think that obviously, Marvel has done it exceptionally well. And Kevin Feige has just done an incredible job of architecturally designing that entire universe. And I love that DC is aligned and they want to do that. We will honor the mythology of Black Adam too. So I think we have a few other adventures down the road.
Very cool. And on a different note, not sure if you recall, you were our coolest dad a few years back.
Of course, I remember that. I remember that that was a big deal, by the way. I was like, 'Oh man.' I remember that.
Speaking of fatherhood, I love that you never play it for laughs. In so many movies and shows, we get that aggressively inept dad, the one who burns dinner or can't braid hair. But that's never you. Is that intentional?
I know. It's ridiculous. And I'm not saying that doesn't happen — it's happened to all of us. And I have three daughters. I have an older daughter and of course, I have two young ones. What was intentional, was doing my best to be a better dad than my dad was for me. And my dad loved me with the capacity that he had, but we had a challenging, complicated relationship. So now with my daughters, especially my younger daughters, the intention is to just be a good dad and be there. That means taking them to school every morning, picking them up, taking them to soccer, being that dad.
You seriously do the school run? I hate doing the school run.
I do, every morning. Well, here's the thing, it's harder for my wife too, because she's so tired. So I always tell her, 'Listen, I'll get up in the morning.' Because I enjoy getting up in the morning, dropping them off and by 8:30 or by 8:45, I'm at the gym. So I'm already in my element and I let Lauren sleep in a little bit. Then she'll get up with Tia and they'll have their mornings together. And then maybe Lauren will pick Jazzy up from school. But no, in terms of being an inept dad, well, we all go through it, but that's nothing to amplify unless there's something funny about it. But at the end of the day, I'm trying. And not only that, but if you try, you're going to do pretty good.
Do you ever foresee a day when you stop going to the gym or slow it down a little bit?
Train differently? Yes, for sure. And I've been feeling that for the past two, three years, so I train differently, yes. You shave the volume down a little bit of what I'm doing, but there's always some activity that I enjoy and I do enjoy going to the gym. I think there's just something about… It's like when you go for a hike or you actually go do something, I think it's the physicality of actually going to do the action of it. So I enjoy it and plus it's also my time to unplug and just for that hour, hour and a half.
Your physicality is so much a part of who you are, so how do you avoid raising kids who are obsessed with how they look?
Oh, I love that question. I think what we've been doing with our babies is making sure that they understand the importance of making healthy choices and not necessarily worrying about, well, how do you look and how do you not look now? They come out and they say, 'How do I look?' 'You look great. I love how you look.' Early on though, we had the conversation with Jazzy. Jazzy has been blessed with some beautiful eyes, she's a beautiful girl.
We had early conversations about that because the parents will come and say, 'Oh look, you're so beautiful.' And it sounds so simplistic, but I think starting early and creating these defining moments where they pause and they just say, 'Thank you so much. I appreciate it.' But this is what is important, it's in here. I mean, it's all these little over-simplified things that we teach them.
Let's talk about your tequila. It's good! How much are you involved with that?
Yes, it is good, it is. The quality of it, there's nothing in there, there are no additives, there's no caramel, there's no… It is high, high quality. It's super clean, super clean.
We opened up our distillery down in Mexico, where only Teremana is made in that distillery. We continue to… Right now we will open up another distillery, probably in 2022. And so the plan is just to continue to grow it. We have great distribution partners and we have a great distribution plan. And at the bottom, I don't know if you know this, so check this out, when you can. Grab a bottle of Teremana, at the bottom of Teremana every bottle, is an embossed word that says TJS. And that is the three first letters of my three daughters' first names (Simone, Tia, and Jasmine). And it's at the bottom of every bottle. It's a little Easter egg, no one knows it's there. Check it out. So the reason why I share that with you is it gives you an idea that it's a real legacy play and brand for me, to continue to build.
I love the fact that you have a woman running your production company.
I do. Yes.
I don't even know what the question is. I guess, my comment is that I just love that you do what other people talk about doing. You put a woman in charge of your career, essentially.
We have a lot of women in our organization, one of which is sitting off-camera right now, her name is Maya Lasry, she's our CMO, who is amazing. But also I tapped Dany (Garcia) to run the company and be such a tremendous strategic advisor and she is a really brilliant architect. And so I feel like the thing that helped me most in my career was finally understanding… if you want to achieve goals, for me, personally, the best thing that I could do is really bring in people who had a greater skill set, who are a lot smarter and better than me at what they do. And that is certainly the case with Dany, certainly the case with Maya, certainly the case with a lot of the women.
I've got all strong women around me. When you want to make it in life, you surround yourself with very strong, smart women.