Here's When 'Mandalorian' Season 2 Episodes Will Drop On Disney+
The Disney+ smash is coming back. Here's what we know about season 2.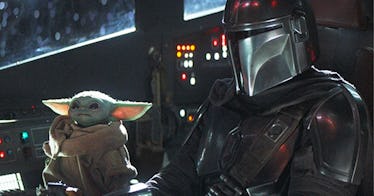 Disney
When does the second season of The Mandalorian hit Disney+? How many episodes will be in it? Will we learn even more about Baby Yoda? Well, now, just about eight months after the season finale of The Mandalorian aired on Disney+, we finally know when the new season is coming out. So far, here's everything we know, plus when you'll be able to watch these new episodes. Here's everything you need to know about the further adventures of Din Djarin and "the Child" that we call Baby Yoda.
When does season 2 of The Mandalorian premiere?
New episodes of The Mandalorian will start streaming on Friday, October 30. As you might remember, the first episode of the first season debuted the day that Disney+ launched, a Tuesday, but with one exception the others debuted weekly on Fridays.
That the release date is a Friday suggests that Disney+ might be pursuing a similar strategy this season and that you can plan your Fridays around Mando. In other words, this will roll out very similar to season 1 last year.
What is season 2 of The Mandalorian going to be about?
Jon Favreau continues to run a tight ship, so it's not as if we know exactly where he's going to take the story this time around. We do know that Moff Gideon's connection to the Force will come up and, thanks to casting rumors, that Boba Fett, Ahsoka Tano, and Bo-Katan Kryze, will all make appearances. As will the Darksaber. That said Boba Fett and Ahsoka have not been confirmed. Yet.
Is there a trailer for season 2 of The Mandalorian?
No! It's unfortunate. The rumor is that Rosario Dawson, who plays Ahsoka Tano, recently shot some footage specifically for the trailer, and that might be the reason we haven't seen frame 1 of the new season yet. Here's hoping Favreau and company get everything edited together soon.
Will there be a season 3 of The Mandalorian?
Yes! As of April, Favreau had been "writing season 3 for a while." The production design department began working on season 3 on April 20, the month after shooting wrapped (just in time) on the second season.