The Lost Art of the Family Hotel Vacation
A case for the vacation where the hotel is the destination.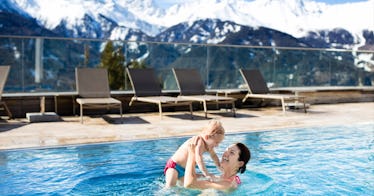 This story was produced in partnership with Suiteness, the Website that makes vacations better by combining the space and affordability of a vacation rental with the amenities of a hotel.
When I think of my family vacations, I first think of the music. The crooning of Neil Young and Bob Dylan will forever be the soundtrack to a childhood spent puttering along the backroads of the U.S. in the 1980s, from Mackinac Island to Estes Park. The next thing I think of is the bed. The feeling of flopping down atop cool, taught sheets, pulling up the comforter, and sleeping soundly, surrounded by my family after a long day on the road.
The constants across our many trips were what made them so great: The road; the tunes; the wide-open views; the laughter-filled fights with my sister and brother in the back seat; and the hotels we checked into along the way.
The feeling of strolling into a huge hotel lobby full of new things to discover is still fresh, with all those elevator buttons to push and the giant, sparkling pool that, for the next few days, would become our watery home.
I can recall, too, that unusually carefree look on my mom and dad's faces when we'd tear up our hotel room to build a fort or overflow the bath tub with bubbles — things that didn't fly so easily back in the hard and fast rules of home.
Now, I work as a travel writer and my husband and I have a family of our own, a two-year-old son, Nicolas, and a 9-month-old daughter, Gabriela. We haven't been able to get out as a traveling foursome just yet (give me a break here) but when we do, we will opt to stay at hotels.
SIGN UP FOR A CHANCE TO WIN: $1 Million in booking credits to use toward your next vacation!
Despite the ubiquity of private vacation rentals today, the advantages for an old-fashioned hotel are clear to me. For starters, staying at a hotel is a no-strings relationship. Everyone's clear without having to sign any contracts or scroll through any guidelines about what both parties are getting out of the arrangement. The whole point of a vacation, after all, is enjoying time together that's free of the duties of home. When I manage to play hooky from the day-to-day with my family, the last thing I want to think about is having to make beds, load the dishwasher and launder dirty towels.
There are more luxurious perks, of course. Suites often come with butlers or presidential-level concierges — a traveling parent's dream. I've tapped these angels for everything from organizing car seats for my rental car to whisking away wet bathing suits to be dried for the next day's beach fun.
A few weekends ago, we hit the road for Fort Lauderdale aftering landing a deal on a suite at the Hilton Fort Lauderdale Beach Resort. I was on assignment for a story about the Everglades, hauling the kids between one oddball Florida spot (search for "skunk ape" when you have a spare moment) and another. And pulling up to the valet and dumping all our baggage at the end of a hot and busy day on the road felt like entering another, kinder world.
Our suite had two separate bedrooms, each with full baths, and a full kitchen and living room where Nicolas could run around and explore after being cooped in the car seat all day. The highlight for me was the wraparound (child-proofed!) balcony where I could decide if I wanted Intracoastal or Atlantic Ocean views with my cold beer. We were gone a lot during the days exploring wild Florida, hopping in and out of the car to go on airboat rides and scout the Everglades for those skunk apes. But coming home to a freshened up room and kitchen and relaxing before a family dip in the hotel's rooftop pool is surely what the kids (and let's face it — probably my husband and I, too) will best remember.
In a hotel suite, I don't worry about my rambunctious little boy running into somebody's favorite lamp and breaking it. And if my baby needs a change of bed sheets in the middle of the night, all it takes is a quick call to get that sorted.
I'm also not entirely convinced about the touted convenience of the vacation rental economy — the one that connects us all to private homes wherever we are. Thanks to apps and websites, it's never been easier to book a hotel that is just-right for you. Take Suiteness, the online tool that specializes in booking suites from hotels. Within minutes, you can narrow down the search for the best places with the best prices of a hotel's suites or multi-bedroom inventory (crucial for parents who want kids to go to bed early while they hang out in the other room). It's a lot like a vacation rental search engine in that you can search by city, the amount of bedrooms you want and you're preferred price range. And Suiteness links directly to TripAdvisor reviews, too, which are always my standard for a second and third opinion.
Like it was for me growing up, a great hotel is undoubtedly going to be part of what my kids remember later in life, too. I'm anticipating that look of wonder on Nicolas' face as he pushes through a hotel's revolving door and sees a well-dressed someone sauntering down a grand spiraling staircase and catches the glitter of crystal chandeliers and the glossiness of marble floors. I'm picturing the four of us returning to a tidied-up hotel suite at day's end, too, perhaps enjoying a drink on the balcony or heading down to the pool for a group swim. And nobody is going to be asking me what's for dinner or complaining there are no clean towels. Just the thought of that makes me feel like I'm on vacation already.
This article was originally published on