The (Kid-Friendly) Winter Vacation Capsule Collection
If your winter vacation planning fell prey to a crazed work schedule or free-moment-gobbling family life, never fear: this guide will have your boots in the snow or feet in the sand in no time. Using the family-centric, high-end Airbnb known as Kid & Coe, it identifies great vacation rentals, places to eat and things to do in 6 destinations where you'll actually want to bring the kids.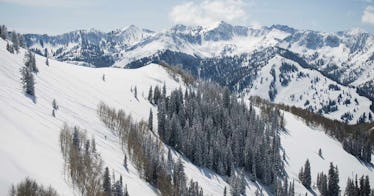 Getty
There's no better starting point for this kind of scramble than Kid & Coe, which pairs guys in need of vacation rentals that come with things like cribs and stacks of toys (that would be you) with interesting homes in cool locations that have exactly that. This guide identifies some of the kid-centric Airbnb's cooler properties in both cold and warm-weather destinations (along with hotel options if they're booked), plus a restaurant for family dinners and one for a date night with the Mrs. Finally, there are some ideas for what to do when your kids are sick of the mountain or the beach. All recommendations are based on a combination of Trip Adviser and Yelp reviews, plus some local knowledge.
Speaking of local knowledge, here are a few travel tips from Kid & Coe founder Zoie Kingsbery Coe:
Look For Libraries: When traveling domestically or to urban areas, check out the local libraries. They're often well equipped to entertain kids for a few hours, which minimizes the amount of toys and books you need to travel with.
Wander The Food Aisle: The more exotic the location, the more likely your kids will be utterly mesmerized by the local food – and not the stuff on their restaurant plates. Never underestimate the entertainment value of a foreign grocery or farmers market.
Keep Booking It: Bookstores are great places to take the temperature of a place and discover local kid-friendly activities that won't necessarily be online or in guidebooks.
Instant Nursery: The Gro Anywhere Blind ($45.84) is a portable black-out blind that can nap time-ify just about any window in the world.
There are few things in life more sure than a Utah winter – even when next-door neighbor Colorado is snow-starved, the mountains around Park City are consistently hammered with storms. All 3 of the local resorts – The Canyons, Park City Mountain Resort and Deer Valley – specialize in mellow terrain that's great for learning and teaching, but there's still enough challenging stuff scare you/give you something to lie to your friends about.
Where to Stay
The Little Lake Residence, $300 per night Sleeps: 4-6
If That's Booked
Save: Newpark Resort and Hotel, from $130 per night Splurge: The Montage At Deer Valley, from $920 per night
Where To Eat
Dinner With The Family: Fireside BuffetDate night: J&G
What To Do With The Kids When They Don't Want To Ski/Snowboard
Lake Tahoe is coming off an unprecedented stretch of 3 consecutive bad snow years. Global warming's a bitch, but the end is not nigh just yet, and ski areas like Squaw Valley and Alpine Meadows are due for one of those winters when the snow is measured by how close it gets to the roof of the lodge. If you like those odds, there are also the Nevada casinos nearby.
Where to Stay
The Alpine Meadows Residence, $350 – $475 per night Sleeps: 6-8
If That's Booked
Save: Cedar Glen Cabins, from $262 per night Splurge: Ritz Carlton Lake Tahoe, from $1,950 per night
Where To Eat
Dinner With The Family: The Bridgetender TavernDate night: Christy Hill
What To Do With The Kids When They Don't Want To Ski/Snowboard
SnowVentures Tubing And Mini-Snowmobiles
The biggest ski area in New England is just far enough from New York and Boston to feel like a vacation but still within striking distance of an early evening departure. Killington's the only place in the region where you can ski all day without hitting the same lift twice, and while it lacks the sort of rowdy terrain you'll find out west, your kids won't know or care.
Where to Stay
The Tweed River Residence, $930 per night Sleeps: 8-10
If That's Booked
Save: The Summit Lodge, from $130 per night Splurge: Killington Grand Hotel Resort, from $460 per night
Where To Eat
Dinner With The Family: Casey's CabooseDate night: Horse-drawn sleigh ride and dinner at The Mountain Top Inn
What To Do With The Kids When They Don't Want To Ski/Snowboard
More horse-drawn sleigh rides! Oh what fun.
An annual contender for "Beach Destination Most Likely To Be Described As 'quirky'," Sayulita is a small village 45 minutes north of Puerto Vallarta, Mexico and about 8 light-years away in terms of charm and vibe. Daily life bounces between the bustling central plaza and the 3 kilometers of beach that border the village, which is populated by a mixture of Mexicans and expats that's best described as … yep … quirky.
Where to Stay
Casa Dos Chicos, from $400 per night Sleeps: 8
If That's Booked
Save: Hacienda de la Costa, from $160 Splurge: Villa Amor, from $320
Where To Eat
Dinner With The Family: ChocoBananaDate night: Playa Escondida
What To Do With The Kids When They Don't Want To Go To The Beach
A Caribbean island that avoids being either an XXL yacht parking lot or an all inclusive resort strip mall, Barbados' local population maintains a vibrant culture that encourages exploring while being small enough to schedule that exploring around nap times.
Where to Stay
The Vuemont Villa, rates available on request Sleeps: 6
If That's Booked
Save: Coral Sands Resort, from $273 Splurge: Cobblers Cove, from $1,200
Where To Eat
Dinner With The Family: Oistins Bay Fish FryDate night: Cafe Luna
What To Do With The Kids When They Don't Want To Go To The Beach
Know for years as the poor man's Puerto Rico, the DR has evolved into a desirable beach spot in its own right. Six airlines now fly nonstop to the 2 major airports, and while not as cheap as it was 10 years ago, you can still book 2 vacations here for the price of one at St. Lucia's or St. Bart's or any of the other patron saints of rum drinks with umbrellas.
Where to Stay
The Las Palmas Villa, from $870 per night Sleeps: 8-10
If That's Booked
Save: Hotel Alegria, from $120 per night Splurge: Sea Horse Ranch, from $700 per night
Where To Eat
Dinner With The Family: VacaBarDate night: Otra Cosa
What To Do With The Kids When They Don't Want To Go To The Beach
This article was originally published on