The Complete Timeline of Dave Grohl and Nandi Bushell's Epic Drum Battle
The months-long drum-off was one of the best things to happen in 2020.
by Isabella Bridie DeLeo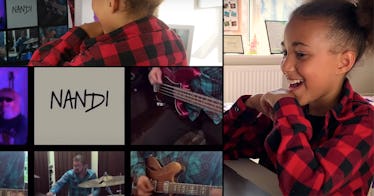 In a November episode of The Late Show with Stephen Colbert, guest Dave Grohl and Colbert agreed that the rock star had "one of the few feel-good stories of this year." The "feel-good story" in question? The truly epic drum battle between Grohl, the 51-year-old founder and frontman of the Foo Fighters and the former Nirvana guitarist, and 10-year-old British and Zulu drumming prodigy Nandi Bushell. It was a classic rock battle of the ages that took the internet by storm, especially since, by Grohl's admission, Bushell was "kicking [his] butt at the drums" with not only her impeccable technical mastery, but also her style.
If you've seen Bushell's videos, you'll know that they're often characterized by her magnetic drum rolls, where she yells and screams while striking the drum kit with more fury and star power than you'd typically expect from a 10-year-old. The roughly 3-month-long battle captivated and uplifted the internet, and it was even one of the most-searched terms on Google this year. And like a true battle of the bands, there were twists and turns, duels and comeuppance, but mostly excellent music. It was a fitting collaboration of two gifted musicians eyed and praised by thousands of encouraging viewers, both young and old. If you want to learn more about how and when it all got started, take a look at our timeline of key events in the Bushell-Grohl drum battle that made 2020 just a little bit better.
November 11, 2019
Bushell performs a truly kick-ass version of Nirvana's "In Bloom" and posts it on her YouTube channel. Soon thereafter, Nirvana's music producer Butch Vig sent the video to Grohl, who, upon seeing the video, thought, "this kid is a force of nature." He wasn't wrong!
August 17, 2020
Bushell prefaces her cover of the Foo Fighters' "Everlong" with a spirited challenge to Grohl, her "favorite drummer," according to The New York Times, the drum battle challenge that started it all.
August 28, 2020
CBS This Morning interviews Bushell, highlighting that her "high-energy" videos, which include everything from Metallica to Coldplay covers, have helped one of the correspondents, Vladimir Duthiers, "get through this quarantine and lockdown." In the interview, Bushell said, "I just love rocking out, just my favorite. I love how loud it is." She added, "I really wanna have a drum battle with him and I'm going to checkmate him." Which, of course, came true. And in a few days, round one of the drum-off began in earnest.
August 31, 2020
Seemingly, she took to Twitter to confirm that the drum-off was inevitable. To pump people up, Bushell called on "The Rock Gods of old" to prepare us all for "THE GREATEST ROCK BATTLE IN THE HISTORY OF ROCK!!!"
September 3, 2020
After getting a maelstrom of texts from friends encouraging him to "step up and respond," Grohl covered "Dead End Friends" by Them Crooked Vultures, a song he thought would be relatively easy to play. He told Colbert, "I thought, I'll play something simple and send it to her." However, he said, "one day later she comes back with her response and wipes the floor. She's kicking my ass!" Grohl swiftly conceded defeat, and round one was officially over.
September 14, 2020
Grohl wrote an original song about the 10-year-old rock prodigy called "Nandi," declaring her the "number one supergirl/ the best drummer in the world…Nandi on the drums makes the world go round." In this reaction video, you can read Bushell's excitement at seeing her favorite drummer write a song about declaring her the "best drummer in the world."
October 1, 2020
Bushell hit back with an original of her own called "Rock and Grohl: The Epic Battle." And it's both delightful, masterful and irreverently funny like all of her stuff.
November 6, 2020
Bushell posts about the one-year anniversary of the "In Bloom" cover that started it all.
November 9, 2020
The two rock gods finally meet, albeit virtually, during a video interview for The New York Times.
November 20, 2020
Grohl officially announces that Bushell has won. He tells Colbert, "sometimes you just have to concede defeat."
November 22, 2020
Bushell makes an apocalyptic-themed video about her epic win, where she says she's looking forward to making music with Grohl one day, saying, "It has been an honor battling you, Mr. Grohl, and I can't wait to write our song together."
Nandi Bushell was already on her way to stardom even before the drum-off with Grohl made her a household name. Her covers have gone viral on their own, and she's even received encouragement from several rock legends in addition to Grohl, with Lenny Kravitz and Nate Smith gifting her a drum kit and Tom Morello gifting her a Fender Soul Power Stratocaster. Coldplay, Muse and Janet Jackson have also praised her inventive covers.
Her drum battle definitely put the young artist on the map even more. But the much-loved drum-off didn't just provide Bushell with an opportunity to rock out with her favorite drummer: it also helped Grohl and the Foo Fighters stay in the groove during the COVID-19 pandemic. He told The New York Times, "What I realized was more than any sort of technical contest, this was something that was bringing people a lot of joy at a time where everyone could use a little bit," he said. He continued, "it actually changed the way I look at what my band does in this time."
As a result, the Foo Fighters have been performing small live sets and fake commercials to keep a connection with their fans. Grohl, who is widely considered to be one of the nicest folks in rock, said, "If that's going to bring people five, 15, 20 minutes of happiness in one day, then that's what we should be doing." Certainly, the drum battle between Bushell and Grohl has brought tons of people a few "minutes of happiness" whenever they posted. While COVID-19 has temporarily closed down music venues across the country, the drum battle seemed to offer up the internet a slice of what live music would typically offer: people coming together to collectively rock out and share their love of music. And we will definitely look forward to Grohl and Bushell's future collaborations.
This article was originally published on