The Best Kids Museums In The Country For Building, Experimenting, And Blowing Stuff Up
by Alison Zeidman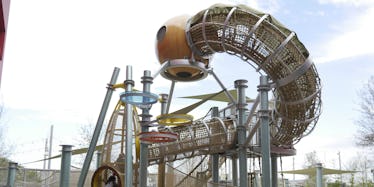 Your parents used to take you down to the science museum to touch Tesla coils, poke hissing cockroaches, and stock up on astronaut ice cream (because for some reason the supermarket doesn't carry it). But now that we're in the golden age of STEM education, there are a bunch of science centers that are reimagining their exhibits, getting more hands-on with activities, and catering to kids of all ages — even those who try to eat the model of the solar system.
"Lots of children's museums have content focused on innovation, usually STEM (Science, Technology, Engineering and Math) or maker-related," says Laura Huerta Migus, Executive Director of the Association of Children's Museums. "They are not about being 'flashy' museums, they are about being community resources."
Here are 11 of the country's most engaging museums that nobody needs to sign a permission slip for.
Oh WOW! The Roger & Gloria Jones Children's Center for Science & Technology, Youngstown, OH
It's a pretty bold move to throw in an enthusiastic exclamation in the name, but this museum lives up to its own punctuated hype. It offers an overflowing diapers' worth of experiential exhibits called WOW! Zones, which include a flight simulator, a hands-on scientific kitchen, weather forecasting green screen, and a "Sound & Light" zone where kids can dance through laser beams and scream as loud as they want into a sonic Echo Tube. Better here than on the car ride home.Learn more here
Children's Creativity Museum, San Francisco, CA
This Bay Area museum — much like the rest of the Bay Area — is all about innovation. It's yet to be determined whether you're feeding juice and Goldfish crackers to the future CEO of Alphabet, but at least they'll have a blast learning from these multimedia exhibits. At the Creativity Museum kids can make their own animated movie, use coding skills to program robots, or get inspired to invent in the Mystery Box Challenge — which is where Iron Chef meets Instructables.Learn more here
Children's Museum, Pittsburgh, PA
Pittsburgh is home to both the Andy Warhol Museum and Carnegie Mellon, so it makes sense that their Children's Museum has a focus on design-based learning (but not enough Velvet Underground). There's a multimedia studio and a gallery of artwork specifically designed for rough handling. But the coolest thing it has to offer is the TapeScape: More than 10 miles of packing tape sculpted into tunnels and curved walls for your kid to explore. Important note: It's sticky-side-down, so it functions like a playground, not preschool fly paper.Learn more here
Bay Area Discovery Museum, Sausalito, CA
The BADM celebrates its 25th anniversary this year, and they just opened the first Fab Lab ever based in a children's museum. Those would be the high-tech maker spaces where your little engineer can use 3D printers and laser-cutters to turn their ideas into actual object. This year for Father's Day someone is getting the most technologically advanced "#1 Dad" mug, ever.Learn more here
Glazer Children's Museum, Tampa, FL
This museum's tagline is "Dream It. Be It," and that "it" happens to be careers from art and medicine to banking and engineering. They also just opened something called SMALLab, where kids get to collaborate with their peers in an immersive, motion-capture environment where they get to solve puzzles, act out character stories, and make digital paintings. Feel free to stand outside and bore everyone with how you told stories and made paintings in your day.Learn more here
Children's Museum, Oak Ridge, TN
Through a partnership with the Department of Energy, this museum uses hands-on experiences to teach kids about energy usage and what those renewable resources might look like in the future. They even recently installed a "Living Light House" which was donated from University of Tennessee — a 750 square foot, zero energy structure powered by the sun. Or, as it was known at UT, freshman housing.Learn more here
The Thinkery, Austin, TX
The Austin Children's Museum recently reinvented itself as The Thinkery. Don't worry, it didn't become a juice bar. It just now focuses exclusively on innovation and technology, where kids from 4 to 14 can do everything from bake with superfoods (blueberry muffins, you've been rebranded) to launch aerodynamic projectiles in its workshops. Are those projectiles baked superfoods? Maybe.Learn more here
Children's Museum, Houston, TX
Parents Magazine rated this the #1 children's museum in the country, and it's easy to see why. Indoor exhibits spill outside, offering them plenty of stuff for to climb on, up, and through, all while asking the big Google questions. Visit their new S.E.C.R.E.T. experience, where kids over 8 can get all Mission: Impossible in an interactive challenge to stop evil villains from stealing the museum's valuables. Wearing a black unitard is up to you.Learn more here
DoSeum, San Antonio, TX
The DoSeum emphasis is on do, which means creating and tinkering with DIY exhibits and activities. They all have themes like Mad Scientist and Pop Art, which aims to put the "A" in STEAM. The whole space is also divided into "quiet" and "noisy" zones, like the "Big Outdoors" space which features a water works complex, bubble area, and 30-foot-high German climbing structure. Where did your kid go? Just head towards the screaming.Learn more here
Discovery Place, Charlotte, NC
The Discovery Place is known for a 3D theater (your favorite dimension), interactive exhibits like the "World Alive" area that features 15 tanks of equally cute and gross wildlife, "Project Build," where they have to build a Lord of the Flies-like structure from PVC pipes and netting, and an exhibit called "Beyond Rubik's Cube," which explains why that goddamn toy is so frustrating and fascinating.Learn more here
Discovery Children's Museum, Las Vegas, NV
As the only place in Vegas where people learn from their mistakes, kids have all the hands-on design and engineering tools they need to build their very own inventions. The Patents Pending gallery is the prime draw of this museum, where kids can prove out their designs in testing stations like the Drop Zone, Air Tower and Quake Proof. By the end of the day, your kids won't want to leave —which is a different sensation than any time you've been here for a bachelor party.Learn more here
This article was originally published on