The Best PBS Kids Online Games and Apps
Video game screen time parents can get behind.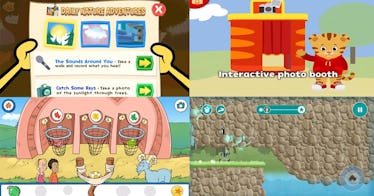 PBS Kids
PBS remains one of the guilt-free screen time experiences for parents and kids alike. Not only does the network have a great history of educational and enriching programming, even among other kids stuff, but PBS also remains the best. But what about gaming? With some kids, interaction is the name of the game, literally.
So, with that in mind, we've rounded up the best games on PBS's website and in the app store that are bound to keep your kids engaged with their favorite characters. PBS is known for their educational programming, so it's no surprise that they have tons of apps and online games that will help your children not only learn intellectually, but they'll learn how to develop their social and emotional skills as well.
Your child can help the Kratts save animals from some of the show's most dastardly villains in this fun game. Your child can choose to play as Martin, Chris or Aviva, and each character has their own sets of Creature Power suits. This game has 24 levels and your child can collect up to 43 animals. Wild Kratts Rescue Run takes place in three different locales (the Australian Outback, a wintery North American Forest and a South American Rainforest). You can also adjust the running speed of the characters, so your child can play at nearly any age. As your child rescues animals, each animal pops up in the Creaturepedia, where your child can learn interesting facts about each one they collect.
With the help of Dr. Seuss's most recognizable characters, your child can master some STEM skills on this app. Based on the PBS show, The Cat in the Hat Knows a Lot About That, this app is geared toward pre-K kids. Through three games, Bridge-a-rama, Sorta-ma-gogo and Slidea-ma-zoo, children learn measurements, develop organizational skills and learn some basic physics. As your child completes each challenge, they build up rewards that they use to customize and decorate their Tree House and backyard. This game even features Thing 1 and Thing 2!
In this PC game, your child will help build and design homes for cats, dogs, birds, and rabbits with characters from the show Arthur. George and Arthur help walk your child through each step building a cat condo or bunny cage. This will teach your child how to follow directions, work on their computer and motor skills and allow their creativity to shine through. They can choose the patterns and color combinations of each animal home. This game might not keep your child entertained for hours on end, but it is a good way to introduce them to your computer. You can also explore the rest of the PBS website to see what other online games might appeal to them.
Daniel Tiger has never been shy about showing his fans how he's feeling on Daniel Tiger's Neighborhood. With this downloadable app, children can learn how to identify and navigate their feelings through this specific app. It features a dozen games that have to do with emotions, 18 Daniel Tiger songs, a Drawing Easel where children can express themselves and even a Feelings Photobooth where they can practice their best selfie smile.
Your child can explore the great outdoors (or even the view outside their window) with Nature Cat, Daisy, and Hal. This app has more than 100 prompts that help your child record their observations in rain, shine or inside through photos, sound, and drawings. It even has a journal, so children can go back and look at what they've observed over time. As your child goes on adventures, they can unlock and collect up to 100 stickers.
If you're still looking for more games for your children to play, download the PBS KIDS Games app. It's free, and new games are uploaded periodically. This general app features games from across all of PBS's TV shows and properties and is aimed at children ages 2 to 8. It's not only for your kids though–you can find out about learning goals for each age, explore PBS shows and control how much storage it takes up on your phone.
This article was originally published on