The Best 'PAW Patrol' Games to Play Online and IRL
Your kids will think these games are so fun.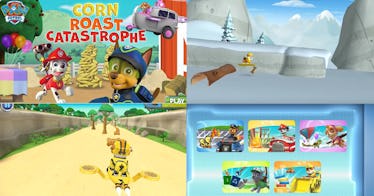 Nickelodeon
Your child probably can't get enough of Ryder and those pups from PAW Patrol. So, if you would like to take a break from hearing PAW Patrol constantly on in the background of everything at your home, we've compiled a list of board games, online games and downloadable apps that your child will love. You might still hear those familiar signature phrases, but at least you won't be hearing the same episodes over and over again. In these games, they can choose which pup they're going to play as, which is very fun for fans Chase, Marshall, Rocky, Rubble and Skye. Not only are these Nick Jr. games entertaining, but they are also educational. Children will learn how to identify colors, numbers, and shapes, which are skills they should master sometime between the ages of three and seven. They can even practice counting, sharpen their motor skills by using a computer or your cell phone and learn about the benefits of teamwork, which is one of PAW Patrol's main tenets.