The Best Disney+ Content You're Not Watching
It's more than just Baby Yoda.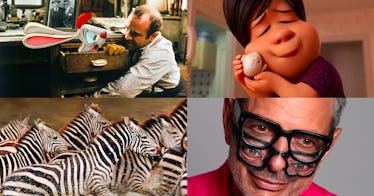 Disney
There's actually a lot on Disney+ that your probably haven't seen. You might think it's all about the endless Disney vault of classic animated movies, but there's more to it than that. So, if you've only watched a Pixar classic or two and The Mandalorian, you're not getting everything you could out of Disney+. But contrary to popular belief, the streaming service isn't just a Baby Yoda delivery mechanism. It's also the home of hours and hours of lesser-known programming that's still worth you and your family's time. Here are some of the best of Disney+'s hidden treasures.
The World According to Jeff Goldblum
"I know nothing: that's the premise," veteran actor Jeff Goldblum says in the trailer for the series that bears his name. It's essentially an offbeat exploration of his own curiosity, less an explainer than a show that gives you a sense of the science, history, and culture around everyday items like sneakers and ice cream. Goldblum's dry sense of humor is delightful, and he's a great tour guide.
X-Men: The Animated Series
We like Hugh Jackman as much as the next guy, but it's hard to argue that the animated version of the X-Men is the definitive video version of the saga. If you're nostalgic for the hand-drawn cartoons of your youth, it looks great, and its reputation as one of the best animated series of all time means even the pickiest of viewers (i.e. your kids) will be captivated by it. And there are plenty of other animated series from the era on Disney+ once you finish these five seasons.
One Strange Rock
This nature documentary is produced by Daren Aronofsky takes stunning, Planet Earth-style visuals (think slo-mos and extreme close-ups on animals doing crazy stuff) and combines it with the unique perspectives of astronauts who have a unique perspective on our planet. Each episode centers on one astronaut and one aspect of life on Earth, and the series is hosted by Will Smith. It sounds strange because it is, but it's definitely worth checking out and showing kids who've grown jaded with typical nature docs.
Great Migrations
The best documentaries are like any well-told stories: they feature compelling characters facing daunting challenges. In Great Migrations, those characters are a diverse array of animals, everything from sperm whales to butterflies to walruses, and the challenges they face are "the epic struggles of animal migrations around the planet." The stakes are life-and-death, and the cinematography is superb.
Wild Yellowstone
This two-part series, filmed during the summer and winter, captures the natural beauty of Yellowstone National Park and the hidden lives of the animals who live there. It's no substitute for a family trip to see the real thing, but the groundbreaking camera work—the producers collaborated with action sports production company Brain Farm on the cinematography—means this show often reveals even more than an in-person trip would.
Pixar Shorts
You know the short films shown before every Pixar movie? They're on Disney+, and if you haven't seen classics like "Lifted" (the story of a teen alien trying to abduct a sleeping farmer) or "Bao" (what happens with a dumpling comes to life) since they screened before Ratatouille and Incredibles 2, respectively, then you're in for a treat.
Watch it here (scroll down to the Shorts section)
Recess
As a former latchkey kid, I can attest to the staying power of Recess, one of the few shows that felt authentic in how it portrayed the trials and tribulations of kids navigating the best part of the school day. If you're not sure where to start, might we suggest "Spinelli's Masterpiece"? The episode is about the hidden talent of one of the kids, and it's ending is as profound as any afternoon cartoon we've ever seen. It's a great primer for the rest of the show, which uses archetypes (popular girls, class clowns, nerds, etc.), but is unafraid to show them as more complex than those identities.
Assembling a Universe
In addition to the Marvel Cinematic Universe, Disney+ has content for true fans. If you or your kid has watched the original Avengers a million times, you'll appreciate the insights of this documentary about the formation of Marvel Studios and the films it's produced over the years. Don't expect a critical look—this is a Disney-produced film about a Disney-owned company on a Disney-operated streaming service, after all—but there's still enough interesting stuff here to kill part of a lazy Sunday afternoon.
Bambi and The Fox and the Hound
This might be one of the more depressing double features you could ever watch, but each of these films is a deserved classic that, unlike lots of children's programming, deals with themes of death in an honest way. Once they're old enough to handle it, your kids will appreciate these classics. And who couldn't use a good cry every now and then?
Watch The Fox and the Hound here
Smart House
The most prescient Disney Channel original movie is a cautionary tale about letting technology run your entire existence. It's like a kid-friendly hybrid of 2001: A Space Odyssey and that one Treehouse of Horror where Pierce Brosnan voices the house that falls in love with Marge. In other words, it's well worth 82 minutes of your time.
Who Framed Roger Rabbit?
The animation in this film still looks impressive over 30 years after its release, and both the live-action and voice performances also stand the test of time. Bob Hoskins is great as the surly private detective Eddie Valiant, and Christopher Lloyd's Judge Doom is chilling without verging on horror movie-levels of scary. Your kids have never seen a movie like this before, and if it's been a while since you watched it, you'll find that it's still a great time.
This article was originally published on