9 Books For Kids Who Want To Climb Mountains, Explore Space, And Discover New Worlds
Shackleton, Hillary, Zheng He — they're all in here.
by Elijah Brumback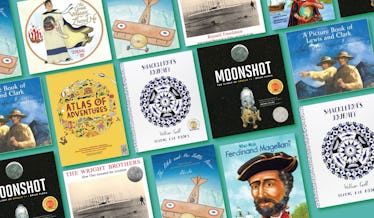 Using real torches to light the living room fort may not have been your best Sunday afternoon idea (although, your kid did get to sit in a real fire truck), but getting children excited about exploration — from hidden tombs to the highest mountains — is still a great idea. If you want to teach them about the brave adventurers who were first in flight, first to the top, and first to the moon, here are 9 books you should try reading before demonstrating your commitment to realism.
The Pilot And The Little Prince
Antoine de Saint-Exupéry, author of The Little Prince, wasn't just some 20th-century French writer looking to sober kids up to the human suffering and stark realities of post-Great War life. He was also a mailman! Actually, he was one of the first airborne mailmen and carried letters to far-flung locales while serving in the French Air Force. The Pilot and The Little Prince recounts Saint-Exupéry life of badass exploits — like this one time he tried to break the record for the fastest trip between Paris and Saigon, but crashed his plane in the Arabian Desert outside of Cairo instead. Ages: 5+The Pilot And The Little Prince by Peter Sis ($15)
Shackleton's Journey
William Grill's award-winning depiction of explorer Ernest Shackleton's attempt to trek across Antarctica is about as simple and spare as the pole itself. Your kid will love learning about ES's colorful crew, like Perce Blackborow — the idiot who knowingly stowed away on this trip to the bottom of the world. What he lost in toes, he earned in a Polar Medal. Bust out this book the next time somebody complains about it feeling "a bit nippy" outside. Ages: 7+Shackleton's Journey by William Grill ($19)
Moonshot: The Flight of Apollo 11
Thanks to Hollywood, space exploration has basically been reduced to either a terrifying experience where George Clooney floats away or a place where Matt Damon grows potatoes in his own crap. Despite our nation's divestment from the space program, the ISS is still orbiting up there, stoking the astronaut dreams of kids everywhere. Moonshot is a throwback to those days when we still shot tin cans full of people at dead rocks hundreds of thousands of miles away to prove our national superiority. U-S-A! U-S-A! Ages: 4 – 10Moonshot: The Flight Of Apollo 11 by Brian Floca ($14)
Atlas of Adventures
Maps are boring, but atlases are cool! In this oversized picture book, your kid will spend hours pouring over lavishly drawn scenes of epic events around the world, from Scotland's Highland Games to the rump-shaking streets of Rio's Carnival. There's no rhyme or reason to the cultural facts and figures peppered across the pages, but then again that kind of thing is hardly a concern when you're 7. All it means is everyone should start saving those SkyMiles. Ages: 7 – 10Atlas Of Adventures by Rachel Williams ($21)
First To The Top
This is the tale of one crazy New Zealander (Sir Edmund Hillary) and his reluctant Nepalese Sherpa (Tenzing Norgay), who decided it would be a good idea to see what was on top of Mount Everest. In First To The Top author David Hill and Illustrator Phoebe Morris work up a comically dressed story of how Hillary — once a little introvert — grew up to become the first guy in non-ironic lumbersexual attire to summit the world's tallest mountain. Ages: 3 – 10First To The Top by David Hill ($17)
Who Was Ferdinand Magellan
No offense, but Magellan was not a good guy and ended up getting himself killed by demanding tribute and forcibly trying to convert the island tribes of the Visayas Islands to Christianity. For the sake of young kids, that part is not covered in the book. What is covered is the fact that he contributed a notable historical footnote in the world of exploration. Listen, just explain to your kid that when they circumnavigate the globe, they should try not to be a genocidal dick when they reach land. Ages: 8 – 12Who Was Ferdinand Magellan? By S.A. Kramer ($15)
A Picture Book of Lewis and Clark
Author David A. Adler and illustrator Ronald Himler have put together one richly-painted book about Lewis and Clark's great expedition from St. Louis to the Pacific Ocean. (See that guy pointing on the cover? That's west.) It's a bit dry at times, but the visuals help keep the narrative interesting. Plus, you'll be glad you have this one when your elementary schooler is forced to do a history report (which means you're forced to do a history report.) Ages: 6 – 9A Picture Book Of Lewis And Clark by David A. Adler ($17)
The Great Voyages of Zheng He
Known for her kiddie biographies of spiritual leaders, author Demi (not Moore) has penned more than 300 titles. For The Great Voyages of Zheng He, she dug deep into early Ming Dynasty history for this tale of a prolific Eastern explorer and his 7 great voyages throughout Asia and Africa. He's expeditions expanded China's trade routes at the beginning of the 15th century. But all that exploring was nearly scrubbed from history as the Ming Dynasty crumbled. Blame Marco Polo. Ages: 8 – 11The Great Voyages Of Zheng He by Demi ($3)
The Wright Brothers: How They Invented The Airplane
Russell Freedman's Newberry Award winning biography is still an American standard among historical non-fiction for young readers. Pulling from journals, letters, and contemporary accounts, Freedman puts readers in the cockpit (which, to be fair, was just hanging off of a piece of balsa wood) through the brother's photos and ceaseless accounts of flight experimentation at Kitty Hawk. Sweet move bringing that old-timey camera, Orville. Ages: 10 – 13The Wright Brothers: How They Invented the Airplane by Russell Freedman ($12)
This article was originally published on