The Best and Funniest Dad Tweets of 2019
Tons of dads shared their absurd parenting experiences on Twitter this year. These are the best ones.
by Fatherly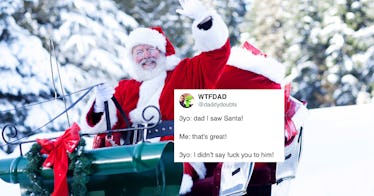 At its core, parenting is a series of ridiculous moments one after another, from the time the baby's poop was Grinch green to the time the toddler thought mulch was a snack to the time the teenager said he needed a new computer to become a professional esports champion.
Twitter's brief, social nature has made it the go-to place for busy parents to share these moments, the place where they can commiserate and laugh at each other as kids come up with crazier and crazier nonsense. At their best, honest tweets about the challenges and triumphs of parenting can make parents feel less alone in their Herculean task. But even if they aren't quite that profound, it's still nice to get a kick out of the nonsense other parents tweet.
With that in mind, we present our favorite parenting tweets of the year. They're honest, funny, and just the thing to get you through another hectic holiday season.
Would Follow This Kid
Maybe We'll Get Frozen: Tokyo (Snow) Drift
Color Me Impressed
Et Tu, Netflix?
The Truth Comes Out
Just Most Things
Pirate Chic
Santa Must Always Use the Turn Signals on His Sleigh
At Least She Didn't Break a Bone
More Like Cockapoo-blocked