A Look Inside The Amazing World of Dr. Seuss Museum
It's like stepping into one of his books.
by Dave Baldwin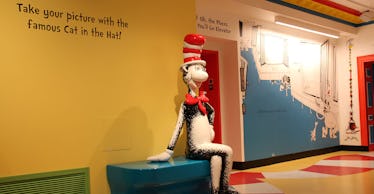 Between 1931, when he published the unfortunately titled Pocket Book of Boners, and his death in 1991, Theodor Geisel penned 45 books all told. And in the process, the legendary illustrator known as Dr. Seuss erected colorful worlds of poofy-haired creatures who spoke in springy, effervescent rhymes and permeated American culture like few other works of children's literature. If you are alive today, you're likely familiar with the doctor.
So when the city museum in Springfield, Massachusetts, Geisel's hometown, unveiled a sculpture garden dedicated to him in 2002, it made sense that puzzled visitors would ask about the location of the actual Seuss museum. But there wasn't one. How could there not be a museum to this hometown icon? It seemed impossible, but it was true.
Thankfully, that's no longer the case. Last month, almost fifteen years to the day after debuting the Dr. Seuss National Memorial Sculpture Garden, Springfield Museums brought joy to Whoville (or at least to Seuss fans in New England) when it opened The Amazing World of Dr. Seuss Museum.
A three-floor celebration of (most) things Geisel, the museum is first and foremost a place for kids: it's filled with vibrant murals and towering statues of popular Seuss characters. From the squiggly pink railing and arch that leads to the entrance, "it's like walking into a Dr. Seuss book," says Karen Fisk, Director of Public Relations for Springfield Museums. And she's not lying. Even the placards that explain each exhibit rhyme.
Open the front door, and you're greeted immediately by the motorcycle riding police officer from And to Think That I Saw It on Mulberry Street; an address, by the way, on which Geisel never actually lived. (The museum does own his childhood home on Fairfield Street but it's not part of the museum). Meander around and children can stand next to a giant Cat in the Hat, Lorax, or Horton the Elephant. They can crawl into Thing 1 and Thing 2's red box or climb atop Mr. Gump's seven-hump Wump.
"Kids can touch or climb on anything they want to on the lower level," says Fisk, noting that the museum uses a timed ticket system, and only allows 200 people inside at any one time. This is because, "they want kids to have time to play." There's no time limit on how long you can stay, though.
The first part of the museum is dedicated to Geisel's local roots and The Springfield Cycle of books ⏤ And To Think That I Saw It On Mulberry Street (1937), McElligot's Pool (1947), If I Ran the Zoo (1950), If I Ran the Circus (1956). This section is called "Young Ted in Springfield" and its exhibits journey through local landmarks that inspired his work: The turrets of the Howard Street Armory that resemble those in The 500 Hats of Bartholomew Cubbins; the childhood bedroom where he drew fantastical crayon characters on the walls, much to the surprising encouragement of his mother; the family's Kalmbach & Geisel Brewery; his grandparents' bakery, where he learned a pie song that reportedly sparked his love of rhyme; and the monkey house at Forest Park Zoo, which his father oversaw as the city's Superintendent of Parks. The first recorded instance of the word "Nerd" is found in the Seuss book If I Ran the Zoo (1950), right after the words "Preep," "Proo," and "Nerkle." It's prominently displayed on the wall mural in the zoo.
The entire floor is interactive and dedicated to both focused play and the promotion of literacy. Inside, kids can trace letters on giant screens, learn to pair words in the Rhymsville rhyming cave, build a stack of Yertle the Turtles, and recognize shapes with the Lorax. The final room, a tribute to Geisel's last book Oh, The Places We'll Go, is meant to send kids off with his encouraging message of perseverance.
While the ground floor is for kids, the upstairs is targeted toward adults. It's a traditional museum where you'll learn about the Pulitzer Prize winner's life. It's curated by his two stepdaughters Lea Grey Dimond and Lark Grey Dimond-Cates, and grandnephew, Ted Owens, and is chock full of memorabilia including family pictures, heirlooms, and personal letters. They've even recreated the office/studio and living room from his house in La Jolla, California, where he and his wife moved after World War II, right down to the drawing pencils, red rotary phone, and favorite childhood stuffed animal, Theophrastus, relaxing on the couch.
It's here you'll see early works, explore his family tree, and learn ⏤ if you didn't already know ⏤ that Geisel never had actually had kids. He couldn't with his first wife, who died in 1967. You'll also discover that it wasn't until college at Dartmouth that Geisel transformed himself into an unaccredited doctor. Banned from contributing to the student magazine, so the story goes, he began writing under his middle name Seuss. Where the "Dr." came from though remains unclear.
"You get the public Seuss downstairs," says Fisk, "And the private man-behind-the-books upstairs." But what you don't get, and this is where things have gotten a little controversial, is any history of Geisel's World War II propaganda and political illustrations, many of which are considered racist.
Some critics have expressed concern about the museum's decision not present a full picture of Geisel's life. Representatives of the museum, however, have been quick to acknowledge that they're not trying to sweep anything under the rug. They simply chose not to address those images in a kid's museum and without proper historical context. They consider this "Phase One" and intend to tackle the more serious subjects concerning his questionable work and political ideology in one of their adjacent history museums.
In the meantime, the whole thing wraps up in the basement at Cat's Corner, a multi-purpose art space where a "full-time Seuss educator" is always and hand and kids can do arts and crafts, read books, or watch puppet shows. Eventually, curators are going to encourage kids to write their own books in the space. Books that, who knows, maybe one day will be read by millions of children around the world. Because you just never know the places they may go.
This article was originally published on