The 4 Santa Trackers Worth Checking Out This Christmas
These trackers will help your kids keep a closer eye on Santa and Rudolph this year.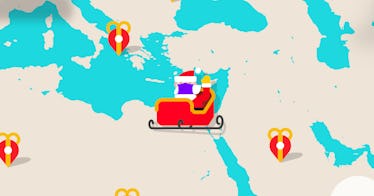 While you might have looked out the window on Christmas Eve when you were a kid on the off chance that Santa Claus and his reindeer might be flying by, today's kids have their pick of Santa trackers to know exactly where the big man is. Even before Christmas Eve, kids can use some Santa tracker apps to ensure that St. Nick and Rudolph are at the North Pole, preparing for the biggest day of the year.
Here are the four best Santa tracker apps and websites available for parents and kids eager to keep tabs on Santa's global travels.
Launches Christmas Eve
This North Pole news website proves daily Santa updates starting in September. If your kids just want to know what's happening in the workshop, they can get all of the info they want to know. On December 23rd and 24th, obviously, this news network is super busy. They partner with Kringle Radio to bring you 50 hours of Santa updates. The newscasters pop in every 15 minutes to give you and your kids an update on Santa's coordinates and where he's headed next. For the benefit of parents, Santa Update also gives bedtime warnings when Santa is beginning to approach your area of the country.
Currently tracking
Along with a world map that shows Santa's off-season travels, this app comes with unlockable cartoons and a Christmas countdown. The ads are a bit invasive, but this app does the basics right, and its interface is quite festive.
Launches Christmas Eve
Of course, Google has its own Santa Tracker that you can access on its website or via an Android app. You can even call Santa through Google Assistant. Your kids can play games, takes quizzes, explore special emojis and learn about holiday traditions. And every year Google updates its tracker with plenty of new games and features to explore.
Launches December 1
The North American Aerospace Defense Command might usually be busy defending the continent, but they have an additional special task in December: tracking Santa. NORAD just launched its new website, mobile apps, and video streaming where you and your kids have access to a Santa cam. It all started in 1955 when a child accidentally dialed NORAD to ask about Santa Claus, and they've been on Santa duty ever since. On Christmas Eve, you can even call or text 1-877-HI-NORAD to get Santa's exact location.
This article was originally published on