The 19 Best Books for Middle Schoolers
The best reads for a major transitional point in kids' lives.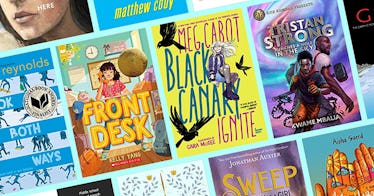 Ah, middle school. That time when friendships are tested, romances begin and seemingly overnight, everyone around you is a monster.
Maybe that's why middle school is a golden age for reading. The best books for middle schoolers explore that middle zone between childhood and independence – and hopefully help create a more empathetic creature in the process.
Your middle schooler may be "reading up" and turning to the classics at school. That's all the more reason to let them indulge in graphic novels or fantasy at home. Kids this age might be drawn to YA, mysteries, horror or manga. Repeat after us: Any book is a good book.
After all, if they can't escape into a book, there's really no escaping middle school.
This National Book Award finalist is a novel told in 10 blocks. Reynolds weaves ten stories about what happens after the dismissal bell into one poignant narrative full of empathy and heart.
A scene of the young girl getting stuck in a chimney is among the more harrowing bits of middle grade literature we've read.
Jordan is one of the only kids of color at his new private school and finds himself torn between worlds in this excellent graphic novel.
What might have been seen as a book for Mom has new currency with a major motion picture directed by Greta Gerwig releasing this Christmas. Jo is still one of fiction's best heroines.
This completes the trilogy about a trio of girls that began with Raymie Nightingale. Beverly buries her dog and needs a fresh start, so she runs away at 14.
Celi Rivera has questions about her changing body as her mother insists on a Mexican moon ceremony for her first period that she's determined to avoid.
Other titles in the successful series created by Rick Riordan (Percy Jackson and The Trials of Apollo) include Arusha and the End of Time, Dragon Pearl, The Storm Runner and Sal and Gabi Break the Universe.
In this book, these kid superheroes use their powers for good, until they turn 13 and their powers mysteriously disappear.
But how? This book will have special resonance for anyone who loved A Wrinkle in Time.
A wonderful story about a boy who's both into basketball, and music.
A moving book about a young girl facing a slew of challenges and overcoming them.
Think The Handmaids Tale, but for middle schoolers and without the sex stuff.
Meg Cabot (The Princess Diaries) writes one in a series of DC graphic novels.
These young teen ghost hunters are surrounded by dangerous ghosts and don't get much relief from the living.
The game-loving millionaire asks them to determine which of them killed him.
Through her struggle she manages to find a way to keep her dreams alive.
The twist here is: The witch turns out to be kind and fills one child with magic and raise her as her own
Refugee effectively and beautifully combines historical fiction with present crises that we see in the news.
Soon he'll discover that the holes are about more than character development.
Every product on Fatherly is independently selected by our editors, writers, and experts. If you click a link on our site and buy something, we may earn an affiliate commission.