The 16 Best Children's Mystery Books and Movies
From crafty detectives to pint-sized treasure hunters, these kid-friendly whodunits are some of the mystery genre's best.
by Ben Marx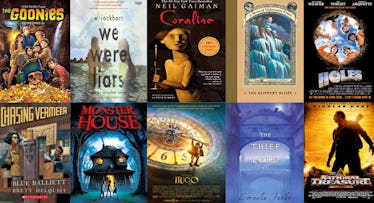 Good mysteries don't have to be all trench coats, murdered prostitutes, and East Berlin (though those elements don't hurt). The best ones simply come from relatable characters that find themselves way in over their heads, embark on a problem-solving quest and dig up greater complexities with every new discovery. And plenty of fantastic authors have cracked the whodunit formula for kids, distilling mysteries down to the core of what makes them so exciting — and flat-out fun — without all the superfluous blood or suggestive themes. If you're looking to ease your mystery-loving kid into the genre long before they're ready for Chinatown or Raymond Chandler, we've put together a few of the best age-appropriate books and movies in the genre.
We Were Liars by E. Lockhart
Winner of the Goodreads Choice Award for Best Young Adult Fiction, We Were Liars tells the story of the wealthy, seemingly perfect Sinclair family, who spend every summer at their private island. Everything changes when Cadence Sinclair suffers a strange accident during her fifteenth summer on the island. Two years later, Cadence returns to try to understand her past.
Age: 13+
The Goonies
You probably know this one, but to recap: To save their home, two brothers and their group of misfit friends must follow a mysterious map to uncover an ancient pirate treasure. The group must contend with a family of criminals also searching for the treasure, along with booby traps … and Sloth. Richard Donner's eighties classic is the ultimate tale of loyalty, nostalgia, and holding onto hope in the face of hopelessness. Plus, Rocky Road.
Rating: PG
Coraline by Neil Gaiman
Few authors conjure gooseflesh while keeping things PG quite like Gaiman — when he's wearing his YA hat, that is. Coraline tells the story of a young girl who discovers an "Other World" with an "Other" version of her family. Enthralled by her discovery, Coraline soon realizes that this new world is far, far more dangerous than she thought. Both the book and the film are worth experiencing.
Age: 8+
Series of Unfortunate Events by Lemony Snicket
Almost 20 years since the series' first book, The Bad Beginning, was published, Lemony Snicket's saga of the Baudelaire orphans and the misfortune that befalls them holds up remarkably well. It's never too early to introduce kids to the dangers of fire and vocabulary.
Age: 9+
The Great Mouse Detective
Referring to The Great Mouse Detective as something like "Sherlock Holmes but with rodents" does a great disservice to how original and immersive the animated mystery film is. Basil of Baker Street is, yes, a mouse detective who investigates the disappearance of a local toymaker and must launch into a battle of wits and tails with his arch nemesis, the dreaded Professor Ratigan. But it's original and immersive while paying Tribute to everyone's favorite Deerstalker-clad detective.
Rating: G
Holes
A delightful time machine to the sane portion of Shia LaBeouf's acting career that also features Sigourney Weaver, Jon Voight, and even more actors that kids will never be as delighted as you to see pop up on screen. Based on Louis Sachar's acclaimed novel, LaBeouf plays Stanley Yelnats, an accused juvenile delinquent sent to dig holes at a desert detention camp who uncovers a deep mystery.
Rating: PG
Chasing Vermeer by Blue Balliett
When a priceless Vermeer painting is stolen from the Art Institute of Chicago, two sixth-graders must track down the art thief and a possibly counterfeit Vermeer using only a series of clues left by the thief himself.
Age: 9+
Anastasia
Fun fact: 1997's Anastasia is not a Disney film, despite what everyone thinks – it's produced by short-lived Fox Animation. The common mistake is understandable considering the similarity of the film's animation style and musical numbers to Disney's signature canon. But where Anastasia beneficially deviates from the House of Mouse is in the complexity and maturity of its plot, a sweeping adventure-mystery hybrid that tells the story of a young woman discovering her true identity in 1920s Communist Russia.
Rating: G
National Treasure
"I'm going to steal the Declaration of Independence." With those simple words, Nicolas Cage wound his way briefly back to public favor in this 2004 adventure heist. Ben Gates is an American historian, cryptologist, and … a treasure hunter. Discredited by pretty much everyone, Gates must uncover the secrets behind a historical treasure before it falls into the wrong hands. It's a family-friendly adventure with surprising and satisfying turns.
Rating: PG
The Thief Lord by Cornelia Funke
In Venice, Italy, two runaways join a group of street children who live in an abandoned movie theater and moonlight as thieves led by Scipio, the enigmatic Thief Lord. After taking on a dangerous job, the children encounter an ancient, magical treasure.
Age: 10+
From the Mixed Up Files of Mrs. Basil E. Frankweiler by E. L. Konigsburg
E. L. Konigsburg's classic novel is an art mystery and urban caper all in one. Siblings Claudia and Jamie Kincaid run away from home to live in New York's Metropolitan Museum, encountering a secret regarding a new addition to the museum's sculpture collection.
Age: 9+
Monster House
Co-written by an early-career Dan Harmon of Rick and Morty fame, whose fingerprints are all over this delightful script, Monster House is about three young, suburban kids doing what they do best: taking down a demonic, anthropomorphic mansion when no one else believes them about the neighborhood's biggest evil threat.
Rating: PG
Clue
Nowadays, ludicrous board game adaptations like Battleship and Ouija seem like guaranteed flops, but back in the '80s the choice to bring this Hasbro property to the big screen actually produced some delightful results. Yes, the plot is ham-fisted, but Clue taps into a self-aware wackiness that's sorely missing from modern mysteries for younger viewers. Just remember, it's always Mrs. Peacock.
Rating: PG
The Name of this Book Is Secret by Pseudonymous Bosch
The Name of this Book is Secret owes a lot of inspiration to Lemony Snicket, but thankfully this young adult fantasy-mystery series finds its own stride in its plot surrounding the death of a local magician, an evil organization, and a secret scheme.
Age: 9+
Hugo
First off, Hugo is downright gorgeous. It evidently didn't hurt to have Martin Scorsese at the helm, and the deeper mystery at Hugo's core that drives most of the plot is equal parts family drama and steampunk gadgetry. Based on the bestselling young adult novel by Brian Selznick, Hugo Cabret, a young boy living in a train station in 1930s Paris, searches for answers regarding his late father and a strange automaton.
Rating: PG
Scooby-Doo: The Movie
The members of Mystery, Inc. appear in live action to tackle the mysteries of the popular resort, Spooky Island. Like any good Scooby-Doo caper, the gang finds themselves in way over their heads with what could be their most dangerous gig yet.
Rating: PG
This article was originally published on