The 11 Best Environmentally-Friendly Playgrounds in America
Playground designers have found a way forward with equipment that's safe and naturally-built into the environment, but still towers, twists, and fosters a sense of adventure.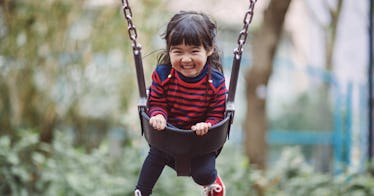 This story was produced in collaboration with Allbirds, maker of Smallbirds, the ultimate shoe for kids whose feet and minds run free. Smallbirds are as good for play as they are for the planet.
The United States is in the midst of a kind of playground renaissance. Gone, for the most part, are the days of play structures designed more to mitigate lawsuits than to promote fun. Playground designers have found a way forward with equipment that's safe and naturally-built into the environment, but still towers, twists, and fosters a sense of adventure. The rise of such playgrounds, and products like Smallbirds shoes (made from ZQ-certified superfine merino wool and pictured above in action), underscore that playfulness, sustainability, and design are ascendant. "All of the sudden I think people are realizing that great playgrounds have become real destinations for communities," says Scott Roschi, Creative Director for Landscape Structures, who designed one of our eleven picks. In other words, there's never been a better time to be a kid — or a parent — on the playground.
Brooklyn Bridge Park, Pier 6, Brooklyn, NY
The Big Idea: Pier 6 is part of a massive redevelopment of 1.3 miles of defunct waterfront shipping and storage space that has become one of Brooklyn's crown jewels, featuring acres of parkland, playgrounds, ball fields, and courts — all with million-dollar views of Manhattan and New York Harbor.
Kid's Choice: Too many to mention. "Sand Village" is the biggest sandbox play area in New York; "Swing Valley" has cool hidden-away swings on a rolling playscape; and the tucked-away "Water Lab" makes physics fun (and wet).
Father's Favorite: After working up an appetite on the playground, you can split a pie at Fornino, a brick-oven pizza joint on the pier. Yes, they serve beer.
Environmental Accolades: The soil used to build much of the Pier 6 landscape was taken from a tunnel currently being built by the Metropolitan Transit Authority that will connect Long Island Railroad routes in Queens with Grand Central Terminal, in Manhattan.
The Play Garden at Maggie Daley Park, Chicago, IL
The Big Idea: Maggie Daley is one of Chicago's new civic jewels, a dynamic 20-acre plot that, linked with Millenium Park, creates a massive lakefront public landscape. If you've got kids, the Play Garden is a must-see, even if you're visiting during the city's (many) cold months.
Kid's Choice: Maggie Daley features an embarrassment of riches, play-wise, but don't miss the giant custom metal play ship anchoring a sea-themed part of the playground. From its deck, which stands over an undulating play surface, you can peer at a lighthouse that glows via kid power.
Father's Favorite: After an intense playground session, the sloped surface of the Wave Lawn offers a place for quiet, calm, and picnicking. Or, at least another place for the kids to run and go nuts while you take a break.
Environmental Accolades: Plants are a crucial part of the park, and serve both practical purposes — dampening nearby road sounds — and imaginative aims, like the "enchanted forest" where tree species like the Weeping European Beech are paired with upside-down trees.
Scioto Audubon, Columbus, OH
The Big Idea: Once the site of an industrial brownfield, this 120-acre (!) city park is reviving a wetland ecosystem and providing innovative play spaces — for both kids and adults.
Kid's Choice: Are your teenage kids obsessed with American Ninja Warrior? Have them check out the nine-station obstacle course, added in 2013.
Father's Favorite: A 40-foot-tall rock, 6,100-square foot climbing wall that accommodates twenty climbers at a time is the largest no-fee climbing wall in the country. Three auto-belays allow you to climb even without a friend to help.
Environmental Accolades: The entire park is a wetland restoration project and features restorative native plantings throughout.
Magical Bridge, Palo Alto, CA
The Big Idea: The Magical Bridge Foundation calls this $3.8-million, 18,000-square-foot playground within Mitchell Park the most inclusive playground in the nation. It's not simply a playground that is wheelchair-accessible; it's designed to be used by kids afflicted with autism, as well as visually and hearing-impaired children.
Kid's Choice: No matter their abilities, your children will probably hone in on the 24-string laser harp. There's also no way they'll miss the slide mound, with an innovative landing area that gives kids a little more time to dismount it.
Father's Favorite: The entire playground is fenced in, so you can ratchet down your stress level rather than worrying about your kid bolting away at any moment.
Environmental Accolades: The custom, two-story wheelchair-accessible playhouse designed by Barbara Butler is built from sustainably-harvested redwood and finished in non-toxic tung oil. It's built to stand for years (or decades) with minimal maintenance.
Woodland Discovery Playground, Shelby Farms, Memphis, TN
The Big Idea: This $3.5 million dollar playground replaced a decades-old, disused playground with one designed with the input of local children. The result is a playscape with six "play nests," for kids of different ages and stages, with plenty of opportunities to build, climb, and seek out adventure.
Kid's Choice: It's a slide connoisseur's dream. Want tall and fast? You got it. Wide enough for the whole family to slide down at once? Got that too.
Father's Favorite: Where it's covered in vines: a quarter-mile-long recycled steel arbor provides respite from the sun.
Environmental Accolades: The Woodland Discovery Playground was one of the first three sites certified by the Sustainable Sites Initiative, a program that rates projects according to their eco-consciousness. Eighty native trees were planted on the site, and 24,000 square feet of an invasive hedge was removed. Recycled boot and shoe treads form soft landing surfaces under the play equipment, and drain water to the trees.
Harry Thomas Sr. Playspace, Washington, D.C.
The Big Idea: Harry Thomas Sr. is a science-themed playground that goes to great lengths to stand out as the place for STEM-kids. For example, the Fibonacci mathematical sequence (each number in the sequence is the sum of the previous two numbers) is the basis of spiral playscapes and curvy paths — so parents can geek out while kids play.
Kid's Choice: Giant fiddlehead fern-like structures make for some fun climbing throughout the park.
Father's Favorite: You can battle your kid to see who can point out the most playground elements that use the golden ratio as a design element (a placard will show your child what that is.)
Environmental Accolades: The play equipment is made from post-consumer recycled material, and has a thirty-percent smaller carbon footprint than comparable equipment. It's recyclable, too.
Yanaguana Garden at Hemisfair Park, San Antonio, TX
The Big Idea: San Antonio is lavishing attention on the site of the 1968 World's Fair, and Yanaguana Garden is one of the first redeveloped parts to be completed. It's a site-specific playground that pairs adventurous playscapes with mosaic sculptures and murals by Oscar Alvarado.
Kid's Choice: Kids will be divided between the lengthy rope climbing structure, designed in Europe, and the heat-killing splash pad with buttons that children can control.
Father's Favorite: You can teach your kid checkers or chess (or play your spouse) on oversize, Alice-in-Wonderland style sets — a crowd-funded addition to the park.
Environmental Accolades: The redevelopment of Hemisfair Park was built to Leadership in Energy & Environmental Design – Neighborhood Development (LEED-ND) standards. Given San Antonio's frequent drought conditions, the fountains that use water captured underneath convention center property nearby are a necessary design — conserving 37 million gallons of water per year.
Tatum's Garden, Salinas, CA
The Big Idea: "Tatum" of the Tatum's Garden title is Tatum Bakker, the child of Shawn and Amanda Bakker. Wheelchair-bound with spina bifida, Tatum's parents wanted to build a playground accessible to kids of all abilities in Salinas — something like Matteo's Dream, the inclusive playground in Concord, California that has been around for years.
Kid's Choice: The playground is not just inclusive, but site-specific, relating to Salinas's agricultural heritage. There's a celery slide, asparagus climbers, and spinach spinners, for example. Good news if your kids wouldn't otherwise touch a vegetable.
Father's Favorite: There are dedicated quiet places to hide should you need to calm down an overstimulated child.
Environmental Accolades: The playscape was built with a whopping ninety-four percent post-consumer recycled plastic.
Kenosha Dream Playground at Petzke Park, Kenosha, WI
The Big Idea: This massive, fully-inclusive playground for kids of all abilities was a true community effort: nearly 3,000 volunteers raised money for the project (and installed the playground by hand over a few weeks.)
Kid's Choice: Aside from lighthouses and ships ideal for climbing, there's a slew of swings that are pretty special, including a swing for a wheelchair (you'll need a key to operate it, from Kenosha Public Works).
Father's Favorite: Don't miss the replica of a 1960s AMC Rambler car (American Motors was based in Kenosha.)
Environmental Accolades: The main playground structures are built from engineered lumber made with recycled plastic bottles — even the structural posts and beams. The poured-in-place rubber surfacing, which protects against falls, is chiefly made from recycled tires.
Lazy Dayz Playground at Smothers Park, Owensboro, KY
The Big Idea: The centerpiece of a $120 million waterfront redevelopment project on the Ohio River, Lazy Dayz makes the most of its narrow footprint with an adventurous, vertically-oriented, and bridge-bedecked playscape with elements that are two and three stories high, anchored by oversized artificial trees.
Kid's Choice: After they've worked up a sweat climbing the play structures, then cooled off on the splash pad, kids can take in a dancing fountain show.
Father's Favorite: The spirit of inclusion is everywhere at Lazy Dayz. The "barrier-free" design goes way beyond the Americans with Disabilities Act requirements and ensures that kids of all abilities can navigate the playground without hitting bottlenecks.
Environmental Accolades: Instead of tapping into the city water supply, the fountains draw water from the Ohio River. Artificial turf is used to lower fertilizer and two-cycle engine (lawnmower) usage, and the turf areas are fringed with native plants and bioswales — plants that clean the runoff water. Rock features are made from local Limestone.
Artists at Play at the Seattle Center
The Big Idea: Located near the Experience Music Project, this playground is a full-on sonic experience. Kids can throw pebbles at sound plates, ring out musical notes from a "sound fence," and ring notes hanging from a musical tree.
Kid's Choice: A 35-foot tall climbing structure that leads to a giant tube slide is a single feature that can eat up a whole day. It's recommended for kids five and up.
Father's Favorite: Merry-go-rounds disappeared from many playgrounds in recent decades, but Artists at Play features one, so you can have a kind of throwback to your youth. It's fully accessible, and is suited for kids in wheelchairs, too.
Environmental Accolades: The play features are built with Forest Stewardship Council-certified wood — meaning the lumber wasn't taken from old growth forests, but sustainably-managed ones.
This article was originally published on