The 10 Best Podcasts For Kids in 2018 (So Far)
When you listen to the right podcast your day gets a thousand times better. Listening to a podcast is like getting invited into a room where all of your coolest and smartest friends are hanging out to talk about everything from mind-blowing science facts to nitty-gritty parenting advice. Good episodes can teach you something new... View Article
by Jordan Obey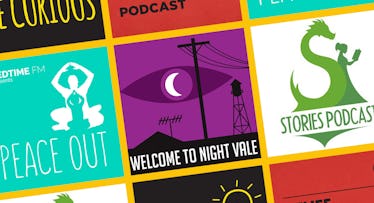 When you listen to the right podcast your day gets a thousand times better. Listening to a podcast is like getting invited into a room where all of your coolest and smartest friends are hanging out to talk about everything from mind-blowing science facts to nitty-gritty parenting advice. Good episodes can teach you something new or pull you into an addictive string of stories rivaled only by a Netflix binge session. Basically, podcasts help make daily adult-life just a little more awesome. Wouldn't you want to share that with your kid? But how?
So many podcasts out there are either too inappropriate for children or just not what they'd want to listen to. A 5-year-old tuning into Planet Money, for example, would cry in boredom. No one wants that. Luckily, just like there are Alexa Skills for kids, there are also tons of podcasts out there for them too. The best ones cover a wide range of topics and themes. From science and storytelling to music appreciation, there's a podcast for anything your kids might be interested in. Check out 10 of the best, all with new episdoes in 2018.
10. Peace Out
Premise: Calm kids down and teach them how to regulate themselves with the combined power of mindfulness and storytelling. There's a story every episode that guides kids through a series of visualizations and techniques to unwind from a day packed with technology and schoolwork.
Why Kids Love It: A lot of the time they're asked to get up for different types of stretching and breathing as they listen to the story so they feel like they are apart of the adventure.
Why Adults Love It: When kids learn to understand and regulate their emotions, everyone wins. Plus, its perfect for a little quiet time.
9. Welcome to Nightvale
Premise: A series of insane public announcements from a very small, very creepy fictional town. Older kids will dig it more than the younger ones.
Why Kids Love It: Because it's like if A Prairie Home Companion went insane.
Why Adults Love It: Because it's like if A Prairie Home Companion went insane.
8. Ear Snacks
Premise: A unique and upbeat musical podcast filled with songs and fun segments to teach kids about the world around them.
Why Kids Love It: Because there are songs duh!
Why Adults Love It: The show introduces a lot of classic songs from the likes of The Beatles and Pete Townshend.
7. What If World
Premise: No scenario is too weird or silly to turn into a short story for kids. Kids call in and ask 'What If' questions that the hosts then take and weave into crazy narratives.
Why Kids Love It: It's unabashedly imaginative.
Why Adults Love It: It's short and keeps kids glued in their seats as they listen.
6. Stuff You Should Know
Premise: The creators of the How Stuff Works website produce a podcast that doles out tidbits about obscure but interesting topics.
Why Kids Love It: Where else are they going to learn about things like the history of Twinkies?
Why Adults Love It: It's not really made for kids, so a lot of the topics they cover aren't just interesting to kids, they're interesting to everybody!
5. Five Minutes With Dad
Premise: Take all things heartwarming about fathers spending time with their children and turn into a podcast. Nick Pavlidis hangs out with his children Angela and Pavlos as they play around and talk about ethical question like why honesty is important or how to be a good sport.
Why Kids Love It: There are other kids on the podcast which help make it feel less like required listening time and more like extended play time.
Why Adults Love It: Tons of insights and ideas for family time, and the opportunity to see how another parent interacts with his kids.
4. Past and the Curious
Premise: A history podcast for kids!
Why Kids Love It: It covers history topics that they won't get a chance to hear in class, plus, it's pretty funny.
3. Stories Podcast
Premise: All the classic bedtime stories you'd ever want your kids to hear, all in one podcast, and all performed remarkably well.
Why Kids Love It: So much care is put into every episode when kids listen, its impossible not to get caught up in the world of the stories.
Why Adults Love It: Perfect for a break from reading at night, but also a lovely experience to share with your kids before they go to bed.
2. But Why: A Podcast for Curious Kids
Premise: Kids call into the podcast to ask whatever question they'd like. If they want to know why people laugh, what's the deal with fireflies, or a break down on the mechanics of farts, But Why finds the most informed voices out there and gets answers.
Why Kids Love It: Because every question is taken seriously and encourages their unbridled curiosity.
Why Adults Love It: Sometimes kids' curiosity expands out of reach of an adult's expertise, and for those times this show comes to the rescue.
1. Brains On!
Premise: Hosted by reporters and "kid scientists", each episode teaches a different science episode with excitement and enthusiasm.
Why Kids Love It: All the kids involved in the show make the topics feel a lot more accessible and a lot less boring.
Why Adults Love It: Because we could all brush up on our science.
This article was originally published on