The Olympic Event I'm Most Excited to Watch With My Kids, According to 12 Dads
Skateboarding! Badminton! Triathlon! Diving! Here are the events a dozen dads can't wait to watch alongside their kids.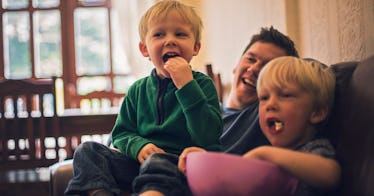 The 2021 Summer Olympics kick off this week. After a year delay due to COVID — and five years since the last summer games — there's a global itch that can only be scratched by elite athletes competing on the world stage. The Olympics are a uniting experience, and it's an incredible one to watch with kids, as they can learn about competition, sportsmanship, hard work, dedication, finding your passion, and other such valuable lessons.
Watching the Olympics with your kids is also just a good time. It's great memory making, too. Did you see that perfect gymnastics routine? Holy crap, did that powerlifter just put up that much weight? Did that sprinter just break a record? It's exciting and fun and there's a glut of games to watch.
In case you're curious or just looking for some more sports to watch, we spoke to a dozen dads across the globe about the sport they're most excited to watch with their children. From debuts of skateboarding, karate, and sport climbing to classics like gymnastics, weightlifting, and triathlon, each of the games these dads are excited to watch have personal weight behind them. Here are the events they're hoping will score tens across the board with their kids.
1. Diving
"Greg Louganis said that peak performance is meditation in motion. I look forward to watching diving at this year's Summer Olympics with my 7-year-old daughter. Specifically, 10 meter platform diving takes incredible athleticism, skill, courage, and nerves of steel. At that height and speed, the slightest misstep can lead to disaster. All the competitors have the requisite physical capabilities, and the top divers stand out under the highest level of pressure with poise and grace — qualities that I want my daughter to aspire to. It's gymnastics in the air with a smooth and calm entry into the water. Meditation indeed." – Siddharth, 45, Illinois
2. Triathlon
"All Olympic athletes have to be some of the best in the world at an event in order to compete, but participants in the triathlon have to be some of the best in the world at three! And, they have to be able to do them consecutively at a high level. The triathlon also involves three of my kids' favorite activities: swimming, biking, and running. Our outdoor activities at home are often a bit like a triathlon. Swimming isn't always an option, so we might sub in climbing a tree or playing catch instead. I hope seeing athletes do events like this on the world stage inspires big dreams in my little dreamers." – André, 33, New York
3. Synchronized Swimming
"I'm most excited to watch synchronized swimming with my 3-year-old daughter so I can hype her up to join our family synchronized swimming team. Growing up, the women in my family had this hysterical tradition of pretending they were the US Olympic Synchronized Swimming Team. They took it very seriously. Every 4th of July weekend when the family got together, my mother, sisters, aunt, and cousin would spend hours in the pool choreographing a routine. One year they even bought matching bathing suits and nose plugs for the official performance. My father was the videographer and commentator, and my uncle and I were the judges. The memories that came out of this tradition are priceless and we laugh about them to this day. There is now a new generation of synchronized swimmers waiting to join the family team as soon as they learn how to swim! and I can't wait for my daughter to be a part of this crazy and wonderful family tradition." – Alex, 34, Florida
4. Sport Climbing
"This is one I never thought I would be into until my daughter took up the sport. In fact, I would never have even thought to call it a sport, but apparently the Olympics did when they added the word into the name. That said, on days 11 through 14 my daughter and I will be glued to the TV. I even requested time off work for it, because of its importance to her. She has been really big on climbing for the past 2 years. She's even talked about getting into it professionally one day. She had a nasty fall in April, and has been unable to climb for three months now, though. I would never be excited for Sport Climbing if it weren't for my daughter, but she has got me as pumped up for it as the Super Bowl." – Perry, Louisiana
5.Weightlifting
I've always been a sports enthusiast and a fitness fanatic, so my kids are used to seeing me go out for my daily run, or seeing me play soccer over the weekend. But with the restrictions brought on by the pandemic, my gym sessions were moved from the actual gym, to my garage, which led to me using a set of weights that I hadn't seen since before they were born. (My eldest is 7 years old). They were fascinated by the equipment and, as I'm no weightlifter, and by my struggles to use the rather antiquated dumbbells, barbells and whatnot. There was a lot of huffing and puffing, grunting and groaning. I'm looking forward to the weightlifting disciplines at the Olympics to show them that it's not just their (relatively) puny dad who grunts and shouts when he's straining to lift the weights. They don't need to know the guys in Tokyo will lift substantially more than their dad does, and that even with their surplus of muscle they make just as much noise.." – Dave, California
6. The Opening Ceremonies
"My kids and I are looking most forward to the opening ceremonies. These last few weeks watching the Euro and Copa America, my kids have become very interested in the concept of teams from countries instead of regular club sports we watch, like MLB, NHL, and NBA.
Talking about these international tournaments led us to discuss the Olympics as a place where every sport is country-based. This led to a discussion of how many countries will be participating, our heritage countries involved (Uruguay, Dutch, England), and that we can see all of them at the start of the Olympics in a giant parade. A giant parade of all the countries with all the athletes has become a source of great anticipation. I know the sports will be amazing and as the games start the kids will be excited to see new sports, but so far, the Opening Ceremonies are top of the list for now." – Sean, Toronto, ON, Canada
7. Badminton
"One of my kids is 7 years old and the other is 11. We can't wait to watch Badminton during this year's Olympics. PV Sindhu is an inspirational figure in India. Plus, she is one of the top medal prospects for our country. Moreover, India is not the country which gets lots of medals. So whenever India wins a medal, the player becomes an inspiration for billions of Indians. I will be showing my kids the game of badminton and try to create interest in the sport. The Equestrian competition also interests us. In fact, one of my kids asked me, 'How do horses travel overseas for the Olympics?' I had no answer but loved the way my kid was involved and thinking about the sport. That's the great thing about the Olympics — it features a variety of sports, which I would love for my kids to find interest in." – Omar, 36, Pune, Maharashtra, India
8. Rugby
"To say rugby is our national sport really understates how important it is to us. Even surveys of economic confidence have been shown to correlate with wins and losses of our national rugby team. I grew up watching the All Blacks play with my Dad, usually on a Saturday afternoon after my own school boy rugby games. It was great bonding time with my Dad, and so when The All Blacks play today I love nothing more than settling in with my kids to watch together. The 7s Rugby format played at the Olympics is a super fun and fast paced game which is really exciting to watch. Doesn't hurt that New Zealand also has a very good chance of winning gold in both the men's and women's events. Bring it on!" – Charlie, 49, Auckland, New Zealand
9. Gymnastics
"I have always been impressed by the discipline and grace of gymnasts. Even though my son was drawn into active sports like skateboarding, which is making a debut this year in Tokyo, I would like him to appreciate gymnastics as an individual sport that champions flexibility, fitness, and rhythm. I would like to have a viewing experience with him where we both wait for gymnasts to do their routines flawlessly. I would like to see him catch his breath or release a sigh of relief when the gymnast perfectly lands on the floor. Overall, I am excited to cheer with him, while we eat our favorite snacks of course." – Pavel, Warsaw, Poland
10. Karate
"This is the first year karate will be considered an Olympic event. Judo has been recognized for decades, but karate never got any love. I've practiced martial arts for most of my life, and it all started with my first karate lessons back when I was 10. I'd never push my kids into karate lessons themselves, but I'm looking forward to showing them that karate is important enough to be recognized by the world. I'm hoping that the athletes will demonstrate everything karate taught me: discipline, focus, toughness, and sportsmanship. Cobra Kai is great, but the Olympics will give my kids a chance to see the real deal." – Chris, 46, California
11. Basketball
"I grew up with Jordan, Pippen, Barkley, Magic, Larry Bird. I could gush for hours about how cool it was to be a kid during that era of basketball. And seeing them all play together at the Olympics? That was just incredible. I got to watch them dominate the entire world. My two boys love basketball, and this is the first time they'll be able to appreciate the coming together of all of their favorite players on the same team, and representing our country. Personally, I don't think KD, Kevin Love, and Draymond Green can hold a candle to The Dream Team, but I'm looking very forward to watching them play, and watching my sons love every minute of it." – Patrick, 38, Ohio
12. Skateboarding
"Never in a million years did I think that skating would be an Olympic event. I've been a skater since high school, which was quite a while ago. My kids have seen a bunch of videos and pictures of me skating. I still have all of my decks. And, of course, Tony Hawk's Pro Skater. The point is, this is a legitimate celebration of a sport I love, and I'm so excited to be able to share that with my kids. Skateboarding is an art. I truly believe that. And I thought that long before it was an Olympic event. But this year is a special one for all of us who grew up getting kicked out of parking lots with scraped knees. We're all really excited to watch." – Sean, 39, Pennsylvania
This article was originally published on