'Stranger Things' Season 4 to Reveal Dark Past of America's Dad
David Harbour revealed what fans can expect when the Netflix series returns.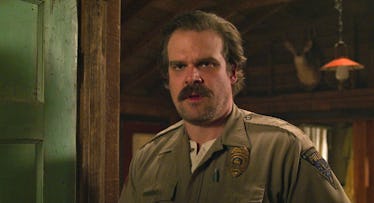 Netflix
David Harbour a.k.a. Jim Hopper a.k.a. America's TV Dad revealed in a new interview with People a bit of what we can expect from the upcoming Stranger Things season 4.
Referring to his character — last seen working on a chain gang in Siberia — Harbour said enough to get fans of the series even more exciting for its long-awaited return.
"You really do get to see a lot of his backstory of who he was as a warrior in a sense and sort of the mistakes he made in the past come back to visit him," Harbour said. As for the other characters, he promised "great fan service stuff" and more elaboration on their characters that will "reveal different aspects of themselves."
The ethos of the first three seasons of the show has been that there is always more than meets the eye, from a parallel dimension known as the Upside Down to a Russian weapons program hidden underneath an Indiana mall. Learning more about Harbour's dark past, then, is actually more of a continuation than a departure.
Harbour also took the time to talk about his relationship with his co-stars, particularly the young ones who've grown up on the show.
"So it's very moving just to watch them grow up and especially to be like an avuncular father figure on the show and be so protective of those kids," Harbour added. "To watch them grow up I get a degree of pride and also fear for all of them."
"I think when it started out, it was more parental, almost like angry parents," Harbour said of his relationship with his young castmates. "And then it's become much more like, I just can't hide anymore," he said.
"As the seasons go on, you just become like a family and my sort of soft heart gets exposed and they start to be able to not really take me seriously anymore," Harbour continued. "So you just become friends. … Sometimes we're buddies and sometimes it takes on more of a mentor feel."
This doesn't sound all that dissimilar to Hopper's relationship with the kids of Hawkins, Indiana.
While there is confirmation that Stranger Things season 4 is coming, there's no official release date, yet.