Stanley Tucci Is Probably Drinking Nice Cocktails Right Now
The actor and dad of 5, now starring in 'The Witches,' has mastered the art of the lockdown.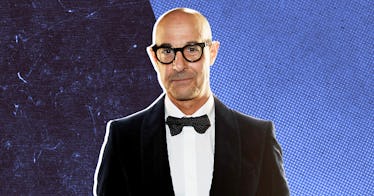 Getty
thatNegronihappy hourIt was so much fun. It wasn't meant to go out on the internet. My assistant asked if we should put it on Instagram. I made it for Curtis Brown, the agency where I am and where my wife works. Then it just went crazy," says Tucci.
Big NightThe Devil Wears PradaJulie & JuliaThe Witches,— his two youngest kids, Matteo, 5, and Emilia, 2, are back in London with their mom while he films in neighboring Spain — talked to Fatherly about finding a sliver of peace, sometimes via libations, in a world gone mad.
Back in the olden days, when such things were possible, you and I cooked a meal from The Tucci Cookbook at Eataly in New York.
Oh my god. That was a long time ago.
How's this whole ongoing quarantine COVID-19 situation been treating you?
It's fine. I feel very fortunate that we all stayed healthy. It was just weird. It's still weird. I'm working again, which is great. I'm in Madrid but I can't go home to see my family because of quarantine. It'll be over soon, we hope. I don't know what most of the people on the set look like. I only see their eyes.
Are you as obsessed with the election over there as we are here?
Yes. I'm in Spain and on my days off, I sit and watch CNN and BBC and yes, it's fascinating. I can't even — yeah. It's great to be working again.
Your lovely wife used to send me the best book tips — how is she doing?
She's great. She's working from home a lot, like everybody else, which is kind of nice. I get to see her more. It's getting very busy for her — it's just doing things differently.
Well, your wife has impeccable taste in books. And in men.
Yes, so true!
Has there been an upside to being home?
I got to spend more time with the kids. My life — as an actor, your life is weird. You go away and you're away for a while and you're home for months at a time. It wasn't anything terribly new. The only difference was you that couldn't go anywhere. I was going to get the Amazon delivery guy a room in our house at one point.
You wrote an essay in the Atlantic during the lockdown (the first one) about the chaos of having all your kids living in London with you and how you basically bought out the country's entire supply of butter.
That's basically what it was like. They're at university now. One is there but she's studying something else for a year and living at home doing that. It's frustrating for them too. They don't take classes in real life.
Do your little ones understand what's going on?
They understand. They understand as much as any of us can understand. Matteo is good about washing his hands. Everybody comes into the house, washes their hands right away, we're very careful. What can you do? They're in school and nursery. (Or else) they'll go crazy and you go crazy and everyone goes crazy.
Speaking of that Negroni video, is cocktail hour a ritual at your house?
Yeah. You either have a glass of wine or a cocktail while you're starting to make dinner for the kids. You have to do that.
Cooking with you was a joy. How do you get kids to try new foods?
That's so hard. I wish I knew. It really depends on the kid. Sometimes I just don't know. The key thing obviously is — not what you give them but what you don't give them. That's the only way to look at it. You cannot give them any kind of sweets ever if they're not eating their food. It's that simple and it's frustrating for a few days. No dessert, no snack. I'm not saying you should let a kid go hungry. But be very careful with the timing of the snack.
The Witches is streaming now on HBO Max.