'Spider-Man: Far from Home' Doesn't Have a Stan Lee Cameo
But it might just have the next best thing.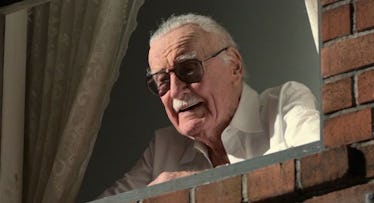 First, the bad news. Stan Lee, the bespectacled, mustachioed Marvel mastermind and all-around nice guy will not be in Spider-Man: Far from Home. But the new movie might have the next best thing.
Spoilers ahead! You've been warned.
At the time of his death last year, Lee had filmed trademark cameos for Captain Marvel and Avengers: Endgame. He had yet to shoot one for Spider-Man: Far from Home, though we have no doubt one would have made the final cut. Lee appeared in last year's Spider-Man: Into the Spider-Verse and every Spider-Man movie before it, all the way back to Tobey Maguire's debut in 2002's Spider-Man. He'd also lent his voice to Spider-Man animated shows, video games, and theme park rides.
This means that Lee's final cameo will be his brilliant, metafictional turn as himself in Avengers: Endgame, a fitting end to a uniquely delightful acting career.
But the Spider-Verse works in mysterious ways, and there is a poetic silver lining to this dark cloud.
In a 2010 interview with NPR, a caller asked Lee if he'd modeled J. Jonah Jameson on himself.
"You caught me. I really did. I thought, if I were a grumpy, irritable man, which I am sometimes, how would I act? And that was it. So, you got me."
Appropriately, the scene that rolls after the credits of Far from Home features the return of Jameson, masterfuly played by J.K. Simmons, to the Spider-Man franchise.
Simmons appeared as Jameson, the cranky editor of the Daily Bugle in the three Sam Raimi-directed, Maguire-starring Spider-Man films. Since then, the franchise was rebooted once and then again when it was integrated into the MCU starting with Captain America: Civil War. It's been over a decade since he played the role on screen.
In his time away from the franchise, Simmons won an Oscar for Whiplash, appeared in other quality films like Juno, and did voice work on everything from The Simpsons to BoJack Horseman.
His return is a great get for the MCU — one that is meta in the sense that it unites the Raimi trilogy and the multiverse, but it's real value might just be in the poignancy of the character Lee modeled after himself returning for the first Spider-Man film that Lee won't be able to appear in.