Teach Young Kids Basic Soccer Skills With 4 Tips From A MLS Legend
Get them to be goal-oriented.
by Alison Zeidman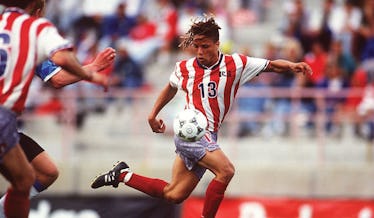 For more advice on fun stuff to do with your kids, from ridiculously overqualified experts, check out the rest of our 940 Weekends.
If your kid is entering the world of team sports, chances are they're one of the 45 million who will be playing soccer (get those orange slices ready). The sport is great for keeping kids active, teaching them how to work well with others, and letting them chant "U-S-A! U-S-A! U-S-A!" at the top of their lungs while wearing red, white and blue face paint. That's followed, every 4 years, by learning to accept defeat while wearing red, white and blue face paint unless they're watching the U.S. women's team.
Cobi Jones is a pro soccer legend in the U.S. and places where they pay attention to futbol. You may have seen him playing for the U.S. in the 1992 Olympics, the '94, '98 and '02 World Cups, or during his 11-year run on the LA Galaxy. Now he divides his time between being a TV analyst and a partner for Let's Play!, an initiative by Dr. Pepper Snapple Group which gives kids and parents ideas and resources to be active every day. He has a few ideas about how to get even the youngest kids to start on fundamental ball skills. Because running outside is great, but if you can put a ball in front of those little feet, you may find one day they're holding up a big gold cup.
Get Them Dribbling In A Brand New Way
A ball and some grass — that's all your kid needs to get started in soccer at any age. "Go to the playground, the backyard, and give them the ball and let them get touches and just play," says Jones. It's obvious advice, but there are plenty of parents who think that by playing FIFA '16 their toddler is learning by osmosis.
There will be time for actual teams, uniforms, and trophies. But to start, dribbling is a fundamental skill — even if they're in doing it in aimless circles around the yard. "They have to do the dribbling. When you get better at control, you can do more things with the ball during the game," says Jones.
They've Got To Pass Before They Can Shoot
The idea that your kid will heroically dribble their way around defenders while millions of fans cheer them on won't happen if they never pass the damn ball. "Soccer, like all sports, is a microcosm of life," says Jones. "It's about putting kids out there to interact socially, to participate, learning to get up and get along with others, individual battles as well as group battles."
Being a team player means developing those passing skills at home:
Use the wall: Jones recommends setting them up in front of a wall and having them kick the ball against it to "pass" it back to themselves.
Alternate passing and trapping the ball: They should keep control on the receiving end, and alternate their passing and trapping feet on every round.
Control is better than power: For a solid, controlled kick, they need to get their body behind the ball and their foot under it, not leaning over it to strike as hard to bend it like that British guy.
Easy Drills You Can Do With Your Kid
Warm them up and let them go. "Spend 10-15 minutes just tossing the ball with your child," says Jones. "Yes, they need to be out there on their own practicing, and actively participating with their friends playing the game and moving around with the ball, but you also need that parent involvement."
Hit the turf with your kid and practice incoming balls to the head or chest. Gently toss them so they learn how to trap the ball with their body and bring it to the ground, or head the ball properly (that means without getting a concussion) by making contact with their forehead and pushing through, rather than just letting it bounce off their skull.
The Basics Of Juggling
Juggling is one of the best ways to get familiar with the soccer ball, but it takes practice. "It's about connecting rather than letting the ball hit you," says Jones. "You need to try to control the ball, making contact and trying to hit it straight up in the air." The goal is to keep the ball in the air with as many different close-range touches — foot, thigh, chest, head — as you can.
Kids can start by staying light on their toes and tossing the ball to their feet. Jones says they should focus on keeping their kicking foot flat, and getting the ball high in the air to get it back into their hands. Once they can get 2 or 3 touches in a row on their own, they can move to more advanced touches higher up on the body. After, they can start juggling back and forth with friends. You? You have orange slices to cut.
Want tips, tricks, and advice that you'll actually use? Click here to sign up for our email.
This article was originally published on