How Simon Rich Wrote the Most Hilarious New Book For Parents
The former SNL writer has just dropped an "absurdist" collection of short stories.
by Donna Freydkin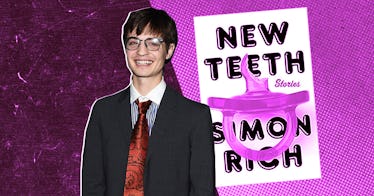 GETTY / Little, Brown & Co.
You know you're in good place when the New York Times hails you as "extravagantly talented" upon the publication of your latest book, New Teeth. But as with Simon Rich, nothing is entirely what it seems. Instead of dialing in from, say, a beachfront mansion in Malibu, the former Saturday Night Live writer pulls a Laverne & Shirley. "I'm in Milwaukee. It's where my wife is from. We haven't been here since before the pandemic and it's so exciting to be here seeing a lot of family for the first time in a couple of years," says Rich.
Rich talks to Fatherly about his new book, "a collection of short stories about parenting and about trying to raise babies and they are absurdist, surreal stories," and how his priorities have shifted since having kids.
What's been the biggest change in your life since you became a parent?
It has forced me to go outside of my comfort zone and attempt things that I never would have otherwise. The biggest thing for me was learning how to drive a car because throughout my twenties, I made a few kind of halfhearted attempts to get my driver's license. I always flunked to the road test. When we were about to have kids, I realized that I actually had to figure it out. I was finally able to pass it. We moved to Los Angeles and I had to figure it out.
You've got two kids, a 4-year-old and a 6-month-old. What does your preschooler think you do for a living? You were a writer on Saturday Night Live, and now you come back to write on certain occasions. What's that like?
Every time John Mulaney has come back to host, which I think is four times now, I would come back and help him. I did it all virtually this last time he was there, and it was so strange. It was in the writer's room, and it was all done over Zoom. There's much less pressure when your friend is hosting. It's a lot more stressful when you're in your early twenties and you're afraid of getting fired and losing health insurance.
What is your guilty pleasure these days?
I don't have any guilty pleasures. I've never felt guilty about anything I've enjoyed. I'm a populist and I'm completely happy to consume anything that I think is entertaining or good.
What is the one book that you can read to both of your kids without wanting to punch yourself in the face?
I truly love Dr. Seuss, Shel Silverstein, but these have been favorites of mine even before I had kids. When they get a little older I'm excited to introduce them to more books by Roald Dahl and to get more into Winnie the Pooh and all those, all those great classics. Those are the kinds of stories that inspired my adult writing.