Should You Take Your Kids to See 'Sing'?
Is the new animated film sharp or flat?
by Dan Katter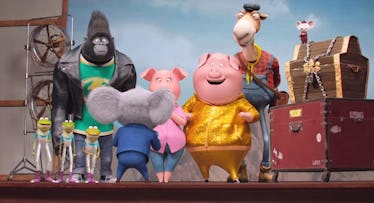 If you've seen the trailers, the highway billboards, the subway interiors decked out with high-kicking pigs, then you already know: Sing is a movie about animals who sing. And the jukebox musical is finally here, just in time to provide a quick escape from a holiday house full of relatives. Or is it?
The plot is as such: With his theater on the brink of bankruptcy, crafty koala Buster Moon (Matthew McConaughey) cooks up a singing contest to raise money. Because his one-eyed iguana secretary accidentally adds an extra zero to the cash prize, just about every animal in town shows up to audition, from gangster gorillas to punk porcupines voiced by the likes of Seth McFarlane, Nick Kroll, John C. Reilly, Scarlett Johansen, and Reese Witherspoon. Each character has a rich backstory full of reasons to root for them, but only 1 will win. The stakes are as high as the voice of the sheep who sings "Kissed By a Rose."
It's playing a familiar tune, but does Sing hit the right notes or fall flat? Here's what the critics are saying.
For Kids: Kids will get a kick out of Sing's menagerie of adorable animals and rollicking fast pace. Relying on tried-and-true slapstick gags, writer Garth Jennings takes the "shabby-theater charm of The Muppet Show and burnishes it for the 'American Idol' generation," writes the Boston Globe's Tom Russo. Although the film's focus is clearly on the big songs, the visuals are just as enticing, with plenty of flourishes sure to keep even the most jaded matinee-goer glued to the screen. "Each animal's eye-popping performance is meticulously animated," says Entertainment Weekly's Devan Coggan. On top of all that, the characters have some surprising emotional depth and the contest's big finale delivers a satisfying payoff.
For You: When it comes to splashy Hollywood musicals, Sing isn't exactly La La Land. But it's got plenty of treats for parents. Like many blockbuster animated films, Sing has a deep cast full of A-Listers led by Matthew McConaughey. And as Jocelyn Noveck at The Associated Press puts it: "His koala is a nice balance, neither too sweet nor too nasty, neither too corny nor too cynical, in fact – sorry, but we have to say it – it's all right, all right, all right."
Music fans of all ages will enjoy the soundtrack, which mercifully steers clear of bubblegum pop and relies on classic tunes from the likes of Queen, Cat Stevens, and the Beatles. The song choices are predictable ("like cycling through an extremely basic iPod on shuffle with an itchy trigger finger," as The Onion AV Club's Jesse Hassenger puts it), but if a giant gorilla belting out Elton John doesn't do it for you, what does?
Common Sense's Take: Common Sense Media is the leading nonprofit source for helping parents make movie and TV choices for their children. Their review notes that Sing includes some peril and mildly risque moments, but remains a good pick for young kids thanks to its cute animal characters and overall positive message.
Bottom Line: Sing is a solid animated film that's right on pitch for the holiday season. Its wonderfully animated, silly creatures will entertain the kids — and you might nod your head (or at least not want to bash it in) when the recognizable tunes are belted out.
Rating: PG
Running Time: 102 MinutesAges: 7+
This article was originally published on