The Best Spring 2018 Family Travel Destinations: San Juan, Puerto Rico
Puerto Ricans, who understand that tourist dollars are the key to economic recovery, are more welcoming now that ever.
by Dan Friedell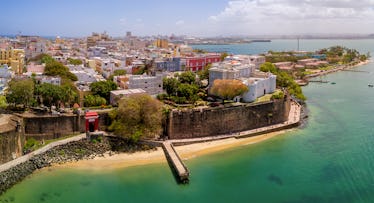 Puerto Rico got hammered by Hurricane Maria. Access to electricity remains spotty or nonexistent across a large portion of the island. Intense damage is evident everywhere. Still, the island has never been a better family destination. Why? Puerto Ricans, who understand that tourist dollars are the key to economic recovery, are more welcoming now that ever, prices are low, resorts are a bit less empty than usual, and the island itself remains as beautiful as ever. And — not to in any way minimize the trauma of the last year — spring on the island remains extremely fun thanks to a packed events schedule.
Not that travelers should let preplanned fun distract from all the snorkeling, surfing, splashing around, and hiking that can be done across the island.
First, on March 18, there's an Ironman 70.3, which is a 1.2-mile swim, 56-mile bike ride and 13.1-mile run in San Juan. If your kids have never seen your heroic athletic exploits in person, this could be just the chance to show that you are every bit the Ironman they think you are. Registration is still open. For serious Ironman competitors, the event offers 30 qualifying spots for the Ironman 70.3 world championship later this year in South Africa. For those looking to work their muscles and then do some humanitarian work, the next day, the group is helping athletes and visitors do a day of service to help with hurricane recovery projects in Puerto Rico. You don't have to be an Ironman athlete to lend a hand.
Before the nearby Dominican Republic became a hotbed for young baseball talent, some of the best players in 1960s, 1970s and 1980s MLB came from Puerto Rico. The number of Puerto Rican ballplayers may be slightly depressed compared to past decades, but some of the top young players in MLB are from the island. And that includes the dynamic shortstop from the Cleveland Indians, Francisco Lindor. He and the Tribe come to Hiram Bithorn Stadium to play the Minnesota Twins in two regular-season games April 17 and 18. One of the key Twins players is outfielder Eddie Rosario, from Guayama, on the south side of the island. The games are home games for the Twins and the first time regular-season MLB has played there since the Mets and Marlins played a series in June 2010. If you have any doubt about how passionate Puerto Ricans are about baseball, check out how the fans celebrated the island's success at last year's World Baseball Classic.
If you happen to hit the island outside of these events, or are looking for something a little more chill, local resident Eddie Ramirez can help you out. He is the owner of the five-room, eco-friendly (powered by solar and water from a 3,000-gallon cistern) Casa Sol Bed & Breakfast. While vacancies are limited in early March, he has rooms starting later in the month and into April. You can stay in the La Perla neighborhood made famous by Luis Fonsi's "Despacito" video and lend a hand rebuilding roofs, cleaning, doing carpentry and painting. Even if you are not staying there, give him a call ((787) 725-4470) and he will hook you up with his local group – Comunitaria La Perla – and a larger organization called Love in Motion that is organizing volunteer recovery activities.
Annette Gutierrez, a local mother of three, points out that Puerto Rico's classic family offerings remain excellent. She recommends the Castillo de San Felipe del Morro, better known as "El Morro," which guards the entrance to San Juan harbor. It was initially built in 1539 and expanded into the fortress it became over the next centuries. (501 Calle Norzagaray, San Juan. https://www.nps.gov/saju/index.htm) For a fun, cheap activity, children can fly a kite in front of the fortress.
In a different sort of city, El Morro would be full of nothing but tourists with locals outside the gates. Not so in Puerto Rico, where people mingle constantly and live much of their lives in public spaces. For travelers looking to see something beautiful and different while providing meaningful support to Americans, this makes the flights worthwhile. Puerto Rico is a beautiful place, to be sure, but it's beautiful because the Puerto Rican people make it so.
PERFECT FOR: If you and your kids are up for an overseas beach trip, but don't have the patience for hours on a plane, Puerto Rico is perfect. First off, no American citizens need a passport – the island is a U.S. territory, as if you didn't yet know that based on the news of the last six months. At the same time, the infusion of Caribbean and Spanish culture could just trigger a love of travel for your family. You don't have to worry about the fact that you zoned out in high school Spanish class, either. Pitching in with hurricane relief could teach your child an important lesson.
WHAT TO DO
"Despacito" tour of La Perla. The neighborhood of La Perla was featured in the video for the song that took over the world in 2017. Luis Fonsi and Daddy Yankee are dancing and getting their swag on in a bar, on the beach, in an alleyway, a seaside breakwall and a club in the once-rough neighborhood. La Perla was hit hard by the hurricane and you can get the flavor of the place while wielding a hammer or a paintbrush if you talk with Janice Rodriguez from Wanderlust Tours PR. She will take you to the video's locations, and then get you to donate a little elbow grease by chipping in with a community project. Out-of-town trips for scuba diving at a place like Gilligan's Island (yes, that's the real name) are available, too. Rates negotiable, call or email at least two days ahead.
Volunteer with Love in Motion. The group has listings of volunteer rebuilding efforts on their Facebook page every week, both local and out-of-town excursions to help farmers rebuild their properties are clear debris from the El Yunque rainforest.
See Cueva Ventana. It's a part-day trip (about an hour drive, plus hiking) but the large cave atop a limestone cliff is worth seeing. (https://www.cuevaventanapr.com/) It's $19 for visitors and some tour groups can arrange travel. The tour brings you through caves and finishes with a majestic view of the valley below. It is a manageable walk for young children, but good shoes are a must and hard-hats are provided..
WHERE TO STAY
The Wyndham Grand Rio Mar is a full-service resort just east of San Juan. The property was renovated and reopened on March 1. During the next two months, one dollar from every stay will be donated to El Yunque with the hopes of raising $10,000 to restore the rainforest.
If you stay at the Casa Sol Bed and Breakfast, you won't have to worry about power or running water because the complex has its own water and solar power. In fact, Ramirez provided emergency water, clothes washing and drying, cell phone charging and more to the La Perla community during the storm's aftermath. It's not the Ritz, but that is not the point. The B&B is deeply embedded into the community if you want to experience La Perla as if you were a local.
HOW TO GET THERE
Dozens of airlines and multiple cruise lines currently service Puerto Rico with regular daily arrivals. Multiple East Coast airports service Marin International airport in San Juan with daily flights (Dulles, JFK and Fort Lauderdale) with trips on United and Jet Blue in the $300 round trip range.
This article was originally published on