Why Ryan Reynolds Is Taking A Break From Acting
The actor talks about dialing things back to cook pizza with his family and why 'Deadpool' is better in small doses.
by Donna Freydkin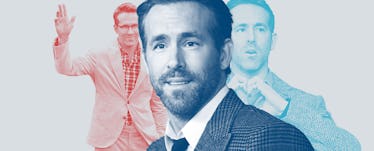 GETTY
In a culture that fetishizes the concept of hustle, Ryan Reynolds is choosing to disappear. In an Instagram message he posted on October 16, he made public his "little sabbatical from movie-making." It's not paternity leave, exactly. Reynolds' daughters are 6,5, and 2. But according to the actor, producer, and gin hawker, it's about marital parity with his wife Blake Lively, and, above all, just being a carpooling, lunch-making, bath-giving dad to the couple's three kids. To be clear, this break isn't that long, Reynolds said he's stepping away from any new projects until "at least summer of 2022." But it's a break for his family. Full stop.
It may seem strange, and even misguided, to praise an actor worth around $150 million bucks to take time off. But, it's also uncommon for men to take time off at all. And it's uniquely uncommon to hear about men taking huge chunks of time off to spend time with kids. Yes, Reynolds' decision to step back from work is "insanely privileged" (his words), but it's also laudable — a part of the self-awareness that continues to make him one of the most likable rich guys on the planet.
Ryan Reynolds doesn't need to act anymore anyway. This past year, his pivot to businessman is clear: He sold his Aviation Gin to Diageo for a reported $610 million. Along with Rob McElhenney, he purchased the ​​Wrexham AFC football club, and the two are creating a show for FX about the insular and colorful world of club soccer. He bought a majority stake in the wireless carrier Mint Mobile.
Reynolds has spoken publicly about his contentious relationship with his own dad, who died last October at 74 after battling Parkinson's disease, and when talking about his kids, a guy who has built a personal brand out of deadpan and self-deprecation becomes sweetly earnest. It's not entirely out of character – Reynolds at his driest has always given off an innate decency that makes you root for even his most outlandish characters. Audiences will catch it one more time before his acting hiatus in the Netflix crime caper Red Notice, made to the tune of $200 million, which streams this Friday. Reynolds plays a crafty art thief who winds up working alongside an FBI profiler (Dwayne "The Rock" Johnson) to save his own ass. Reynolds talks to Fatherly about what's next for his foul-mouthed anti-hero Deadpool, why he's retreating from movie sets (for now), and his signature dinner dish for his family. (Spoiler: it's pizza.)
We spoke to Dwayne recently and he was talking about how much you two have in common.
Yeah, we do. We actually do have a ton in common. We're obviously … it's so funny. Every time we catch up and chat, it seems like we have more and more in common. Three daughters, obviously, we have similar backgrounds in terms of dynamics with our fathers and all kinds of stuff. It doesn't stop there. We're both liquor magnates. We love what we do. We have a similar work ethic as well. So yeah, Dwayne and I have a lot in common. And we've known each other for over 20 years now.
He actually said that you're one of the only people he's ever worked with who never broke character.
That's his very polite way of saying I'm dead inside, I think. I started in improv comedy, so you're always working in those mercurial ways where things are happening that you're not expecting. And the self-defense mechanism is to stay somewhat stoic and ready for whatever comes. He may say something that's hysterical and something we want to use in the film. So usually I kind of try to stay at the ready as much as possible. He keeps me going.
This is one expensive movie. When you go into a project of this scope, how much creative control do you have over your own character?
Well, I'm going to be totally frank with you. I produced the Deadpool movies, Free Guy, the upcoming Adam Project, those movies require a kind of tightrope walk and a kind of workload that is pretty unimaginable. It's every detail. It never stops — all the way through editing into marketing and stuff. Something like this comes along, Dwayne's the producer, it's their budget [Netflix], their show. It's so nice to show up and just play in the sandbox. And I was working with my friends, which is really … What Netflix wanted was the three of us, our dynamic off-camera to be on camera. That is literally how we play with each other when we're not rolling. So it was really nice to show up and get to play this fun part and work with these exceptional people. I don't have to watch dailies. I don't have to sit and worry about budgets.
You just wrapped Spirited, a musical retelling of Charles Dickens' A Christmas Carol. And now you're taking the rest of the year off… maybe longer, right?
Well, yes and no. I'm not shooting another film. I have lots of other things I have to do, but the main point is that I'm there for my kids in the morning and night and I'm getting up with them and I'm putting them to bed at night. Those are things that I think they should be able to take for granted. Those are not things that should feel special in any way, shape, or form. So I'll be in development on tons of stuff and working during the day while they're at school. But for the most part, yeah. I'm not going to be shooting any films for a while.
Of course, but lots of people with that privilege don't step away at the height of their careers. What fueled that decision?
You can't say you're doing that without recognizing the obscene privilege it is to be able to do that. And part of it is to allow Blake to do some of the things that she wants to do and get to play in her own sandbox. And the other part is purely selfish. It's just that I don't want to miss this time. You don't get this time back. And my kids are in school now, so they can't travel with me to location. I have to be there. So it's important and I'm super lucky I get to do it.
How do you and your wife share the mental load of parenting, of running a household?
We look at everything like we share everything. We're friends first and foremost, and that's the biggest part of it. But I'm a working dad, she's a working mom, and we trade-off and we make sure that we each have time for each other and we also have time for our kids. And that's the work you do. And that's part of the job. I think that's the thing we love.
So now that you're going to be home, are you going to be doing the cooking, the laundry, the scooping up the dog poop?
I will be doing all of that this afternoon. No doubt. We have three kids, it's a circus. It's quite literally a circus all the time. There's always something going on. There's always some extracurricular thing that the kids are doing, that sort of thing. So, yeah, I'll be there doing all that stuff. I'm going to experiment with my cooking abilities again. And yeah, it's going to be nice.
So if we were coming over to your house for dinner, what would you make us?
Oh, I don't know. I'd probably … Lately, I got this little mini pizza oven. I've been making pizza. I love making pizzas. That's a lot of fun. It's outside. It's getting a little cold in New York, but still, I'd probably make something like that for you.
With Deadpool moving over to Marvel and Marvel being owned by Disney, do you ever see the Deadpool franchise becoming any more family-friendly, or do you think it's going to stick to the aesthetic that you've built?
I have no pretense there. I don't think of sticking to any aesthetic that I've built. Deadpool works best as a kind of scarcity, surprise, and unexpectedness, and all of those qualities rule out nothing. I wouldn't rule out wild swings. I'm hoping Marvel allows us to take wild swings with this character because that's kind of what he's there for. If not, what's the point?
Red Notice is streaming on Netflix on Friday, November 12.