Rob Riggle Talks Crashing Patrick Mahomes' Wedding and Giving De Niro Acting Tips
'The Daily Show' correspondent talks about parenting and his new movie, 'The War With Grandpa.'
by Donna Freydkin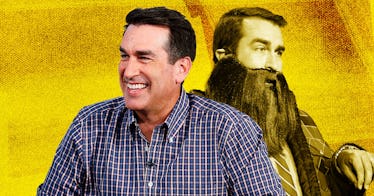 GETTY
To really get a taste of what makes Rob Riggle so damn good at his job, watch a 2008 clip from the Daily Show, in which he attempts to make it to the Beijing Olympics. By actually locating the Olympics. Geographically. "You know the adversity I've overcome," he earnestly tells a smirking Jon Stewart.
Riggle, the virtuoso of the deadpan expression who never breaks character, is, at the time of this interview, trapped in a hotel room, somewhere in Australia, quarantining before he can shoot the next season of Holey Moley, his golf reality competition. He's bored. He's antsy. He's got cabin fever. But there's one spark, one flicker of hope, that's keeping this former Marine from thoroughly wilting: The upcoming wedding of Kansas City Chiefs quarterback Patrick Mahomes. He is, after all, a lifelong superfan of the team, so it's only fitting that he attend the nuptials of the league's MVP.
"I don't think I'll be the best man. Maybe the ringbearer if I play my cards right," he muses.
Hope, as they say, springs eternal, and Riggle talks to Fatherly about watching his team win the Super Bowl, starring in a movie with that whippersnapper Robert De Niro, and why his daughter actually thinks he's cool.
So how are you? Where are you?
I am currently in quarantine in Australia. I have to do 14 days here in quarantine in this very small hotel room. And I can't leave the room for 14 days. You know, it is what it is. It's the world we live in right now. So I flew in, you know, they kept us under very tight control, put us on a bus, tested us, took temperatures, and staff brought us here. There are police and soldiers down in the lobby. They take us one by one up to our room. Once you're in the room, you can't leave the room. And they come and they pound on your door and then drop your food. It's in a bag. They drop your food and then take off running like you're radioactive. Thank God, I've got internet and movies and books.
You're a comedian. Do you think we'll ever get to the point where we can laugh about this?
No one will be able to laugh about it because death was involved. I think this will pass as all things pass. And then everybody will spend a lot of time pointing fingers at each other. And that'll be fun.
Do you ever think to yourself, Man, I wish I was back on the Daily Show so I could comment on this?
Yeah, of course, I'd love to comedically weigh in on it in some fashion. But I also don't know if you can do that anymore. It seems like if you step outside a very narrow lane, you're going to get smacked. And that's not fun. So sometimes it's easier just not to do it.
So let me start with a really hard-hitting question. Rob, you're in the movie The War with Grandpa, with that other Rob, Robert De Niro. When you worked with De Niro, did you get a sense that he had a career ahead of him? You could see a future for him in Hollywood?
Exactly. I think that my first initial thought was. 'This kid's going places.' I actually was very fortunate to have met Mr. De Niro on several occasions before this movie. I spent time with him and had done a couple of sketches with him actually on SNL. We were familiar with each other and, and he's always been very gracious.
Did you do this movie so your kids could watch it?
I was lucky I did The Lorax, which was a family movie but nothing live action so far, so I wanted to do a live-action family film. They just don't make a lot of those — they're just not common. I just thought it would be really fun to work with this unbelievable cast and do a live-action family comedy.
You have been in the gold standard of comedies. Which one do you think holds up the best?
That's interesting. Maybe either Step Brothers or The Hangover. Just because I think guys are going to go to bachelor parties in Vegas, maybe for eternity, or at least, as long as there's a Vegas, so that may hold up on some level. And then Step Brothers, it was just fun. I still go back to movies from my youth that are touchstones for me. Things like Ghostbusters, or Caddyshack. I still quote those movies.
So you're a father of two. How do you juggle parenthood and this very global career?
Well, I think I'm not alone. I think a lot of people struggle with it. I think everybody struggles, even if you're not traveling, Trying to find the mythical work-life balance. And I don't even know what that means anymore. I think we're just all searching to try to be proportionate. I want to call my friends, I want to be a good friend, I want to be a good business partner, I want to be a good dad. You're constantly emptying out your bucket, so to speak, and, and you got to fill it back up. So you need time for yourself. And it's exhausting. And I think everybody deals with that. So if you figure it out, let me know.
What does being a dad mean to you?
It means being a provider, it means being a teacher. And it means being consistent. And always there. I like seeing the light come on, in my child's eye when I share a piece of wisdom with them or a little piece of knowledge or something that's a great shortcut or a life hack. That's awesome. You feel like you did something right. That feels pretty good because we end up screwing up a lot of stuff, too.
Did your kids think you're cool? Considering how many awesome people you've worked with?
Um, they kind of don't care. My daughter kind of thinks I'm cool. I've taken her to a couple of improv shows down at the UCB theater. Because I still do improv down there. Just with my friends, and we have a good time. She thinks improv is pretty cool. And my son, he likes Nintendo. He likes a PlayStation. He likes baseball and skateboarding.
I'm sure you saw the news that Patrick Mahomes is engaged and is going to be a dad.
I'm very happy for him and Brittany. I've had the pleasure of getting to know Patrick over the last two or three years and he's been as advertised. He's incredible. He's just an incredible young man who's got a great spirit and is a great leader. I enjoy his company.
We don't hang out as much as I'd like to. I'd like to hang out a lot more. But he's been really gracious with his time with a charity event that I do in Kansas City. And we got a chance to play golf together in Tahoe this year. He's been nothing but gracious.
How did you celebrate when your beloved Kansas City Chiefs won the Super Bowl?
After I stopped crying tears of joy, I started crying more tears of joy. And then I just stayed up all night, sharing stories with my friends about all the years of our lives that we've been watching without a Super Bowl win. And it was wonderful. We sat around and drank beer and just told stories and didn't go to bed until the sun came up and it was wonderful.