'Rilakkuma and Kaoru' is a Brilliant Animated Show About a Bear Who Just Sleeps and Eats Pancakes
It's 'The Nightmare Before Christmas' meets Wes Anderson's 'Fantastic Mr. Fox' meets pancakes and sleeping.
by Adam Goldman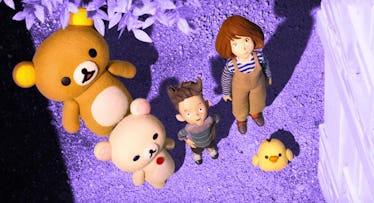 Netflix
Despite looking like just another cutesy cartoon for toddlers, the new Netflix animated series Rilakkuma and Kaoru is a great work of art. Why? Mostly because it's the rare cartoon that is defined by its weirdness but contains hidden layers of relatability. Allow me to explain to you why you should watch the whole show with friends, with children, or all by yourself right before bed
The first problem you're going to encounter as an American fan of Rilakkuma and Kaoru is telling people that you like Rilakkuma and Kaoru because they're not going to have any idea what you just said. Rilakkuma is a sentient stuffed bear whose name is a conjunction of the words "relax" and "kuma"; the latter of which is the Japanese word for bear. He's a relaxing bear. His interests include sleeping, eating pancakes, and… that's it, those are his interests.
The character was created in 2003 and has become something of an icon in Japan, appearing on lunchboxes, backpacks, plush toys, phone cases, you name it. Makes sense since he was created by a stationery company. But his most recent appearance is in Netflix's Rilakkuma and Kaoru, wherein the earthy ursine shares an apartment with Kaoru, an office worker in Tokyo. They also live with Korilakkuma, a smaller, more precocious bear, and a persnickety yellow bird named Kiiroitori (my personal favorite). The animals all understand human language, and while Kaoru understands them when they speak, the audience just hears adorable groans and squeaks.
If this sounds insane, that's only because it is fully insane.
I gave the show a shot because I'm an animation enthusiast, and it caught my attention when Netflix suggested I might enjoy it. The whole thing is brought to life in a gorgeous stop motion style (think The Nightmare Before Christmas or Wes Anderson's Fantastic Mr. Fox), so it was worth a look, even if I'd be checking my phone throughout and quit after a few minutes. To all outside appearances this is a show for kids – and not just kids, but the Hello Kitty crowd which I guess (?) still exists.
Much to my surprise, the show is witty, tender, and not quite as aimed-at-kids as it first appears. Nothing on the show approaches what you might call "adult content," and the whole thing could be enjoyed by a four-year-old. But like the best children's programming, it works on different levels, some of which will be imperceptible to younger audiences. Kids of all ages will giggle at Rilakkuma's bizarre groaning noises, but the episode when Kaoru became paralyzed by her inability to make simple life choices? I felt that.
The 13-episode season takes place over the course of Kaoru's last year in her apartment building before it's demolished. The episodes are pleasant little snacks – about twelve minutes apiece – and each deals with a central theme or lesson that's spelled out on-screen before the credits roll. The show gestures at real problems but never cuts too deep: it's sweet without being saccharine and deliciously dry without ever seeming cynical.
Over the course of the show, Kaoru deals with problems, great and small, that will be familiar to anyone but particularly the at-risk-of-burning-out urban millennial crowd: her coworkers gossiping behind her back, her mother's failure to comprehend her life choices, her crush on the cute delivery guy. Normal stuff that sometimes sends Kaoru spiraling into an existential crisis. "I know I'm worthless. I'm just a piece of garbage drifting in this universe where I have no means of escape," she laments, despairing over the cost of adopting a cat.
Inevitably the solution to her problem comes from her animal friends. When her winter bonus at work gets slashed, they all get part-time jobs to help with the rent. When she desperately needs a vacation, they stage a Hawaiian getaway in the apartment in a series highlight that's almost too cute to handle. The answers come from inside the house and usually involve Kaoru realizing that her problems are a matter of perspective. She's gonna be OK.
There's a lot to be impressed by in Rilakkuma and Kaoru, but for me, the real achievement of the show is its ability to evoke and maintain a tone and a mood. The pacing is deliberate and there's no action to speak of (unless you count a fever dream dance sequence with a small army of snowmen). The visuals and the soundtrack work in concert to bring your blood pressure down. It's definitely the most enjoyable kid-friendly content I've seen in recent memory. For adults, it's perfect bedtime viewing, guaranteed to calm you down better than scrolling through Twitter. For kids, it's an afternoon or two of fresh new characters that they'll likely want to revisit over and over again.
It might not look like high art, but anything that makes you feel like you're gonna be OK for twelve minutes in 2019? Pretty great in my book.
This article was originally published on