The Raffi Version of "Silver Bells" You Didn't Know You Needed
Christmas, Raffi and Lindsay Munroe style.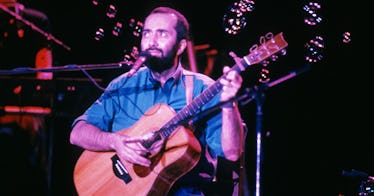 GETTY
Raffi and Lindsay Munroe share a magical friendship. It's one that quite literally produces beautiful music! The two singer-songwriters have once again joined forces on a new track. Just in time for all of the family holiday music playlists you're putting together comes their take on a classic — 'Silver Bells.'
"As someone who grew up listening to Raffi's iconic Christmas album, it is such an honor to join him on this beautiful rendition of 'Silver Bells,'" says Munroe about their latest collaboration. "I love Christmas music and this song has always been one of my favorites. I hope it brings joy and a smile to all who listen this holiday season."
She isn't alone in her enthusiasm about the release either. "Lindsay Munroe's golden voice gives 'Silver Bells' new sparkle," according to Raffi, who also shared that he "loved joining her in this duet for the holiday season." If you're a fan of the work the duo have done together in the past on tracks like "Birds and Frogs" and "For All That You Do" then you definitely ought to give this latest holiday treat a listen.
Raffi and Munroe have worked together since 2019 when Raffi met Munroe backstage at one of her shows. Munroe, a mother to three children with autism, uses her music to connect with her children and others on the spectrum. Raffi, the name in children's entertainment for decades, shared with Munroe that her songs had inspired him to write songs for children with autism, too. Raffi did more than get inspired, he released Munroe's album I Am Kind on his label, Troubador Records.
Together, they make beautiful music, and continue to do so—the two are currently at work collaborating on a new project they will be announcing super soon. For now, you can stream their take on "Silver Bells" on Spotify, Apple Music, and wherever else you happen to find your music. 'Tis the season to get the family singing, and this song is sure to do exactly that.
This article was originally published on