Pumpkin Carving Ideas 2018: Jack-O-Lantern, Vampire and Darth Vader
Show off your creativity and knife skills.
by Alicia Kort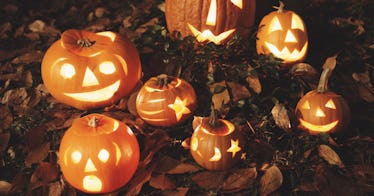 There's no better way to get in the spirit for Halloween than by carving pumpkins as a family. Pick up a single pumpkin that represents your entire family or pumpkins for each member of the family. Pumpkin carving can be done in a single evening, even on a hectic weeknight. Just set aside some time after dinner to clean out the pumpkin (and enjoy your kids' squeals of "Ew!" and "Gross!" at the pumpkin "guts"). The most fun part of making a jack-o-lantern is picking a design that speaks to you. We've provided some designs that are fun, but aren't so much intense that you're spending 24 hours on the Mona Lisa of pumpkins, which will rot within a few weeks. Even if you're doing the hard part of the carving, your kids can help place the design on the pumpkin in duct tape. Make your pumpkin a Bat signal, a vampire, Darth Vader or just keep it simple with the classic happy or scary jack-o-lantern.
1. Jack-o-lantern
You can't go wrong with the classic jack-o-lantern. If you're carving multiple pumpkins, you can give each pumpkin a different facial expression. This isn't a stencil. You and your kids can use your creativity to make some truly unique pumpkins. Here's a cool stencil you could use.
2. Dracula
The best part about this pumpkin carving idea is that you can interpret it as loosely as you want. You could carve Dracula's detailed face into your pumpkin or you could simply carve a face and make sure that your pumpkin has a nice set of fangs. Here's a stencil to give you inspiration.
3. Bat Signal
Send Batman running to your door this Halloween when you carve a bat signal pumpkin. You could either carve a bat into your pumpkin or carefully carve a circle out of your pumpkin, leaving a pumpkin bat in the center. Here's a stencil example for the first option.
4. Darth Vader
Bring your pumpkin over to the dark side with this Star Wars-themed carving. You decide how intricate you want to make it, but you know that Darth Vader deserves to be temporarily immortalized in pumpkin this Halloween. This would be even more apt if any one of your family members is going as a Star Wars character this year. This stencil is great if you're ready to go all out.