How To Throw A Pokémon Birthday Party That Doesn't Suck
For the kid that wants to catch 'em all, a Pokémon birthday party is in order. Here's how to pull it off.
by Hudson Lindenberger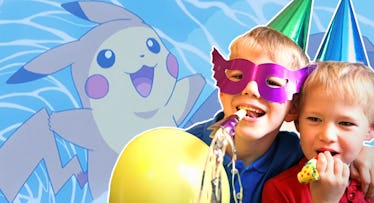 Chances are you are not the only parent planning a Pokémon birthday party. Whether your kid is one of millions hooked on the TV show, cards, or constantly begging you to play Pokémon Go on your phone, a Pokémon birthday party is a very common event. But, how does one create a memorable party that is based on kids collecting mythical fighting creatures to train and then duel others with? By having them do just that. "The key to this party is making it very hands on, you have to really put them inside the game," says Patricia Zutman the owner of All Four Season Events. Here are her tips to make a memorable Pokémon birthday party.
RELATED: How to Throw a Kids Birthday Party That's Fun for Adults Too
Pokémon Birthday Party Decorations:
Zutman suggests transforming your party space into a Pokémon training center, a place that lets the kids feel like they are in that world. Start by wrapping the doors in colored tissue paper that matches the Pokémon ball — red on the top half and white on the bottom half, with a black strip in the middle. Carry that color theme throughout the room with masks of different characters scattered about that the kids can alternate putting on to correspond with the Pokémon they are. Your local party store should have an abundance of items (banners, Chinese lanterns, balloons, and table toppings) related that will work to finish decorating.
Pokémon Birthday Party Favors:
Give each guest a gift bag filled with stickers, trinkets, and, most importantly, playing cards (all easily found at any party store). These alone will be the centerpiece of the day for the kids, who will likely trade and obsess over their cards for the duration of the party. They can then head to a temporary tattoo station to pick out their favorite characters to put on. While giving everyone their own Pokémon ball is a cool idea, just watch out that they are not to hard so no one gets beaned by a flying ball once the sugar kicks in.
Pokémon Birthday Activities:
Pikachu is the most famous Pokémon out there and should be the central character to go in a photo booth where your kid's friends can get their own custom photo with him. They can don the masks they got upon arrival to make it more realistic. Since one of the main things a Pokémon trainer does is search for new creatures to train have them engage in an Easter egg hunt throughout the house and yard looking for plastic eggs you have colored like Pokémon balls filled with trinkets, Zutman says this is a favorite of her clients. Finally this is the perfect party to roll out an old favorite, the piñata; fill it with more packs of cards, figurines, and candy. It's best to make it in the shape of a Pokémon ball instead of one of the characters — that way no ones feeling get hurt.
Pokémon Birthday Party Food:
Continue with the ball theme and serve homemade pizzas that are half pepperoni, half cheese, with a small stripe of black olives in the middle. You can take that old Easter standby, Peeps, and turn them into edible Pikachu snacks by dipping their ears in chocolate. Finally serve cupcakes decorated to look like Pokémon balls with frosting injected in the middle so when the kids bite in they get different surprises, just like the game. Just don't bake any figurines or such into them, great idea, but little kids might choke on them.