The Best Spring 2018 Family Travel Destinations: Phoenix, Arizona
For a few months every year, Phoenix is one of the great sports cities in America.
by Dan Friedell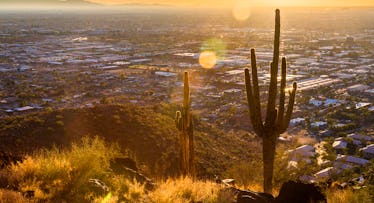 For a few months every year, Phoenix is one of the great sports cities in America. Pitchers and catchers report right on the heels of the Super Bowl and at the same time as a major PGA Tour tournament. And they're not alone. Perma-NBA MVP candidate James Harden comes to shave off his beard and practice at Arizona State. The Coyotes are actually pretty good. And the Phoenix Suns, while incompetent, are still shockingly fun to watch. Still, the main attraction is the Cactus League and the never-ending appeal of spring training stadium hopping.
The great thing about enjoying spring training baseball in Arizona, rather than Florida, is that the teams are very densely packed. Travelers can easily hit a Colorado Rockies day game at their home on the far east side of the city (Salt River Fields, part of the Talking Stick casino complex in North Scottsdale) and make it a doubleheader with a trip to the Dodger's Camelback Ranch in Glendale on the west side. The stadiums are less than 30 minutes apart. Try seeing the Red Sox and Yankees at home on the same day in Florida. Won't happen.
The proximity of the stadiums means you can post up at one hotel or resort with a great pool, spa, workout facility or golf course for an entire week and just shuttle around the city to see your favorite players or bag baseball all together and go for a hike, hit a museum or just bum around a cool downtown like the one in Scottsdale. It's the perfect time to explore Phoenix, too, as the weather tends to be outstanding in March. Just be sure to bring a jacket for night baseball, as it will often reach the lower 50s.
If you're visiting the Giants in Scottsdale or hanging at the complex shared by the Rockies and Diamondbacks just north of Scottsdale, it's worth renting some bikes. Steve McDonald, a local restaurant owner with two girls, says he loves to go biking on Scottsdale's outstanding trails system with miles of traffic-free riding. When you're done, you can stop for something to eat at McDonald's place or the Social Tap Eater, where they have a diverse menu that includes salads, burgers, tacos and chicken fingers along with some great looking desserts. Those seeking more of a culinary adventure can pick up authentic Mexican-style tacos and appetizers at Barrio Queen.
Where you end up, carry a ball and some Sharpies if you're traveling with the kids.
"It's not unheard of to go to any of the local restaurants or Scottsdale Fashion Square, which is a really nice mall, and you'll see a lot of players shopping there," McDonald says. "One thing that's great about Spring Training is I don't think the players have been through the hassle of playing all year, so their much more approachable if you come up to them and want to ask them a question or ask for an autograph."
The opportunity to meet a professional athlete in a casual environment is super exciting for kids and makes the experience of fandom a lot more personal — if you're looking to push a child that way.
Travelers not in the mood for baseball — or, more likely, planning to attend a night game — should scope the Desert Botanical Gardens. It's a beautiful spot and a great place for children to experience the desert without all the sweating.
For Californians and maybe even jaded northeasterners, Phoenix is not exactly an exotic destination. But that's what makes it work, especially now that Major League Baseball is actually fun again. It's not a place you go. It's a place you go to do stuff. And there's just an absolute ton of stuff to do. And, on the off chance you feel like the checklist is getting short, it's not far to Sedona or, if you're ready to make the extra push, to the Grand Canyon.
PERFECT FOR: If you've never been to the desert, don't mind big highways and sprawling cities and suburbs, and love baseball, this is a must-visit destination at least once in March. At the same time, there's plenty to do if you don't want to keep up with the crowds or clamor for autographs with mobs of fans.
WHAT TO DO
With the way the Chicago Cubs fans are packing Wrigley Field, Spring Training may just be your best chance of the year to see the 2017 World Series winners. While you can see the Cubs at home at Sloan Park (it holds 15,000 – one of the largest in the league) in Mesa ( 2330 W. Rio Salado Parkway, Mesa) with a Chicago-style hot dog on the outfield berm, you may want to consider hitting the Cactus League road to see the team at a nearby away stadium.
The Musical Instrument Museum (4725 E. Mayo Blvd., Phoenix | https://mim.org/) $20 adults, $10-$15 for children, is a great place to get a first-hand view of musical instruments through geography and time. Get a look at how the ukulele shaped music in North America and how flutes played a role in ancient China. Music and movement classes are offered on a reservation basis broken down by ages.
Have you ever met a kid that didn't love butterflies? Butterfly Wonderland is America's largest butterfly conservatory, with over 3,000 butterfly types from around the world in one indoor rainforest. There are even exhibits on fish, reptiles and other animals. (9500 E. Via de Ventura Scottsdale, https://butterflywonderland.com/plan-visit/)
WHERE TO STAY
Hotel Valley Ho may not be cheap, but it's got a great pool and just a short Lyft ride to the Giants home park, Scottsdale Stadium. Rooms are about $300/night in mid-March.
The rest of Phoenix is so large and varied, you might do well shopping sites like Priceline and Hotels.com for the best deals, or looking at home share listings. After all, once you get way west of town into places like Goodyear (Cleveland Indians) or Maryvale (Milwaukee Brewers) you will be surrounded by all the Marriott flavors and other roadside chains.
HOW TO GET THERE
Nonstop, mid-March flights from Chicago to Phoenix are in the $400 range. Flights from San Francisco are in the high $200s.
This article was originally published on