The Best Spring 2018 Family Travel Destinations: Ocracoke Island, North Carolina
Ocracoke remains largely — but far from entirely — underdeveloped, but don't think that means there isn't anything for families to do.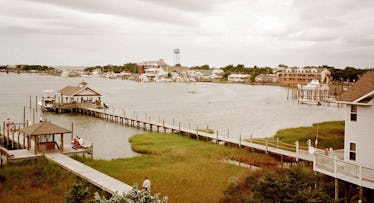 Flickr/Patrick Crockett
Bobbing at the southernmost tip of North Carolina's Outer Banks, Ocracoke Island is a quiet beach town frequently overlooked by those heading towards more famous locales like Nags Head but obsessed over by those who make the trip. Having repaired the storm damage caused by Hurricane Maria in September of last year, Ocracoke is open for business in a lackadaisical, small-town sort of way. There's seafood, mom and pop beach shops, and a sense of predictable calm that feels hard to come by right now.
Ocracoke is irrefutably part of the Outer Banks, but it doesn't feel like the rest of the chain. There's a fairly simple reason for this: The last ferry to the island leaves from Ocracoke Island terminal at 9PM daily. Unlike other beach towns that buzz about the 30 minutes drive from Norfolk Airport, Ocracoke is defined by its inconveniences. It's no small wonder that the place attracts artists and eccentrics (sometimes it can be difficult to tell the difference).
Local painter Douglas Hoover, who's epic rain storms and ancient shipwrecks hang in the exceptionally welcome Down Creek Gallery, says that the place inspires loyalty because of its least effable qualities. "There is something truly magical about the island," Hoover asserts, remembering when he first arrived in the early nineties and found himself shocked by the lack of high-rise hotels and repeating one phrase to himself: "How do I come back here?"
Ocracoke remains largely — but far from entirely — underdeveloped, but don't think that means there isn't anything to do, provided you're able to generate a little of your own momentum. For kids with a love of animals, the sky above Ocracoke is a bird watchers dream. On land, wild ponies, suspected do be descendants of Spanish mustangs, can be seen while driving along NC Highway 12 (definitely scope the Ocracoke Pony Pen). And then there's the beach. It's big, beautiful, and uncrowded.
For those looking for a quick dip in the ocean after all that pony watching, the most accessible strip of sand is the lifeguarded beach along Highway 12, which is perfect for little kids as long as parents keep their heads on a swivel. Water is a bit cold and can get rough (though it's quite shallow). If no lifeguard is on duty, be safe and stick to the sand. There's enough to make into a neighborhood of castles. For Jean Perry, a father of two who grew up surfing on the island and currently works for the local Kitty Hawk Surf Company, Ocracoke is a dream for families.
"Having traveled all over the world to surf and having to share the beach with like thirty other dudes, when you come to Ocracoke, you're coming to a sandbar that's all yours," says Perry. "Just find a sand dune by some shallow water and you and your kids can have the time of your life, it's beautiful."
Much of the island's landscape is still owned by the local park service and is subsequently protected from over development.
"It doesn't get much bigger," says Perry.
Both Hoover and Perry have noticed Ocracoke's rise in popularity over the last few years and both are happy that more families are discovering the island. Their shared inclination to be hospitable is a common local trait and part of the island's charm. Unlike other travel destinations that rise in popularity only to become slightly less authentic versions of their former selves, Ocracoke is guaranteed to stay small so the smiles are guaranteed to stay real.
"I've been here for so long and still get pumped thinking about it. This place is the epitome of what the Outer Banks was, and is," says Perry. "Still beautiful, still the hidden gem of the Outer Banks, man."
PERFECT FOR: If your family doesn't want to micromanage their vacation, go to Ocracoke. It's very much a 'set your own agenda' kind of place. According to Perry, with a population of not even 1,000 people, the island's more secluded nature makes it ideal for families looking to foster deeper connections with each other while experiencing
WHAT TO DO:
Go on a kayak tour with the folks at the Ride the Wind Surf Shop Outdoors. Tours are available for all proficiency levels and take place three times a day at either sunrise, mid-day, or sunset. All kids 12 and under go for $18 no matter what. The sunrise tour is $45 while the mid-day and sunset tours are $39.
The Ocracoke Island Lighthouse is the oldest fully functional lighthouse in the Outer Banks and the second oldest in the US. Despite being small in stature, its light can still be seen 14 miles out. It's worth a quick visit, especially if you're looking to up your Instagram game.
All the locals will be sure to tell you that Ocracoke was once the stomping ground of the infamous pirate Blackbeard. Teach's Hole Blackbeard Exhibit and Pirate Specialty Shop is home to a collection of art related to Blackbeard, a display of weapons and medical tools just like the ones found on his ship, the Queen Anne, and scale models of ships built in his lifetime. Admission is $4 for adults, $3 for seniors and children ages 7 to 12-years-old, and free for children under 7 years old.
Take a boat tour of the nearby Portsmouth Island with Portsmouth Island Boat Tours: Family owned and operated by Ocracoke natives for 15 years, the tour takes visitors through the now abandoned 13-mile island 20 minutes south of Ocracoke. The cost is $90 per person with a maximum of six people per tour.
WHERE TO STAY:
Edwards of Ocracoke – Motel and Cottages (Between $70 and $100-a-night all year)
Pony Island Motel and Cottages (Between $80 and $190-a-night all year)
Silver Lake Motel & Inn (Between $70 and $250-a-night depending on room size and time of year)
HOW TO GET THERE
The island can only be accessed by sea ferry, private boat, or plane. The North Carolina ferry system offers three different ferry routes. From Highway 12, located along the Outer Banks, the Hatteras Ferry is free of charge and takes about one hour to make the trip. The Swan Quarter Ferry takes about three hours to get to Ocracoke while the Cedar Island Ferry takes closer to two. Both the Cedar Island and Swan Quarter are tolled ($1 per person) and all ferry schedules vary by season. Norfolk International Airport is about 90 minutes from the ferries that take you to Ocracoke.