Nicolas Cage Is Perfect For Tiger King Because You Can't Imagine Anyone Else
No one could play Joe Exotic quite like Cage. Here's why.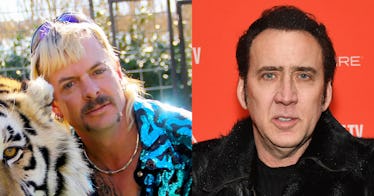 Netflix/Getty
Nicolas Cage's first-ever acting credit was in Best of Times, a 1981 TV movie. Apart from an SNL hosting gig in 1992, he hasn't acted on television since, but now the Tiger King is luring him back to the circus of TV life.
Apparently, the idea of Nicolas Cage bringing his particular set of talents to the role of Joe Exotic was so perfect that even Nicolas Cage couldn't resist it. Cage has signed on to play the zookeeper/musician/polyamorist/political candidate/convicted felon in an eight-episode limited series.
It's not just that Cage is a great choice to play Joe Exotic; it's that once you hear their names in the same sentence it's clear that he's the only choice to play Joe Exotic, the kind of idiosyncratic, complex character Cage has always knocked out of the park.
While you do see him inhabiting his many roles throughout the Tiger King documentary, what's consistent about Joe Exotic is his desperation. He's desperate to start a zoo, desperate to keep it going, desperate to be famous, desperate to avoid the law, desperate to lose himself in the character he created, and (allegedly) desperate to kill Carole Baskin.
Cage is such an obvious pick to play this dude in part he's at his best playing desperate characters — on the run from a hitman in Wild at Heart, drunk and suicidal in Leaving Las Vegas, in love with his brother's fiance in Moonstruck, taking care of a kidnapped baby in Raising Arizona. These movies fall at wildly different places on the comedy-drama spectrum, but Cage makes every single one great. If this series is any good it will, like the Netflix doc, use its longer-than-a-movie runtime to be both funny and sad. Cage can handle both extremes.
Of course, other actors play desperate characters well, but embodying the turned-up-to-11 personality of Joe Exotic seems a lot easier if, like Nicolas Cage, you've lived something of a wild life yourself.
For instance, while he's never been part of a throuple, Cage has been married four times, once to Elvis's daughter and once for just four days. And that's just one of many examples.
No other actor has this inherently anarchic energy and acting talent — the dude has a very well-deserved Oscar and multiple cult classics under his belt. Edward Norton has never been bailed out of jail by Dog the Bounty Hunter. Daniel Day-Lewis didn't name one of his kids after Superman. Johnny Depp never justifiably called one of his houses "the most haunted home in America."
Cage has done all of these things, and playing Joe Exotic is a golden opportunity for him to channel his craziest possible energy into his work.
What actor would want to compete with that, and what audience wouldn't want to see it?