Next James Bond Movie Will Be a Total Reboot — Again
This never happened to the other fellow...well, actually it did.
by Ryan Britt and Ian Spelling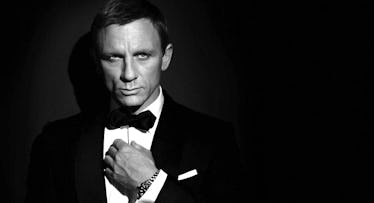 MGM/United Artists
So, what happens now? Where does the Bond franchise go from here following – SPOILER — the shocking end of No Time to Die? If you waited until the very, very, very end of the movie, after all the credits rolled, you will have been greeted by the words "James Bond Will Return." But what does that mean? Here's why the next Bond movie will have to be a complete reboot, and why in the long history of the franchise, that's actually not that weird. Spoilers!
Daniel Craig, who played Bond for the past 15 years – first in Casino Royale and then in Quantum of Solace, Skyfall, Spectre, and No Time To Die – has called it quits, and the makers of No Time To Die sent him out with a bang. No one looked for body parts or checked for a pulse, but we're pretty sure all those missiles striking the island and Bond himself obliterated 007.
Note: Those ending words that said "JAMES BOND" will return. Not "007 will return." If the message read 007, then it could be Lashana Lynch, who plays Nomi – a new 00 and, for a short time 007 — in No Time To Die, or a different actress who might play the character. But that utra-specific wording suggests that another actor will step in to play James. How will that work? A full-on hard reboot? A character who just happens to be named James Bond? It's been done before. Sean Connery gave way to George Lazenby, who gave way to Roger Moore, who gave way to Timothy Dalton, who gave way to Pierce Brosnan. And, hardly anyone blinked an eye. The character, to a degree, is larger than any actor.
The First Bond Reboot- Timothy Dalton
That said, prior to Dalton's turns in The Living Daylights and License to Kill, you could at least argue that Connery, Lazenby, and Moore's adventures as Bond took place in the same continuity and chronology. In other words, Bond aged properly from film to film and Bond to Bond, but Moore was 57 years old – and, tough as this is to acknowledge considering that he WAS Bond for seven films and a generation of Bond aficionados – looked older.
But, because Dalton was about 40 when he made his Bond debut in 1987's The Living Daylights, that's your first reboot right there. He played 007 as a more serious, mostly joke-free figure, something more akin to the character on the pages of Ian Fleming's novels than the performances of his predecessors, especially Moore and even Connery. Dalton's entries are solid, and pure Bond, but not particularly fun, and it was always the entertainment factor that catapulted the Bond films into international blockbusters. And so, the franchise's bosses – EON Productions and the Broccoli family – turned to Pierce Brosnan, who created a Bond that felt darker than Moore and far lighter than Dalton in GoldenEye, Tomorrow Never Dies, The World Is Not Enough, and Die Another Day. Brosnan shot his quartet of films at a rapid clip from 1995 to 2002 and wasn't yet 50 when Die Another Day opened in theaters.
The Soft Bond Reboot- Pierce Brosnan
But, was GoldenEye a true reboot? Could you squint and believe that Brosnan's Bond and Dalton's Bond were the same man? Maybe. The introduction of Judi Dench as M in GoldenEye indicates there was a previous M before her. And, Bond is an established agent. Further, none of the Brosnan films feature Felix Leiter, which could honor the continuity of Leiter getting wounded in Licence to Kill. Either way, the Brosnan era was a soft reboot, at least in tone.
Daniel Craig's COMPLETE Bond Reboot
His four-film contract was fulfilled, Brosnan stepped away from 007, setting the stage, in 2005, for then-37-year-old Daniel Craig to assume the role. Though initially a controversial choice – Craig stands 5'-10", is blond and blue-eyed – the actor made the role his own, imbuing the character with humanity and grit, and proved especially memorable in Casino Royale, Skyfall, and now No Time To Die. Craig exits the franchise at 53 years old.
As Bond fans know, Craig very publicly proclaimed that No Time To Die would be his last rodeo. Immediately, speculation kicked in as to who will take over from Craig.
Another Bond Reboot Will Happen Next
And that brings us back to our original questions. What happens now? Where does the Bond franchise go from here following the death of James Bond in No Time To Die? Even if Lashana Lynch gets to front a Nomi spin-off film, odds are the next James Bond will be male. Among the names bandied about: Rege-Jean Page, Idris Elba, Tom Hardy, Tom Hiddleston, Sam Heughan, Richard Madden, Dev Patel, James Norton, Robert Pattinson, and Henry Cavill. Elba is the oldest, at 49, while Page is the youngest at 31.
Might it be one of them? Or someone not yet on the radar? Time will tell. But we like the perfect storm of destiny that's forming around Page. The breakout Bridgerton actor is set to lead a big-screen reboot of The Saint. And who headed up the cast of the 1960s television version of The Saint? None other than Roger Moore. Page's other credits include the 2016 remake of Roots, which featured Laurence Fishburne. Fishburne's co-star in the 1995 film Just Cause? Sean Connery. Need more? Page's Bridgerton co-star, Phoebe Dynevor, just wrapped production on a film called The Colour Room. It co-stars David Morrissey, who co-starred in the 1992 miniseries Framed with Timothy Dalton. Oh, and Page co-starred in the 2015 crime thriller Survivor with Pierce Brosnan. And lastly, Page recently completed shooting The Gray Man, an action-thriller that stars Ana de Armas, who, of course, plays Paloma opposite Daniel Craig in No Time To Die. So, our money is on Page.
Could James Bond Return from the dead?
Believe it or not, James Bond has died before. At the ending of the fifth James Bond novel — the 1957 book From Russia With Love — James Bond is poisoned and left for dead. It also seemed like Ian Fleming wanted to kill him off, too. Yes, Fleming brought back Bond from the dead in Dr. No (yeah the movie order and the book order isn't remotely similar) but the point is, there's a precedent for this kind of thing. Nanobots? Weird genetic serums? Who knows! Maybe if there is a sequel to No Time To Die, we'll not only get a new Bond actor but perhaps, a James Bond who has returned from the dead in some kind of bizarre sci-fi manner. When you considered that James Bond has gone to space, become a ninja, and managed to stay relevant for over 60 years, it's not nuts to think he's got one last trick up his sleeve.
Either that or maybe we'll just get a sequel movie set in thirty years in the future starring his daughter. Now THAT would be awesome.
No Time To Die is in theaters now.