New Cumberbatch 'Grinch' Trailer Actually Rocks, Isn't Insulting
It's basically a combination of 'Despicable Me' and 'The Grinch.'
by Alicia Kort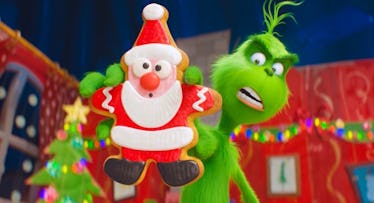 NBC
When it was announced that Illumination Entertainment was remaking The Grinch, we were more than a little skeptical with good reason. The last time a movie studio tried to reimagine Dr. Seuss's holiday classic was a critical disaster, and Jim Carrey's yellow-eyed Grinch was enough to give little ones nightmares for years. But after viewing the third trailer for The Grinch, it looks like this remake might actually be great.
Illumination Entertainment, the masterminds behind Despicable Me and The Secret Life of Pets, knows what they do best: funny gags with animated characters. They're applying their successful formula to the story of The Grinch. It's too difficult to capture the magic of the 1966 animated short film that's cemented in the Christmas movie canon along with A Charlie Brown Christmas, so why not just create a new version for a modern audience?
The Grinch's mission to steal Christmas from Whoville remains the same, but in the trailer, it's revealed that he's got plenty of nifty new gadgets to help him do it, including some golden throwing stars that wrap up Christmas trees. Max and this yak-like creature the Grinch captured serve as his sidekicks who will no doubt mirror some of the Minions' antics. Instead of utilizing Cumberbatch's deep voice to sound more like Boris Karloff, Cumberbatch adopts a nasally American accent for his Grinch, but where Jim Carrey went out of his way to make The Grinch scary, Cumberbatch and Illumination Entertainment are making him unpleasant, mischievous and just a little kooky. The Grinch wears Mold Spice and deliberates puts jars out of people's reach, but isn't the sort of diabolic green monster that scares children away from his home with an animatronic version of his head.
This film might also thrive without the Carrey curse looming over it. Carrey's Grinch bombed, just like his performance as Count Olaf in A Series of Unfortunate Events did. When Netflix chose to make their own version of the popular kids series, it was a success with Neil Patrick Harris in the role of Count Olaf. We only hope that happens with this Christmas classic.
The Grinch is in theaters November 9.
This article was originally published on