New Back-to-School 'Looney Tunes' Clip Is Freaking Hilarious
'Looney Tunes Cartoons Back to School Special' is crashing into HBO Max this week.
by Harlan Sharpe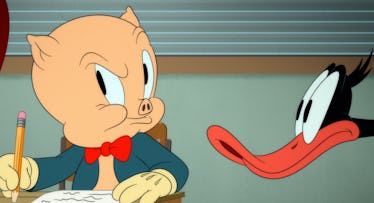 Credit: HBO/Warner Bros
When you're a parent, there's a kneejerk feeling that all the old cartoons were better and the new ones just aren't. Of course, this isn't true at all, but sometimes when it comes to old-school cartoon nostalgia families want their cake and eat it, too. And, just in case you weren't aware, the new Looney Tunes on HBO does just that. All the new installments of Looney Tunes are more progressive than their 20th-century counterparts, but Daffy, Porky, Bugs, and the rest of the grant are just as hilarious as ever.
Case-in-point, on Thursday, August 18, a new series of Looney Tunes shorts will hit HBO Max. The Looney Tunes Cartoons Back to School Special is great, and if you watch the exclusive clip below, you'll see that Daffy is up to his old tricks with Porky. Fatherly is proud to present this clip, and it's good to see some old friends in new and hilarious stories.
The new Looney Tunes Cartoons streams on HBO Max.