The First Trailer for Netflix's Llama Llama Series Just Dropped
Sadly, Ludacris doesn't appear to be involved.
by Ben Marx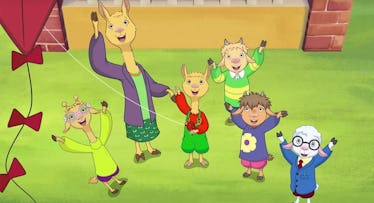 Netflix just released the first trailer for its upcoming Llama Llama series, and it offers a good look at what the new kid's show has in store. Namely, the voice of actress Jennifer Garner as Mama Llama. Sadly, rapper and action star Ludacris is nowhere to be found.
While the new animated series is based on the New York Times bestselling book franchise by Anna Dewdney, which has sold over 20 million copies, a lot of people know it from DJ J. Cruz's radio show, where the biggest names in hip-hop perform their versions on air. Ludacris, in particular, reworks the sleepy story into an absolute banger. His absence in the trailer is unfortunate, although who knows, maybe they'll get him to perform the official theme song. But, hey, Jennifer Garner! She's okay!
From the footage Netflix premiered today, the new series looks like a fun, educational show that will quickly become your kid's new obsession. The first season of Llama Llama will feature 15, 30-minute episodes, and was produced by an all-star team of creators including some of the minds behind shows like Doc McStuffins and Barbie's Dreamtopia.
Llama Llama debuts on January 26.
This article was originally published on