Netflix Bets Big it Can Keep Kids Entertained on New Year's Eve
Kids don't have to know it's not really midnight with the streaming service's New Year's Eve Countdown.
by Ben Marx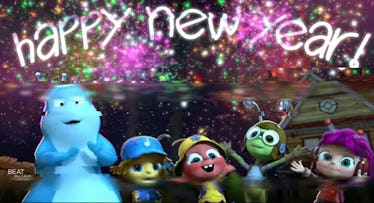 NETFLIX
With New Year's Eve just a few days away, Netflix must be fanning its servers to keep them cool. The week between Christmas is, after all, a massive week for streaming and, in particular, a massive week for streaming shows that kids watch. (The number of searches for "Netflix Kids Shows" spikes predictably at this time every year). Netflix knows that its programming is rapidly becoming a seasonal institution and, eager to shore up that strategic position, greenlit another New Year's Eve Countdown. What does that mean for parents? That the streaming giant has a slate of family-friendly specials cued up to keep kids distracted as the clock counts down.
New Year's Eve Countdown offers nine short specials from popular franchises to choose from, along with a fake countdown clock. This lets kids feel like they're part of the fun while, you know, not actually being part of the fun. As they watch, adults can open more champagne. Curious and tipsy? Here's what's on tap.
"Trollhunters"
"All Hail King Julien"
"Skylanders Academy"
"Puffin Rock"
"Word Party"
"Beat Bugs"
"Pororo"
"Larva"
"True and the Rainbow Kingdom"
All of the specials are already available, and you can technically start them any day at any time, but Netflix's own research has shown that for the past two years, most parents start the videos at 8PM on December 31. To pull them up, just search "New Year's Eve Countdown" or "Countdown." Plus, if your kid really likes the videos and wants to relive the excitement of a New Year's countdown over and over, they'll still all be available until January 31. They don't have to know it's not really midnight. Just don't overdo it on the champagne.