The 11 Best Classic NBA Games To Watch on YouTube During the Shutdown
Your kids don't know the players and you can't remember the score. The suspense is still real.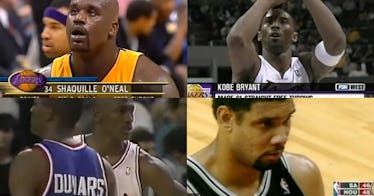 The NCAA has canceled March Madness and, after a truly embarrassing display of hubris by Rudy Gobert, the NBA has suspended its season. It's a tough time to be a basketball fan, especially when you're stuck at hope with the kids and no live hoops to watch. Thankfully, YouTube exists and human memory is deeply flawed. It's time to watch stream some hardwood classics with kids — these things are still exciting when you don't quite recall who won.
And the nice thing about watching with kids is you get to introduce them to your heroes and to the players that you emulated back when you were playing pick-up — you know, before the ol' knees gave out. It's an opportunity to show them Young Kobe, Shaq, Jordan, and, hell yeah, Tracy McGrady. It's a chance to take them for a walk down not-quite-a-memory lane.
Always looking to help, we did a deep dive and found 11 of the best playoff and regular-season NBA games available for free to stream on YouTube. Cue them up and narrate as your LeBron– and Steph-loving kids learn what it was like before the three-pointer was everything and refs mattered.
11. The 2001 NBA All-Star Game
Yeah, it's an All-Star Game, but it's maybe the best All-Star Game ever played. The larger lineup of the West, led by Shaq, faced off against a pissed-off, Allen Iverson-led East. The tension mounts and mounts until the game gets really serious and the best players on the planet start showing off their skills. An truly all-time contest.
10. The Tracy McGrady Game
In 2004, the Houston Rockets were fine and Tracy McGrady was terrific. This is the best game he ever played and maybe the best game anyone ever played. It's also a nailbiter — at least in places. Truly one of the wildest performances ever. Worthy of a rewatch!
9. The Jordan and Isiah Show
Dennis Rodman was still on the Pistons when they met his future team in the 1990 Eastern Conference Finals, but game three was all about the battle between Isiah Thomas and Michael Jordan. This was before His Airness had a ring and when Isiah was impossible to defend. Just try to look away.
8. The Sir Charles Coming Out Party
Your kids might be surprised to find out that Charles Barkley, now something of a buffoon as a commentator, was once the most dangerous player in the NBA. In a 1995 playoff game against the Blazers, he played all but two minutes and became a legend (no spoilers here!) in the process.
7. The Kobe Apocalypse
A 2006 regular-season matchup between the dismal Toronto Raptors and an underachieving Lakers team went down as one of the most memorable basketball games ever played. Not going to tell you why — don't read the video title — but it's fun as hell to watch.
6. "The Willis Reed Game"
The mystery up until tipoff of game 7 of the 1970 Finals was whether future Hall of Famer Willis Reed would suit up for the Knicks. He tore a thigh muscle in game 5 and sat out game 6. Reed did play and it was very emotional. Think of this a Rudy if Rudy aged well.
5. The Spike and Reggie Talk Show
Spike Lee famously made a habit of antagonizing Reggie Miller. Miller famously didn't appreciate it. Their seasons long conversation came to an end during game five of the '94 Eastern Conference Finals.
4. The A.I. Highlight Reel
Allen Iverson back in the day. That's weird to think about now that the league is full of adult men who spent their childhood wearing his jersey. Watching him go head-to-head with Shaq, showcasing an entirely different kind of ball, remains something to behold.
3. The Kareem No-Show
The storyline going into game six of the 1980 Finals was all about point guard Magic Johnson moving to center after Kareem Abdul-Jabbar wrecked his ankle in game five. No one knew what was going to happen. Then everything happened and everyone cried.
2. The Flu Game
Michael Jordan had the flu during game five of the 1997 Championship Finals, prompting commentators to wonder if he could put on a show. That was a really stupid thing to wonder.
1. The Boston Riot That Nearly Happened
Game five of the 1976 NBA Finals has gone down as probably the closest game in the history of that league. Everything that can happen in a basketball game happened in that one. It remains, to this day, the most bonkers thrill ride ever seen in Boston. It makes The Departed look like Make Way for Ducklings.