Inside a National Youth MMA Tournament, Heartbreak and Pure Joy
Kids from all over the country came to Boonville, Missouri to step into an octagon and test themselves.
by Youngrae Kim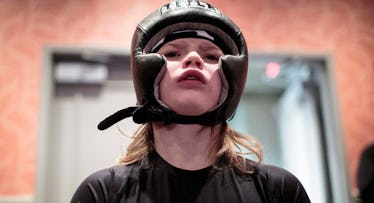 The Isle of Capri Casino in Boonville, Missouri doesn't look like much from the street and, on closer inspection, looks like even less. The people who come here to bet on themselves must bring their own ambition. And so it went for the pre-teen fighters of the U.S. Open Youth National Championship, who arrived in February with headgear, gloves, and buzzing nerves. They followed coaches and parents. They eyed each other suspiciously from across atria and halls, sizing up opponents from across the country playground-style. These MMA fighters, some as young as 10 years old, would have looked out of place stretching on the industrial-drab carpeting between conference rooms were it not for their expressions of grim determination and that caged octagon visible through open doors.
They'd come for a taste of the real thing — or the closest version available to the conspicuously underage.
Written in large white script on the posters for the event — separate posters than those distributed for the concurrent adult USA Mixed Martial Arts Federation National Championships, a novice tournament to determine members of a US national team — was the word "Pankration." For kids under 65 pounds, but not yet aware of that as a weight class, it would have been a fresh piece of vocabulary. It comes from Greek. It means "All of Power" and it was a word used to describe a form of combat in which future soldiers punched and grappled with each other. Hercules was said to have invented the bloodsport.
But if the competition at Isle of Capri owed anything to the barea athla or "heavy events" of the 7th century BCE, it owed considerably more to UFC. The kids, flexing during weigh-ins and cockily flashing mouthguarded smiles, emulated their heroes: Chris Weidman, Tyron Woodley, Conor McGregor. They did not, however — minus a few misthrown punches — strike each other in the head. They did visit with a physician after each bout. These are the compromises that the United States Fight League has made in order to assure parents that their children will be safe while fighting each other in cages. The league has never reported a single concussion.
To watch young boy clash in a USFL match is to witness the logic of karate class — empower kids and engage them physically through self-defense training — taken to its logical extreme. The difference, of course, is that the kids at USFL tournaments don't just stand there waiting to defend themselves should their opponent make a move. The kids attack. Inside the Isle of Capri Casino, they did so in practiced motions. They did so with both ferocity and evident joy. Winners soaked it in. Loser marinated in their failures. Kids shook or laughed off pain.
It was hard to look away so Fatherly didn't.