Natalie Portman Is Forging New Fairy Tales and Swinging Thor's Hammer
The award-winning actress talks about new approaches to old fairy tales, getting buff for Marvel, and which Star Wars movies her kids have actually seen.
by Donna Freydkin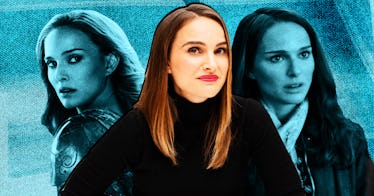 Getty / Disney
Natalie Portman and books go together like Thor and that mystical hammer.
The Oscar winner and Harvard grad hits Instagram to run #nataliesbookclub, her love letter to all things literary. And on the Marvel front, she's indeed in Australia, where's she prepping to start filming Thor: Love and Thunder. Portman plays Jane Foster, the nurse-turned-warrior who wields the Asgardian God of Thunder's weapon, the mystical, powerful Mjolnir.
Portman used her time in quarantine, when nothing was filming, to finish a new kids' book, Natalie Portman's Fables. The book —out on October 20 — retells the classic stories of The Tortoise and the Hare, The Three Little Pigs, and Country Mouse and City Mouse with a more modern and less gender-specific approach. Portman doesn't half-ass anything, and this book is no exception. She was involved (via Zoom) with every comma, every brushstroke, and every page layout. Because ultimately, she was writing for an audience of two: Her kids.
"It was so exciting to get to make a book for them. Obviously, I have an extreme love for them," Portman tells Fatherly. "And to have this tangible form of what I value and what is important to me that I hope inspires them — at the core is really empathy."
When her daughter Amalia, 3, was born, Portman got books. So many books. But while the books she read to her son Aleph, 9, were about dragons loving tacos and crayons that quit, her daughter had stacks of hardcovers about women who made history, changed the world, and questioned the patriarchy. That's pretty heavy stuff, something Portman didn't want to address with an infant who didn't yet understand the concept of institutionalized misogyny.
"I realized that the books aimed at my daughter were so different from the ones aimed at my son. I wanted classic stories to read to both of them — I wanted regular stories with characters that reflect the way our world is, which is about half male and half female," says Portman, is married to choreographer Benjamin Millepied.
The newest Thor talks to Fatherly about gender stereotypes, which Star Wars movies her kids have seen, and how she gets them to eat their vegetables.
I know you're an avid reader — you have your own virtual book club that you started during the pandemic. I assume you wrote most of it during lockdown?
I did and it was so — it all came together, the plan for it, pre-pandemic. But then yes, the bulk of the work happened during the pandemic. It was a little sad because I was looking forward to sitting with the illustrator and sitting with the publisher and going through stuff together. Everything had to be done remotely. But it was kind of lucky timing. Not that there's anything good about the pandemic, but timing-wise, I had time to do the work.
How do you talk to your kids about gender roles and societal perceptions of gender? I know it's a pretty heavy topic, especially for younger kids.
The thing is, you have to think what is age-appropriate for kids. Kids don't come out knowing that there are obstacles. I don't really want to introduce to my child at three that she's going to have all these hardships because she's a girl. We can talk about it when she's older. For a boy, I think the most important thing is to be conscious how what you do or what you say can make other people. That's what storytelling is. You want to talk to them equally about the issues. For me, I don't really want to talk about the big issues right now with them. I think it's too early. I started talking to my son a little bit about how to treat people nicely. The core of it is just caring for other people and imagining how they feel.
If anything the boys need it more than the girls. At three, the age my daughter is now — it's not necessarily something they would understand anyway or that I am excited to introduce. Oh, here's an obstacle. They're so unaware of any kind of gender definitions or restrictions. What I wanted to teach both of them was to have empathy for all people. It's exposing them to stories that have protagonists that are all genders, backgrounds, and ability levels.
Do you find yourself parenting your children differently at all, given that you have a son and a daughter?
Actually not so far. I feel like the most surprising thing is how different kids are from each other. They're just really different people. I have a 9-year old and a three and a half-year-old. When you see how they come out when they're little — something will be right in line gender stereotypes and some things will be very different. I try to make sure they're reading books about female characters, watching TV shows or movies about female characters. Trying to just monitor that.
I've watched your cooking videos and your videos on behalf of organizations that matter to you. How did you fit this project in?
It was so fun. I was just thinking about it all the time. I would have two hours every day where I would sit and work on it, for the period I was writing.
Do the kids know you wrote a book for them?
They love seeing their names in the dedication. It's definitively special to them.
Your book club picks include Elena Ferrante's The Lying Life of Adults and Girl, Woman, Other by Bernardine Evaristo. What was a life-changing book that you read as a kid?
I don't know about life-changing but I know that Eloise was a really important character. She was a girl who had a big personality. She never got punished for it. She never got in trouble for it. She was funny and creative and didn't follow the rules and had a lot of ideas.
Now, I would be remiss if I didn't ask you about Thor. I assume you're going to tell you every plot twist?
I can't tell you that much. I'm really excited. I'm starting to train, to get muscles. If there can be all these female superheroes, the more of them they are, the better it is. I'm trying to think — it's based on the graphic novel of the Mighty Thor. She's going through cancer treatment and is a superhero on the side.
You've got the cool mom thing covered since you were also in Star Wars. How do you look back on those films?
It's so fun to be part of something that kids relate to so much. I haven't shown my kids the movies yet — I think it's so weird for them to think of me as anything other than their mom. They've seen the recent Star Wars movies that I am not in — my son has, my daughter, is too young. It feels really lucky to be part of something that's every child's imaginary world. It's very exciting to be able to impress my kids a little bit.
And lastly, I love your cooking videos. Your cauliflower wings are amazing. Any tips to get kids to eat more vegetables?
I would give it to them when they're hungry as a first course before they get their pasta or protein. That was a big one for me. I was trying to think of anything that actually worked. A lot of things are difficult to get done.
Natalie Portman's Fables is out on October 20. You can pre-order it now.
This article was originally published on