The 8 Most Amazing Little League Fields in America
These diamonds among diamonds stand as a tribute to Americans affection for their national pastime and also for, you know, carpentry projects.
by Anne Meadows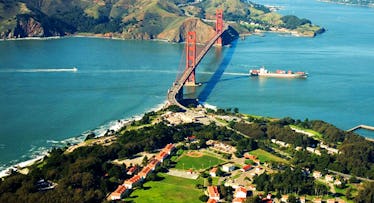 Courtesy Presidio Trust
The Little League field you play on determines a lot about the experience of playing, including how often you wind up bleeding, whether or not you can hear parents cheering, and what precisely constitutes a ground-rule double. For a lucky few, the field can have an even more profound effect. Why? Because some Little League fields are so outrageously beautiful that they make youth baseball feel like the pros and the pros feel unlucky. Scattered across the country, these diamonds among diamonds stand as a tribute to Americans affection for their national pastime and also for, you know, carpentry projects.
Lions Field in South Williamsport, Pennsylvania
Originally a dump, the lot at 1540 West Southern Ave became a field when it was covered with soil from a nearby dike. After that, it was groomed to look like the OG Little League field just two and a half miles away. Dedicated as Lions Field in 1949, the home of the Little Mountaineer League still receives support from the South Williamsport Lions Club.
Little Cubs Field in Freeport, Illinois
Little League organizers in Freeport, Illinois also recognized the fun to be had playing in an famous stadium and decided to build a child-size replica of Wrigley Field, the home of the Chicago Cubs. From the sign at the entrance to the ivy-covered brick walls, ever tiny detail is replicated.
Battery Park City Ball Field in New York, New York
Encircled by the shimmering glass of skyscrapers, Battery Park City Ball Field gives Little League players the chance to play right in the heart of downtown New York City. Located just a few blocks from the One World Trade, the field hosts the Downtown Little League, one of eight leagues organized in the city.
Parkhurst Field in Gloversville, New York
Older than both Wrigley Field and Fenway Park, Parkhurst Field first opened in 1906 as the A.,J.&G Baseball Park. It hosted the New York State League's JAGS for several decades, and when the Gloversville Little League was formed in 1955, the Parkhurst family allowed them to use the field for their games. Cy Young, Honus Wagner and "Moonlight" Doc Graham are among the many early stars of baseball to play on this field.
Fort Scott Field in San Francisco, California
San Francisco Little League boasts perhaps the most scenic field location in America. Fort Scott Field at the Presidio, San Francisco's former military post turned recreation park, sit above the Golden Gate Bridge. Fog, unfortunately, is a problem.
Scully Field in Taft California
Aspiring Little League players can now join the ranks of kids practicing in replicas of well-known fields. Scully Field, named for retired Los Angeles Dodgers sportscaster Vin Scully, is a miniature replica of Dodgers stadium in Taft California, and is dedicated as a space for youngsters to play wiffle ball as a training program for Westside Little League.
Moller Park in Sitka, Alaska
Since the 1950s, Moller Park has hosted Little League teams from southeast Alaska. The problem? The field kept falling apart during the thaw. The soluton? State Senator Bert Stedman convinced his fellow lawmakers to fund the creation of the first all-turf field in Alaska.
Carl E Stotz Field in Williamsport, Pennsylvania
In the summer of 1938, a vacant lot on 1695 West Fourth Street became the birthplace of Little League when Carl Stotz starting organizing games for local kids. In 1942, the field officially became the Original Little League Field and in 1947 is hosted the National Little League Tournament. And, yes, there have been some renovations.
All photos Courtesy of Little League Baseball and Softball unless otherwise noted.
This article was originally published on