This Epic Mini Golf Road Trip Takes You to The Best Family Courses
For the family that loves mini golf — really love mini golf — here is a the ultimate summer road trip.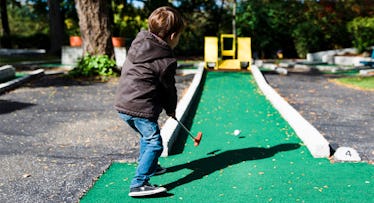 The following was produced in partnership with Go RVing, because there's no easier way turn your everyday family road trip into an epic experience than to get behind the wheel of an RV.
There's something most American families can agree upon: miniature golf. The bizarre sculptures, iridescent rivers, hole-in-one into a clown's mouth, ice cream at the end of it all —what more does any outing need? It's simply the best family activity, by a mile.
The only way we can think to make America's other pastime more fun is to make an expedition out of it. When you play mini golf at, say, the beach, you usually only get to sample a handful of courses. When you make an extended road trip out of it, you can easily hit a dozen. And while we're giving advice: Before you hit the road in your family sedan, we suggest you stop, think bigger, and rent an RV. When your family is sitting around the comfortable RV interior recounting that insane bouncing hole-in-one you just hit, you'll thank us. The on-board bathrooms are a nice time-saving bonus, too.
To help us create a game plan for visiting the courses, we recruited Pat Sheridan, who runs the miniature golf review website The Putting Penguin, and Amanda Kulikoski, the director of 'Through the Windmill,' a miniature golf documentary that is currently on the festival circuit. Both suggested starting the trip in Myrtle Beach, South Carolina. "It's where people associate mini golf in the U.S.," says Sheridan. "The first time I went, I played 12 rounds in one day on six different courses."
From there, the trip heads south, passing through Augusta, Atlanta, Orlando, before working its way back north. Since this is the Deep South, "May is probably the best time for this trip," says Kulikoski. "But if you go during the summer, miniature golf is really fun at night. It cools down a little bit and you won't be under the extreme hot sun." Also, most of the places we have suggested parking your RV will have a pool or body of water to help you cool off after long days on the mini greens.
Days 1: Myrtle Beach, South Carolina
Thanks to its many miles of beach, this South Carolina town multiplies in size once the weather warms up with those looking to stroll the sand and soak in the sun. However, on the other side of the sprawling vacation condo complexes, there's an equally long strip of highway that is dotted with miniature golf courses. You could easily spend a week here, not playing the same course twice. But for the sake of the "road" part of the trip, just make sure you hit the top two courses in the area: Hawaiian Rumble and Mount Atlanticus.
Hawaiian Rumble comes complete with a volcano that goes off every 20 minutes, but it's more bark than bite. "It's not a terribly difficult course," says Sheridan. "But it has great Hawaiian theming with birds — real toucans — on the course." Mount Atlanticus has family-friendly holes that appeal to both the littlest putter and the aspiring pro. It winds through a city block and is many stories tall, making it a stunning course("jaw-dropping" says Kulikoski). There are so many ins-and-outs, it may take up to two hours to play a round here.
Park Your RV Here: PirateLand Family Camping ResortIn the heart of Myrtle Beach, PirateLand has it all — beach access, a lazy river, and a 5,000 square-foot Pirate Ship Splash Pool.
Day 2: Myrtle Beach to Augusta, GA
After exhausting yourself in the mecca of miniature golf, head to the home of the most prestigious big golf course in the nation. Augusta, Georgia is about four hours west of Myrtle Beach and the putt-putt course here is "truly all skill," says Kulikoski, who says bank shots and tight angles are necessary in order to be rewarded with a low score. At the end of the round, you can have some more fun tooling around in the bumper boats while watching the duffers making their way around the orange-framed course.
Park Your RV Here: Wildwood ParkAbout 30 minutes west of Augusta, Wildwood Park is a greenspace full of waterways, wetlands, woodlands, and wildlife habitats.
Day 3: Augusta to Spartanburg, SC
The next stop is due north in Spartanburg, South Carolina. The town was once famous for being a railway hub, but these days is known for its BMW manufacturing plant where you can pay to test drive a zippy M3 on an onsite track. It's also close to Greenville, an emerging foodie destination. So, stop there for a bite, take a hike at Cottonwood Trail (Edwin M. Griffin Nature Preserve), and then head into downtown Spartanburg to get your putt on.
Sparkle City Mini Putt is a 9-hole course designed by Robin Schwartzman to draw people into downtown Spartanburg in a partnership between the city and local businesses. Go to a Growler Haus, Little River Coffee Bar or a handful of other participating businesses to trade your ID for a putter and play for free on holes modeled after the city's attractions.
Park Your RV Here: Pine Ridge Campground
Just 10 miles south of Spartanburg, Pine Ridge campground comes complete with a stocked fishing pond, pool, and community fire pit.
Day 4: Spartanburg to Helen, Ga
Your next mini greens lie a couple hours southwest in the town of Helen, Georgia, which is built with a Bavarian theme. (If you've ever been to Solvang, California, you might have the right idea.) Here, Alpine Miniature Golf, is a destination-worthy course with "absolutely amazing decorations," says Kulikoski. Regardless of how well you play, this course always has a sweet ending, with an ice cream parlor built into one of the holes.
Park Your RV Here: Unicoi State ParkThe lodge has a host of activities if you want to step away from the putter for a day or so, including ziplining, fishing, shooting, archery, and kayaking.
Day 5: Helen, GA to Atlanta
It's a relatively short 90-minute jaunt south to Skyline Park, a course perched atop Ponce City Market in Atlanta. The building used to be home to Sears retail stores, offices, and a warehouse but has since been reimagined as a mixed-use complex with residences, offices, stores, a food hall and a rooftop amusement park that includes this miniature golf course. On the roof you'll find state fair-style food, carnival games, and a giant slide.
Park Your RV Here: Lake Lanier Campgrounds Some 40 miles north of Atlanta, the manmade Lake Lanier has a host of campgrounds dotting the wooded shore, all managed by the US Army Corps.
Day 6-7: Atlanta to Orlando
Get out your road trip games because the next part is a long haul (over six hours) south to central Florida and the Disney area. If you want to get into the Magic Kingdom for a day, go for it, but if you want to stick entirely with the golf theme, there are tons of great courses you can play over a couple of days instead.
Two of mini golf musts include the Hollywood Drive-In, which is "a little expensive, but they really have their stuff together," says Sheridan of these twin B-movie inspired courses. "One course is like a horror movie, the other is like an alien attack movie. There's eye candy, interactive holes, a Rube Goldberg machine and a mad scientist that you putt into." Just about 15 miles south of Orlando in Kissimmee (where we suggest you park your RV; see below) is what Sheridan calls "one of the best themed courses we've gone to. Winter Summerland has two courses as well — one with a winter theme and one that's all about summer. The former has perhaps the most impressive hole, modeled after pond hockey, where you putt on a green that's made to look like a frozen lake.
Park Your RV Here: KOA Orlando/Kissimmee
Thanks to the horseshoes, bike rentals, pools, and jump pad (to start), you're going to have trouble getting the kids away from this RV park in Kissimmee, Florida.
Day 8: Orlando to Daytona Beach, Florida
At this point, it's time to head back north, but there's no need to get back to Myrtle Beach in one big driving day. Start with a short 75-mile drive to Daytona Beach, where you have to make it through a jungle themed Congo River. In addition to the jungle theme, Kulikoski says these courses require players to choose their own adventure on some holes. Spin a wheel and you may have to putt with your eyes closed or while standing on one foot.
Park Your RV Here: Endless Summer Campground About 10 minutes from the Daytona Speedway, the Endless Summer Campground comes with a pool, massive playground, and a location with plenty to do in the area.
Day 9: Daytona Beach to Hilton Head, SC
Head on to this trip's second mecca of large-format golf, Hilton Head, SC. At this point, perhaps you and your child might enjoy giving full-sized golf a try, but if not, enjoy the beach and give Legendary Golf a go. It's going to stand out for its degree of difficulty on this trip. "They re-turfed it to make it even harder, it's one of the toughest courses I've played," says Kulikoski. "A young kid will hit a lot of balls in the water here, but you'll feel good about yourself if you get a good score."
Park Your RV Here: Hilton Head Island Motorcoach ResortWith a pool, shuffleboard, multiple tennis and pickleball courts, this is one of the more amenity-packed campgrounds on the trip. Take advantage.
Day 10: Hilton Head, SC to Myrtle Beach
The final leg of your trip involves another four hours back to Myrtle Beach to play at least one last course. Aloha Mini Golf is one of those courses that draws in the professionals in (really) thanks to its difficulty. If you can break 30 here, you might want to toss your hat in the ring and play for some prize money, Sheridan says.
A "Happy Family's" Rules for Mini Golf
Even if you don't take this trip, but you're inspired to head out to your local course for some fun with your child, it's worth taking some time to figure out how to frame the game for your kids. For starters, play with "happiness rules," says Kulikoski. That means, "if I'm struggling, and I need to move the ball to make the game go a little easier for me, I'll move it. If you're playing with a kid who wants to move the ball, it's OK," she says. It's also OK to play with a mulligan, or a free do-over. Take one yourself and allow your child to use three over the course of the round. Also, leave your cell phone in the vehicle. "Let it be just you and your kid and be really present in the moment."
Sheridan has a 2 1/2-year-old who has been out on miniature golf courses strapped to his back since he was six months old. He says that was a good way to get his son exposure to miniature golf. Now, two years later, he lets his son explore the courses and play the holes how he wants to play them.
"Sometimes we'll let him tee off halfway through the hole, other times we'll ask him to figure it out for himself," Sheridan says. "We find that if we don't confine him, eventually he will play out the hole, and let us know when it's our turn. We always try to find courses that are interesting and have a lot of stuff to look at to engage him."
This article was originally published on