Michelle Monaghan's Dream Came True on the Set of 'The Craft: Legacy'
The actress plays the girlfriend of her high school crush, David Duchovny.
by Donna Freydkin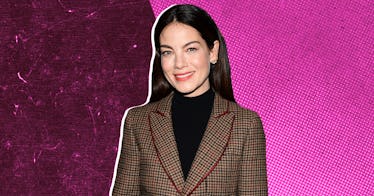 Getty
Growing up in Winthrop, Iowa, population 850, Michelle Monaghan was a true-blue, unapologetic fan of occult expert Fox Mulder. Watched every single episode of The X-Files. Had a crush on David Duchovny, who played the enigmatic paranormal investigator. Imagined that one day, if the stars aligned, she might meet him. Lo and behold, she did just that, playing his girlfriend in the sequel The Craft: Legacy, now streaming.
"I could never tell him but I was honestly fangirling like crazy. My friend and I were obsessed with the show — and we took a selfie and I sent it to my friend and said, 'Dreams do come true,'" Monaghan tells Fatherly.
The film, written and directed by Zoe Lister-Jones, centers around a foursome of teen witches. Like so many of us who came of age in the '90s, Monaghan loved the original about four outcasts who form a coven. "I watched it growing up. I don't even know what year it was. It was so fabulous then. When Zoe approached me about it. The first one was so great but she reimagined it in a fresh and contemporary and spooky and witty way. It got me so excited," she says.
Monaghan, during a call from a movie set in Canada, talked to Fatherly about raising appreciative kids and why Adam Sandler is a dream costar.
How odd is it being on set again?
The first day was daunting. you're experiencing your industry in a whole new way. I'm a hugger and a high fiver. To not be able to see people's expressions — I miss seeing smiles. That's been a change. But within a few days, everyone found their path within their department. It's made so proud to be part of this community. Everyone is working really hard to stay working. Things take a little bit longer. The craft department is only handling my coffee mug and I only handle my coffee mug. People are really respecting it and understanding why.
How do you and your husband support each other as two working parents?
I'm in Winnipeg — I'm actually here solo and my husband is holding down the fort in Los Angeles. He does graphic design, branding, and product design. He does work from home. That's very fortunate for us. He's not getting a whole lot done right now aside from homeschool. We've been together for over 20 years. We met at the beginning of our careers. So this is the only thing we know, how to be supportive and equitable. It's imperative that our kids see us this way. It can't be all about mommy's career and all about mommy's clock. We've been able to navigate our careers because we've established that balance for ourselves.
One of the great things to come out of quarantine was being on a team. We set up chores. The kids make their beds, empty the dishwasher, we all had to chip in. It's a full-time job having this many people at home all day long.
You've got two kids, Willow, 11, and Tommy, 7. How do you raise kids who aren't entitled-bastards?
It's a fair question to ask about raising normal kids in Hollywood. I experience a lot of privilege, I'm not going to lie. But that's not how I reflect on things. We live in Hollywood — but I was raised in rural Iowa. That is something that I have brought with me despite where we live. We spend a lot of time in Iowa. This summer during quarantine we went to my folks' place. Not everything lives and dies in Hollywood. We speak about what's going on in the world. There can be no sense of entitlement. There are expectations that we have of the kids. You can't drive down Hollywood Boulevard and not have a conversation about homeless people. That's a conversation starter. We talk about climate change all the time.
When you start to talk and think about the world in general, you keep them curious. I remember we were on a walk with my mom, a hike in LA and my son went to pick something up off the ground and it was trash. My mom's instinct was to tell him not to touch that and he said, that's why he had to pick it up because it's trash and doesn't belong there.
You've worked with some great dads throughout your career, including Adam Sandler. I've always heard his sets are a dream for working parents.
He loves his daughters. You can imagine, he's Adam Sandler. He's full of joy. When you're away and working with him, he creates a program for all the kids who are there. He's invested in everyone's family, not just his own. We go ice skating. He creates ice cream outings. To know he's got you covered — and you don't need to feel that shame or that mom guilt — he's that kind of person. He's a good human being.
The Craft: Legacy is available for streaming-on-demand on the following platforms: Tunes, GooglePlay, Vudu, or FandangoNow,