In 'The Flight Attendant,' Michelle Gomez Is Still the Scariest Woman On TV
Michelle Gomez, formerly a 'Doctor Who' baddie is once again mysterious and diabolical on HBO's 'The Flight Attendant.'
by Donna Freydkin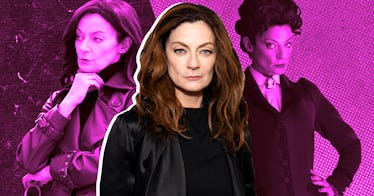 Getty
Michelle Gomez is the scariest woman on TV. If your older kids aren't scared of her from Doctor Who or The Chilling Adventures of Sabrina, you'll be terrified of her in her latest role in the new HBO Max show The Flight Attendant. The actress, who once said she was "born to play witches and bitches," is back in one of the strangest and most compelling shows of 2020. But, proving that normalcy and starring in chilling roles aren't mutually exclusive, she also, while living in her former Brooklyn neighborhood, scooped up dog turds while walking the family canine and was a regular at stoop hangouts with husband Jack Davenport. Pre-pandemic, of course. "We're just trying to stay busy and stay productive and be creative during these last few months. But basically for all of 2020," says Gomez.
Now, she's co-starring opposite Kaley Cuoco in The Flight Attendant, playing Miranda Croft, a stalker with rage issues. She's also wrapping up her stint on the Netflix The Chilling Adventures of Sabrina, as Madam Satan. Gomez talks to Fatherly about her fond Doctor Who memories, finding out about her green thumb and going back to work mid-pandemic.
The Flight Attendant is pretty damn addictive. You play opposite Kaley Cuoco; how did the role come about?
I'm one of those actors that thinks that I'll never work again. So I was thrilled to get to land that job, to land that role. It's a dark thriller with Kaley at the heart of it and being amazing. That girl — not only she's gorgeous, but she's super-talented and this is a dark thriller, but she brings a light touch to it as well. We finished about two weeks ago.
So you finished it during COVID?
We closed down with the world on March 13th. And then six months later, it felt like we're never gonna finish it. We were tested every single day. And then we all had a pod system, so everybody had a different color. They really, really took care of us and we managed to complete that, which was a huge undertaking during a pandemic. I wasn't scared at all. After six months of growing lettuce in Connecticut, I was ready and I knew that they would take care of us. It's as simple as wearing a mask or washing your hands. You just have to adapt.
Excuse me, former neighbor, but you now are a lettuce farmer?
I had no idea I had green fingers. So we just did it ourselves. I grew so much lettuce that nobody left my house or went past my house without taking two or three heads of lettuce with them.
And I have to ask, how do you look back on your time on Doctor Who?
I look back on that with such fondness. I went into that show pinching myself. I still have disbelief that I got to be the first female Master — I thought they were kidding when they called me with the offer.
The Flight Attendant is streaming now on HBO Max. And guess what, so are Michelle Gomez's Doctor Who seasons, too! Start with Season 8 if you want to catch her in action there.