Want To Know What Kind Of Music A Metal God Learns About From His Kids? Ask Zakk Wylde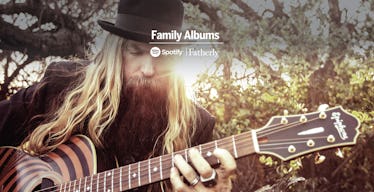 The following was produced in partnership with our friends at Spotify.
You can tote your kid around a festival wearing comically oversized headphones, or play them In Utero in utero, but the history of fatherhood tells us they will grow up to love the exact opposite of your favorite music. If that's upsetting to you, imagine how you'd feel if you were a heavy metal lifer and your kid tried to put you on to some Neutral Milk Hotel. Now stop imagining and take it from real-life guitar hero Zakk Wylde — it rocks.
Wylde's metal bona fides are unimpeachable. He joined Ozzy Osbourne's band as lead guitarist and co-writer at 20 years old, founded the band Black Label Society, and has played with everyone from the Allman Brothers Band to Guns N' Roses. Even his guitar is legendary: his bullseye-painted Gibson Les Paul custom is known as "The Grail." None of that, though, seems to impress his 4 kids, Jesse, Hayley Rae, Hendrix, and Sabbath Page. Despite their rocking names and pedigrees — Osbourne, the Godfather of Heavy Metal, is Jesse's godfather — Wylde's childs (sorry) actually don't have the slightest interest in their father's guitar-shredding style of music. It's a familiar story that doesn't bother Wylde, because he was the exact same way.
On His Early Music Education
Growing up, Wylde was the kid with the "old dad," a World War II veteran with an affection for Frank Sinatra. Not exactly what the kids were listening to in New Jersey in the 1970s. An Elton John performance of 'Lucy In The Sky With Diamonds' on The Sonny And Cher Show was the first time music ever gave him chills. And his first music history lesson.
"I told all my friends' older brothers, 'This guy Elton John is really great. I'm going to go get this record, you guys. It's called Lucy in the Sky with Diamonds.' They were like, 'You stupid a—hole. That's the Beatles, you idiot.'" After the well-deserved ribbing, those same guys introduced Wylde to what became his greatest influences. "The Dead, Allman Brothers, Skynyrd, and then the floodgates opened to the Beatles, Stones, Zeppelin, Sabbath. There were 11 kids in their family and they'd throw these insane blowout parties. You'd always hear them cranking out all those records — Hotel California, Desolation Angels. It was awesome," he says. "I still listen to the same stuff I was listening to when I was 14. I think that's how it is with everybody. Your music is the best music."
On The Unlikely Musical Influence Of His Father
Wylde and his dad disagreed on "the best music," but his father still influenced him musically by encouraging him to pursue his passion. "My parents were always cool like that. When we were playing sports, they backed us, and when I started playing music, they were like, 'Well, he practices all day, obviously, he likes guitar.'" Now, you don't want your kid practicing quite as much as Wylde, who mostly slept through school, but the message is clear and Wylde has preached it to his own kids.
"The coolest thing you can do as a parent is let them find what they love. I don't push anything on my kids. I tell them, 'Don't do what your mother or I hope you'll become. Whatever it is that gets [you excited], that's what you should be doing at the end of the day."
On Reaching A Common Ground
Wylde and his father eventually came to understand each other musically as Zakk's career progressed. Wylde played Jimi Hendrix's Woodstock "Star Spangled Banner" for his dad, who couldn't believe "All that music's coming out of one guy."
His favorite memory is of his mother and father, then in their 70s, coming to see him play with Ozzy. "We're playing Brendan Byrne arena, my dad's in a suit and tie, they're dressed up they're going to the damn prom at Ozzfest — it was epic," Wylde says. "After the show, Ozzy only wanted to talk to my dad."
Aside from the obvious lesson — "My dad just wanted me to be me and do what I love" — this should also remind you it's totally metal to upstage your kid in front of their heroes.
On Finding A Connection To The Classics
One of the musicians Wylde and his dad never saw eye-to-eye on was Sinatra, but he finally found a place in his life for Ol' Blue Eyes thanks to an unlikely source: his daughter. Wylde credits her with making him a mixtape of mellow tunes perfect for 16-hour drives between gigs.
"Your parents can try to show you stuff, but when you're 13 listening to Sabbath and Van Halen, you won't care," he says. "As we get older, after shows when we're chilling out I put on Sinatra radio."
On How To Find Good Music
Unable to interest his kids in throwing up the devil horns, Wylde is content to let them school him on digital-age music discovery. "They know Nirvana, Alice Cooper, Soundgarden, obviously, because of 'Uncle Ozzy,' but they find this obscure stuff. My daughter was trying to tell me about Adele before she got popular. They go on the computer, find these underground bands, and by the time I know who they are they're doing 3 nights at the Forum"
Wylde's oldest son, Jesse, has made a pastime out of dumping such acts on his dad. "My Bloody Valentine, Tame Impala, Minor Victories, Songs: Ohia, The Antlers, Galaxie 500, Girls, Milk something … something milk … Neutral Milk Hotel. I was like, 'Where is this hotel?' He goes, 'Dad, it's a band.' I go, 'I want to stay at this hotel.'"
You'd think it might bother a metal legend to be schooled on low-fi indie by his kid, but it's cool with Wylde: "Good for them. I tell them, 'Whatever you guys love doing is what you should be doing. Whatever is good to you means it's good music.'"
This article was originally published on